Many people come to me asking me what is the best cigar to buy for a Christmas, Hanukkah, or New Year's gift. Unfortunately, the first response I give them is what I term the "Standard Consulting Answer" which is "It Depends"…
It depends on a few factors. Below I've put a table to help those find a very good cigar as a gift. The cigars I selected are for the most part cigars you should be able to find at your local retailer. I always recommend going to your local retailer as opposed to online because you can also benefit from the experience they provide.
I've broken the table into two parts:
1.Smoking Profile (Rows) – This simply means how often does the person receiving the cigars smoke the cigars. This could ultimately impact the price point to some extent, but I wouldn't call it an exact rule of thumb. You should ultimately know this information about the person you are buying for.
2.Strength and Body (Columns): I lumped these together here, which is probably taboo to some extend, but the purpose was to keep this simple. Strength refers to amount of punch the cigar delivers from the nicotine while body refers to the boldness and complexity of the flavors produced by the Cigar. Cigars usually are categorized as Mild, Medium, and Full. This is very subjective, so you will notice I grouped them as follows Mild/Mild to Medium, Medium/Medium to Full, and Full. This might not be information you know, so my recommendation is go to "Medium/Medium to Full" column to be safe…. this is especially true if the Smoking Profile is someone who smokes more than 2 cigars per week.
Most of the sticks are available in a box of around 20 – 25 sticks except where noted. Of course you can always do a nice mix and put them in a nice gift box or even a brand new humidor.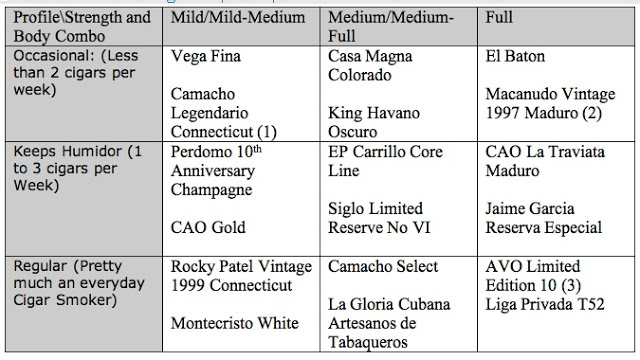 Some footnotes on this guide:
(1) This cigar tends to be sold as individual sticks as opposed to boxes. My recommendation here is if you go with this stick, grab about 20 of them and put them in a nice box or humidor
(2) As of the time of this writing, this stick is sold in boxes of 12. The nice thing is this cigar currently has a collectible metal band as opposed to a paper band. The metal band will be available for a limited time only.
(3) This cigar is sold in boxes of 10.
An important point to also know is the length and ring gauge (circumference measured in 64th of an inch) of the cigar the person likes. If you see something that is 6 x 52, that means the cigar is 6 inches long and has a circumference of 52/64th of an inch. My advice is if you don't know this – aim for a cigar with a 5 to 6 inch length and a 50-54 ring gauge. There are many different shapes that are available such as Torpedo, Perfecto, Figuardo, Parejo, and many more. Again, if you don't know this – stick to Parejo – this is standard cylinder-shaped cigar. The choices above all have sticks with these default recommendations. This is where your local retailer can really help.
As I mentioned, these cigars should be found at most retailers. It is possible your retailer might not have all of the choices here as retailers hear based on their arrangements with the distributors. I've included two sticks here as you should be able to find one or the other.
One important piece of advice. Don't buy the cigars too early unless you will be putting them in a humidor. If you plan on buying a humidor to put them in, ask your local retailer for help – or read my guidelines for preparing a humidor. You may want to ask how long the retailer has had the cigars in the humidor. If it is a new shipment, sometimes these cigars need to settle into the humidification of the retailer's humidor. Don't be put off if the cigars have been in there for a while as they probably have been able to settle and age.
Of course, if you really get stuck, you can shoot me a line as well.
Finally, I've smoked all of these sticks below and they have my endorsement.
Merry Christmas, Happy Hanukkah, and Happy New Year!!!!!