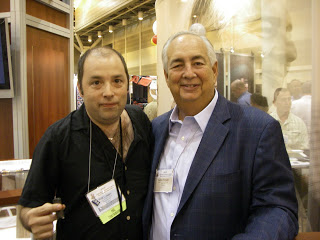 Cigar Coop with the Legendary Carlos Torano
Before IPCPR began, there was a lot of buzz around Torano Cigars. Prior to July 2010, distribution for Torano products was handled by CAO Cigars. With the pending merger between Swedish Match and Scandinavian Tobacco having a direct input on CAO's future, a decision was made for Torano to take back control of its own distribution. In the process the company name was changed to "Torano Family Cigar Company". A full press release can be found here, but it is a part of the statement that was made (see below) that really struck me and had me very energized to visit the Torano booth. This jolt of energy was also bolstered by three exciting new products.
The company name is changing from Torano Cigars to Torano Family Cigar Company to truly capture the family legacy and emphasize that this is a family-owned company. The taking over of its distribution is the result of the family's decision to enhance its personal relationships with the trade and consumers.
I can honestly tell you, that during our entire visit to the Torano booth, that this statement wasn't just fluff for the press, it was truly genuine – and while there were so many great booth visits, I think all of us in our group came away with an incredible appreciation for this re-branded company's mission.


When we arrived at the booth, we were greeted by company President Charlie Torano. We were also introduced to Charlie's father, the legendary Carlos Torano (whom so many of the Torano products bear that name), and Torano family master roller, Julian Felipe Sosa. Charlie then proceeded to reaffirm the family's mission statement in regards to taking back over the distribution – and he too seemed very energized and excited. Charlie then personally proceeded to take us on a tour of the booth highlighting three exciting new cigars making their debut at IPCPR.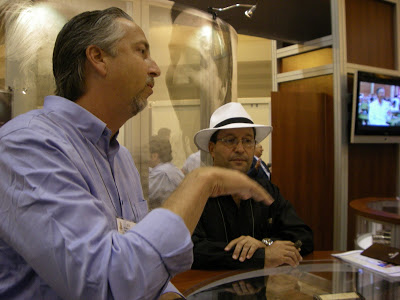 Charlie Torano with Julian Felipe Sosa looking on takes us on a tour
There is some real excitement around the three new sticks being released by Torano Family Cigars. Like my visit to Perdomo, there was a real emphasis on value and quality.
1.Master By Carlos Torano
This was a joint effort by Sosa and Charlie Torano. This cigar is in the medium to full-bodied range with Nicaraguan binder and filler with Ecuadorian Habano wrapper. It will be available in four sizes – Robusto, Toro, Torpedo, and Churchill. This is a cigar I still need to smoke, but the feedback I've heard around this stick has been incredible. Stay tuned for a review in the near term from me, but in the meantime check out the review from ACigarSmoker.com
Although slightly cut off in the photo below, I like how the Toranos paid tribute to their master roller Sosa by putting his face on the box cover. Hearing why this was done in person – you understand how genuine it was.
In alignment with the mission statement issued by Charlie Torano this cigar will be made available exclusively tor retailers.
*** Update: My Review is here
2.Single Region Serie Jalapa
This is probably one of the most exciting things being done by Torano and you can hear it in Charlie's voice as he discussed it.. The Single Region Jalapa is a new line being introduced with a very unique concept. As mentioned in a recent press release:


"The concept highlights the different characteristics of tobaccos grown on individual farms in various regions in the world's best tobacco-producing countries. Each Serie will feature a blend that is created entirely from tobaccos grown on one carefully selected finca in one particular region. The blend's flavor and aroma will reflect the influence of the region's soil, weather and topography."
In the case of this stick, the Jalapa region was the first one targeted. This is a stick I smoked and I'm pumped about it. In fact, I got an incredible ash around this stick (see photo below). I thought this stick was just slightly above a medium bodied smoke. There will be three sizes on this (Churchill, Robusto, and Toro Grande) I will be posting more information about this stick in the very near future. Price point also in that value point $6.50 to $7.00 range.
The intent is that there will be other "Single Region" sticks to join the Serie Jalapa. Like the Master, this stick will also be made available exclusively tor retailers.
*** Update: My Review is Here.
3.Brigade
This stick will be sold in bundles, but the idea is to not sacrifice quality despite a low price point (under $3.00). This cigar is milder than Master and Serie Jalapa. I still have to try this cigar as well.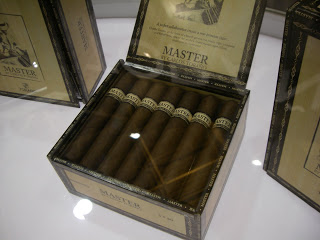 Master by Carlos Torano proudly on display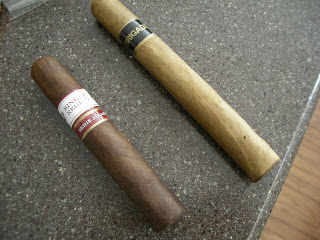 The Single Region Serie Jalapa (L) and Brigade (R)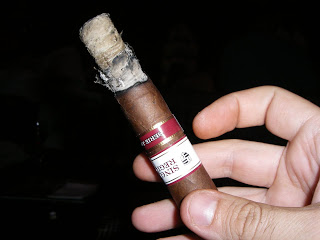 Love the burn on my Single Region Serie Jalapa
I've talked a lot about the families at IPCPR – the Quesadas, the Carrillos, and the Garcias. There was just something special about the visit to the Toranos. There is no doubt that the Torano family is completely re-energized. I know each of us who spent time with the folks at this booth came away feeling some of that energy from the Toranos – and we couldn't have been made to feel more welcome. No doubt this is only the beginning of more great things to come from this family.