Cigar Coop and Matt Booth
Matt Booth took Charlotte by storm as he was the guest of honor at a Room 101 Cigars event hosted by Outland Cigars.
Matt had been scheduled to fly to Charlotte for this event back in December. Due to a family emergency, Matt had to fly back to the West Coast the right before the event at Outland Cigars. One thing that I learned was that when this occurred, Matt personally called the management team at Outland Cigars to tell them. He did not go through a cigar rep or third party. Matt committed to reschedule a visit as quickly as possible. Matt's personal handling of this situation and his honoring of this commitment show what type of man he is.
My first encounter with Matt was back in New Orleans at the 2010 IPCPR. If you need another testimony what a great guy Matt is, please check out this link.
The Room 101 brand was founded by Matt Booth who gained fame for making jewelry, accessories, and clothing for the Hollywood scene. Booth soon extended his "lifestyle" to include a line of premium cigars. It is Camacho who blends his cigars for him. The idea was to have a cigar line to reflect the Hollywood scene that the Room 101 had become known for.
For the past 18 months, Matt's Room 101 line really has been a buzz in the cigar business. First with his core line and then with his Room 101 Limited Conjura.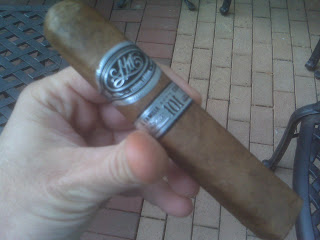 The beautiful box-press of the Room 101 Limited Conjura
Of course the cigars were a staple of the event, but I think everyone in attendance was really touched by Matt's hospitality. Outland Cigars has truly built a special club with its members and customers in Charlotte and Matt's warmth was almost a natural fit.
Now from a personal standpoint, I was blown away again by Matt. One surprise I had when he arrived is as soon as he walked into the club, he asked "Where's Coop?" Man! I was honored and humbled. I got to learn that Matt had read the post I wrote about him from our meeting at IPCPR (and I imagine an additional post or two in Cigar Coop). I got to hang with Matt a bit after the event and what you see is what you get – the guy is as real and genuine as they come. It reflects how special the cigar industry is.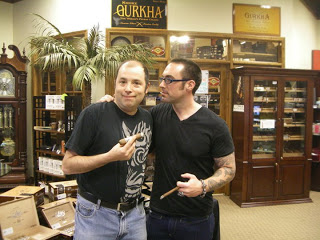 Matt's a fan of Cigar Coop ….
Personally, I was also impressed with Matt's knowledge and depth of the cigar industry. While some may think of him as the "jewelry guy", I can tell you this is not the case. He really knows this stuff. We all are excited to see what's next for Room 101 Cigars. I think the folks at Outland are anxiously awaiting another visit by Matt to the Queen City in the near future.
One thing I also did was present Matt with an Alec Bradley New York cigar. New York is my hometown and this is a cigar that is being done to help the cigar retailers back there. I wanted Matt to have something from my hometown and what better idea than this cigar. Not only was Matt appreciative, but smoked and enjoyed the cigar. He commented that this was a great thing that Alan Rubin and the folks at Alec Bradley were doing. It's great to see this mutual respect among the different manufacturers. It is what sets the cigar industry apart from any other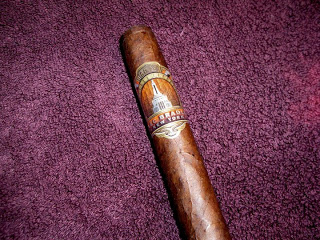 The Alec Bradley New York – I gave Matt one of these
Finally, Matt put this on Twitter as he was leaving Charlotte. Again, I should be the one thanking Matt – awesome dude!