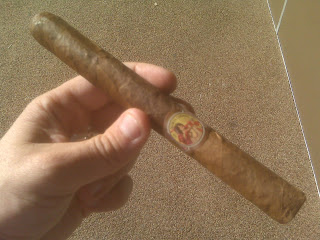 #4 La Gloria Cubana Artesanos de Tabaqueros
And now….the Final Four….. "30 Cigars in 31 Days" is down to the remaining four cigars that comprise the Top 30 Cigars for 2010. It is time for the 27th installment to this list
Team La Gloria Cubana strikes again – coming in at #4 is the La Gloria Cubana Artesanos de Tabaqueros. The inclusion of the Artesanos de Tabaqueros (ADT) completes what has to be a banner year for Team La Gloria Cubana as they release three new sticks – and each fall in my Top 20 (also included the La Gloria Cubana Serie N at #10 and the La Gloria Cubana Artesanos de Obelisco at #16)
The ADT uses a segmented wrapper similar to the design of Joya de Nicaragua's Cabinetta Serie (#13 on my list). This means the cigar comes with two distinct wrappers that create segments on the cigar. The ADT features an Ecuadorian Sumatra wrapper for about 2/3 of the stick and a Connecticut Shade wrapper for the remaining third by the foot. The binder and filler is a combination of Dominican and Honduran tobaccos. Yes folks in the year of Nicaraguan tobacco, a great stick can be made without it.
The flavor notes for this cigar will be pepper, cinnamon sweetness, cream, and even some coffee tones. The interesting thing is the transition in strength and body as you smoke this cigar. Right before the burn transitions from the Connecticut Shade to Ecuadorian Sumatra, there is an increase in the strength of this cigar from mild to medium/full. It's not gradual – it happens very quickly. Once the transition happens, you will know it. From both a strength and body profile, this will take you across the full spectrum – namely from mild to full, but the majority of this smoke will be in the medium-full range. For a novice, this is a great stick to learn on. For seasoned smokes, this stick has lots of complexity and flavo
A full review is available here for more details on my experience with this cigar.
Recommended Vitola: 750 (7 x 50)