(Miami, FL) September 29, 2011— Torano Family Cigar Co. has taken another step to strengthen its team as President Charlie Torano is proud to announce the hiring of fellow family member Jack Torano as the Marketing & Customer Relations Manager. Jack Torano brings along an excellent reputation for customer service, branding, and public relations. The addition of Jack Torano is the latest in many big moves made by the Torano Family after taking back their distribution.
Jack Torano, a native of Miami, Fl. got his start in the tobacco business when he was employed with Lopez Leaf Tobacco in the early 80's. With a last name like Torano it isn't a surprise that he started his career in the tobacco business, but where he went next is quite an interesting tale. Jack Torano found himself in Chicago for the last 16 years working along-side his brother Sandy Torano in a company called Scandal Music. Scandal Music wrote jingles for television and radio commercials. Jack's strong sense of branding and marketing in addition to his lively personality allowed him to help create ads with companies such as McDonalds, Nintendo, and was even part of the team that created the very successful "Real Men of Genius" campaign for Bud Light. A highlight for Jack was when Scandal Music had the privilege of creating music for the Oprah Winfrey Show. Jack's love of premium cigars brought him back to Miami and into the family business.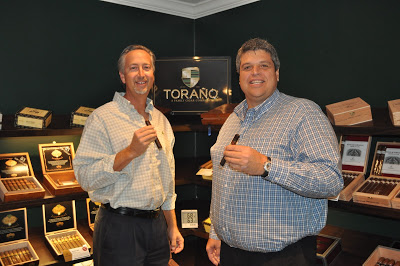 Charlie Torano (L) with Jack Torano (R)
Charlie Torano felt that Jack's background in advertising and his personable manner made him a perfect fit for the new look and direction of the Torano Family Cigar Co. "Jack is the prodigal son of the Torano family. It took us 16 years to get him back in Miami", Charlie Torano continued," it's always a great feeling to work alongside family members as we all carry that same passion for cigars".
The past year has been one of great change for the Torano Family. New logo, new company name, new brands, and new faces round out the positive changes that the company has undergone. Charlie Torano said," I feel strongly that we have all the right pieces and persons in place to move Torano Family Cigar Co. into a position to provide retailers and ultimately our customers with the best cigars and service possible.
Jack Torano will replace Oliver Hyams who is going to work with his father, Gary Hyams. "Oliver is a great friend and a fantastic person. Oliver has been an important member of our team but I, more than most, understand Oliver's desire to work with his father. I wish him much success," said Charlie Torano.
A leader in the cigar industry, Torano Family Cigar Company is a four generation company currently based in Miami, FL. It enjoys a rich heritage and history in tobacco growing and manufacturing. For more information: www.torano.com. Please also follow Torano on Facebook: Torano A family Cigar Company or on Twitter: @TORANOFAMCIGARS.
Creativas Group Public Relations Inc. provides public relations and marketing counsel to South Florida-based businesses, nationally recognized special events and leading non-profit organizations. For more information, please log onto www.creativasgroup.com or email info@creativasgroup.com.
Editor Comment: I would like to wish Oliver Hyams the best of luck on his new venture he is embarking on with Gurkha Cigars. Over the past year, Oliver has been a terrific contant from Torano Family Cigars. It's great to know that Oliver will still be in the business.
Source: This press release was sent by Creativas Group Public Relations, a group that handles public relations for Torano Family Cigars.