Assessment Updates will be posted on this web-site to: 1) Assess
"pre-review" cigars that were not given a rating or score (typically
pre-release cigars); 2) Provide numeric ratings to cigars previously
assessed prior to the implementation of the numeric scoring system.
Today, we assign numeric ratings to two previously assessed cigars that are distributed from Miami Cigars – the Nestor Miranda Grand Reserve and La Aurora's Para Japon. Both of these cigars were honorable mentions for our top cigars of 2011.


Nestor Miranda Grand Reserve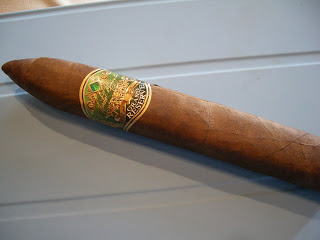 Nestor Miranda Grand Reserve
The Nestor Miranda Grand Reserve was a limited release cigar that made its debut in 2011. Only 1,000 boxes of 10 (for 10,000 cigars) were produced. The cigar features a Connecticut Broadleaf wrapper with Nicaraguan binder and filler. It was made in a single vitola – a 6 1/4 x 52 box-press torpedo. In my opinion, this probably is the most full-strength, full-body cigar to carry the Nestor Miranda name.
The flavor profile of the Nestor Miranda Grand Reserve features coffee, sugar cane, red pepper, and baker's spice. I usually am not a fan of torpedoes because I think they do not have as good of a draw as a traditional parejo. In the case of the Grand Reserve, while I still would have preferred a toro, this cigar had a flawless draw. The burn was outstanding throughout the smoking experience.
Here is the original assessment of the Nestor Miranda Grand Reserve.
Assessment: Nice to Have
Score: 89
Para Japon by La Aurora
Para Japon by La Aurora
A little less than a year ago, La Aurora announced a cigar that would have portion of proceeds from sales of the cigar donated to the Japan Earthquake and Tsunami Relief fund. That cigar would be branded Para Japon. The cigar media soon would start a mass promotion. When the cigar was released, I sampled it and liked it. However, it seemed the momentum and excitement slowed down once this cigar hit the retailers (I think many retailers did not promote the cause enough). Recently, I was very surprised to find some at a major retailer. With about 9 months of additional aging, time was very kind to this cigar because it was even better than it when I originally assessed it.
The Para Japon is a medium strength, medium-bodied cigar. It features a Nicaraguan wrapper, Dominican binder, and fillers from Brazil, Cameroon, and the Dominican Republic. The flavor profile has more complexity than one might think. It has notes of oak, grass, herbs, citrus, cocoa, coffee, and pepper. The only negative is that the ones I've smoked lately seem to burn a little fast.
Here is the original assessment of the Para Japon.
Assessment: Nice to Have
Score: 91