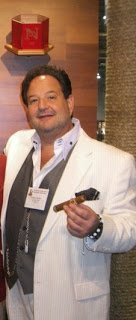 Michael Giannini of General Cigar
Michael Giannini, the director of Team La Gloria Cubana is moving into an expanded role at General Cigar Company. In this new role, Giannini will be overseeing all of the product development for all of the brands under General Cigar.
During his tenure as director of Team La Gloria Cubana, Giannini garnered a reputation as a "mad scientist". Under his tenure, Giannini expanded the product line under the La Gloria Cubana brand for General Cigar. Most importantly, Giannini has been responsible for some of the most innovative products in the cigar industry. This includes the segmented wrapper on the La Gloria Cubana Artesnaos de Tabaqueros; the "N" that is present on the wrapper of La Gloria Cubana Serie N; and the concept of increasing the importance of the binder and filler for the flavor profile of the La Gloria Cubana Artsenos Retro Especiale. Perhaps is most ambitious project was the unique vitola on the La Gloria Cubana Artesansos de Obelisco which was modeled more after the shape of the "Heroes of the Restoration" monument located in the city of Santiago (Dominican Republic).
While assuming these expanded responsibilities Giannini will continue to lead Team La Gloria Cubana. According to Victoria McKee Jaworski, director of public relations for General Cigar, "Michael will continue to be director of marketing for La Gloria Cubana. In this role and in terms of innovation, Michael will work under the direction of Alan Willner (vice president of marketing). Alan has put together a team encompassing key people from sales, marketing and operations to bring Michael's unique ideas to fruition. Michael will generate new product and packaging concepts, and collaborate with our factories in the Dominican Republic and Honduras, working with people like Benji Menendez, Jhonys Diaz, and Francisco Rodriguez, Yuri Guillen and Eduardo Deprat in the Dominican Republic, and Edwin Guevara and Agustin Garcia in Honduras. Together they will utilize General Cigar's resources, such as our vast tobacco inventory, cigar-making expertise, and box factory to bring innovation to a broader piece of the General Cigar portfolio."
As the 2012 cigar year progresses, we will continue to follow this story.
Updateed 3/12/12: We updated this story with additional information from Victoria McKee Jaworski in regards to Giannini's role.