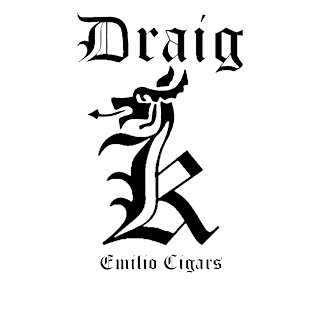 Last week, we reported some information that Emilio Cigars' brand developer Gary Griffith made available on the company's upcoming release schedule. Since then, Griffith has made some information available on his blog around some of the specific projects. One of those projects has been the long awaited Draig K.
What we do know is the cigar is being made at Nestor Plasencia's El Paraiso factory. We have some more details about the blend: The Colombian Maduro wrapper is confirmed, the fillers are Honduran and Nicaraguan, and the binder is unknown. The three sizes are also re-confirmed as well as the production amounts. The target release is to select retailers by the end of June.
When word came of the Draig project back in December, it appeared that the project would include a new blend on an annual basis. It appears from the information provided that we either misinterpreted the plans, or the plans are just not firm yet.
The text of what was included on Griffith's blog appears below:
The Draig K will be produced in 3 sizes, namely corona, robusto, and
toro. 400 boxes of each have been made and after months of aging will be
allocated to our retailers based on how long their account has been
open, and how well they've supported our core brands in the past. We
anticipate shipping these to our retailers at the end of June.
These cigars, made in Nestor Plascencia's El Paraiso factory, feature a
dark Columbian maduro wrapper, and Honduran and Nicaraguan fillers.
Assuming continued availability of the wrapper tobacco we may produce
these annually, though each year we are also hoping to introduce another
blend in the Draig line using equally rare and high quality tobaccos.
Time will tell how this goes.

The "K" designation and Welsh theme recognize and honor both my family
heritage, and the first initial of my friend Ken, a Welshman who died in
a tragic auto accident at about the same time I was finishing this
blend. The band was created by a friend of both mine and Ken's who
happens to be a children's book illustrator, thus the pastel colors. You
can save the "pink" comments folks, I've already heard it, and it's not
changing. To me this a priceless remembrance of a dear friend.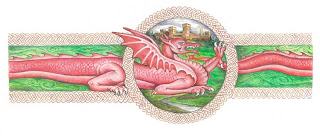 Band of the Draig K Limitado
Source: While Emilio Cigars' has made this information available on their web site, we have also been given permission to use this information. We thank Emilio Cigars and Gary Griffith to their support.