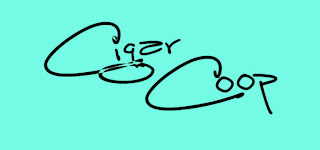 Welcome to Epic Encounters 2012. This is our countdown of the 30 best cigars for 2012. I happen to love this time of the year when the online and print publications come out with their lists. Talking cigars is always good, but debating them is even better.

One thing that is interesting is how we all have different techniques in determining our "best of" lists (I will cover ours shortly). We all know Cigar Aficionado is the barometer for the industry. I personally think the industry needs to reward itself where the manufacturers and retailers give out the "best of" awards. The Oscars are decided by the motion picture industry itself and not the media. Perhaps the cigar industry should do the same.
The Cigar Coop countdown is unique. A more comprehensive ranking process was introduced for 2011. It is the culmination of a year long project beginning the day after Thanksgiving (our cigar year start) to Thanksgiving the following year (our cigar year end). If a (non-Cuban) cigar arrived at a retailer between those dates, it is eligible for the countdown following Thanksgiving. Throughout the year, a quantitative data is taken on smokes and compiled. While cigars are scored during an assessment, a year end ranking introduces other parameters. First up, consistency is an attribute considered. Secondly, our ranking is based on a compilation of all vitolas in the line. Because of these other parameters, it is quite possible a cigar can score 92 and beat out a 94 cigar.

Once our data is compiled, a little elbow grease and intangibles come into play. The ranking is then established. Starting December 1st, we announce cigar number 30. On December 2nd, cigar number 29 is announced. Once the countdown gets down to the final two, we announce #2 and #1 on December 31st (there are a couple of breaks during the month). The term "Epic Encounters" came about as a title for this series because we believe these cigars were the best of the best. The idea behind counting them down is to have a little fun and have a full month to celebrate some great smokes.

There will be other lists. On New Years Day, we will list ten cigars as honorable mentions just missing the list. A "best new vitola" and "best aged blend" list will be made. We also will have our top cigar news stories for 2012. Finally we will be introducing the "best unreleased cigar" and "best brand" lists.

We will talk more about the cigar year throughout the month, however our assessment of the year is that the start was a little weaker, but once IPCPR happened, the releases were much better.

Thank you to our readers and supporters for a great 2012. Without your support, there is no Cigar Coop. Looking forward to a great 2013.
Our countdown will begin at 9am Pacific Time on December 1st. Most countdown cigars will be published at 6:30am Pacific Time with the exception of #1 and #2 which will be mid-day on New Years Eve 2012. Subsequent countdown cigars may vary from publication time on a daily basis.