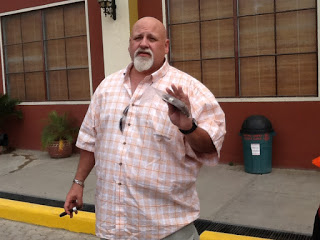 Steve Saka (Cigar Coop photo)
In an announement that sent many shockwaves throughout the cigar business on the eve of the 2013 IPCPR, Steve Saka is retiring from Drew Estate. Saka's retirement is effective on July 11th.
Saka rose through the ranks of the cigar industry. He is considered a pioneer in online media where he served as Executive Editor of CigarNexus.com. He moved on to JR Cigars, where he worked as an executive consultant under Lew Rothman. In 2005, he joined Drew Estate as the company President, and became CEO in July, 2012.
During his tenure, Drew Estate grew into a large a and successful cigar manufacturers in the world. Saka's legacy is with the Liga Privada brand. The name means "private blend" and started as a result of experimenting and blending several personal blends. In 2008, Drew Estate launched the Liga Privada No. 9 (a blend that was the 9th blend that Saka worked on). This was followed in 2009 by the Liga Privada T52 that incorporated a Stalk Cut U.S. Connecticut Habano wrapper into a blend. This was followed up in 2010 by the Liga Privada Unico Serie – which consists of several offshoots of the No. 9 and T52 in which each offshoot is a unique blend made in a single size.
"The team at Drew Estate would like to thank Steve for all of his hard work and dedication over the past eight years. His passion, leadership and expertise are a very rare combination within our industry. Steve will be truly missed and we wish him all the best moving forward," said owners, Jonathan Drew and Marvin Samel.
When asked what he was going to do next, Saka stated "First, I am going to seriously slay some smallmouth, those fish have no idea what's coming. Ultimately though, I am a cigar and tobacco man at heart and both are integral parts of my life, but for now I want to return to just being a cigar citizen."
Under a mutual agreement between Drew Estate and Saka, Drew Estate repurchased his interests in the company. Saka also agreed to step away from the cigar and tobacco industry at an operational level for two years.
Drew Estate has repurchased his interests in the company and as part of the mutual arrangement Saka has agreed to step away from the cigar and tobacco industry at an operational level for two years. His last effective employment date as CEO of Drew Estate is July 11.
Saka said he would still attend the 2013 IPCPR Trade Show in Las Vegas.
Source: Some information for this article was provided via press release from Drew Estate.