Assessment Updates will be posted on this web-site to: 1) Assess "pre-review" cigars that were not given a rating or score (typically pre-release cigars); 2) Provide numeric ratings to cigars previously assessed prior to the implementation of the numeric scoring system; 3) A re-assessment and re-score of a previously assessed/score cigars. Today, we provide an assessment rating and score for the Draig Cayuquero by Emilio Cigars. This was a cigar we did a pre-release review in July, 2013.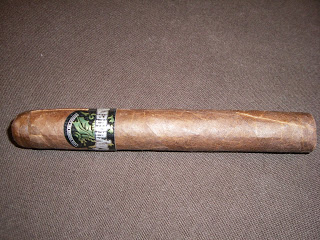 Draig Cayuquero by Emilio Cigars
The Draig Cayuquero is the second installment in Emilio Cigars' Draig series. The Draig concept was announced back in December 2011. The concept around the Draig line is to produce a small batch, limited production cigar – using a different factory and a different blend each year. The Draig Cayuquero follows up the Draig K, which finished as our #15 Cigar for 2012. The Cayuquero brings us a completely new blend and a completely different smoking experience. One thing that doesn't change is that the Cayuquero continues to showcase this limited line as something special. This is one outstanding cigar. As we will see, this cigar has really come into its own since we smoked a pre-release back in July.

When the Draig Cayuquero was announced, we noted the following post on Facebook by Emilio Cigars Brand Developer Gary Griffith: "There is a small town in the far western part of Pinar del Rio, Cuba, called El Cayuco. Some of the locals are known as "Cayuqueros" which translates loosely as "trouble makers." One of these problem children is a dear friend, and in his honor I am announcing that this year's Draig Limitado will be a joint effort with Noel Rojas."

If Rojas' name sounds familiar, he is the person behind Guayacan Cigars – one of the eight current companies distributed by Emilio's distribution arm, the House of Emilio.
The Draig Cayuquero features a Brazilian Araparica wrapper over Nicaraguan binder and filler. This wrapper is a shade lighter than many cigars I've seen with this wrapper. Griffith also told me when he looked at wrapper candidates, he narrowed it down to a single bale. The wrapper is also lighter for an Arapirica because it is fermented at a cooler temperature. Like the Draig K, the Draig Cayuquero is being released in a Corona, Robusto, and Toro. This year there are also some torpedo vitolas.
Like the pre-release, I smoked the toro size. Back when I did a pre-release assessment of the Draig Cayuquero, I found it to be a very impressive blend – and one unique to a cigar with Arapirica wrapper. While I had more natural tobacco notes on the pre-release, this time I detected a lot more in the way of chocolate notes. The citrus notes were still there, but they were more on the sweet side as opposed to being acidic. As for the spice, it still had what I am now terming the "Gary Griffith Signature Spice" – a unique herbal spice. This herbal spice could be detected on the tongue and on the retro-hale.
The "back nine" – which is a Stogie Geeks term we use for the last stages of this cigar was outstanding too. The production releases were very flavorful on the back nine with no harshness. The resulting nub was cool in temperature and firm to the touch.
The strength and body both start out medium to full and progressed to full in the second half. The cigar was low maintenance when it came to burn and draw as both rated excellent.
Back in July, I felt the Draig Cayuquero was a very good cigar in its pre-release form. In the past three months, this cigar has really come into its own – and now ranks right at the top of Griffith's work. It's a box worthy cigar and one that I look forward to smoking again.
Click here for a our detailed assessment of the Draig Cayuquero.

Assessment: 4.0 – Box Worthy
Score: 94