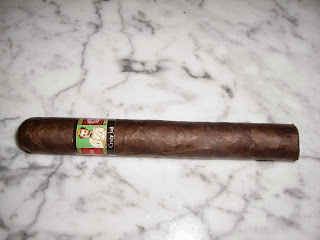 Ortega Wild Bunch 2013 – Crazy Jack Psycho
Ortega Premium Cigars is getting ready to ship the Ortega Wild Bunch 2013 Crazy Jack Psycho. This marks the December 2013 installment of the Ortega Wild Bunch 2013 series. Information on this release was communicated by company president Eddie Ortega on his Facebook page. Crazy Jack will be the final installment of the Ortega Wild Bunch 2013.
The concept behind the Ortega Wild Bunch is to dedicate a cigar to various cigar enthusiasts whom Ortega has personally met during his time in the cigar industry. During 2013, each month a different cigar – in a different size and blend will be released as a tribute to these various people. Since January, the company has released a monthly installment.

The official vitola name of the Crazy Jack is called "Psycho". It is a large 7 x 58 Gordo-sized cigar that is a Nicaraguan puro. This represents the second longest size (behind Tony the Boss Enforcer which is 7 1/2) and second biggest ring gauge (Big Jack John Jackhammer comes in at a 60 ring gauge). This is the fifth Nicaraguan puro in the line joining Big Back John, Iron Mike, Honest Abe, and Wild Bill.
Ortega was a guest on the 12/5/13 edition of our Stogie Geeks podcast and confirmed that Crazy Jack would be the last installment of the Ortega Wild Bunch 2013 series. Ortega discussed some options he is considering going forward with the Wild Bunch 2013 including: keeping some of the blends going as on-going releases, retail-exclusives, and some one off projects based on the blends. As for another monthly series, Ortega told us he does not plan to do that.
Ortega had planned to release a twelve cigar sampler this month consisting of one cigar from each of the Wild Bunch 2013 for . Ortega commented on his Facebook page, "wanted to get out by december but unable to. Will be out in January."
At a glance, let's take a look at the Crazy Jack Psycho:

Blend Profile

Wrapper: Nicaraguan Esteli Habano
Binder/Filler: Nicaraguan Esteli/Jalapa

Vitolas Available

As mentioned the Crazy Jack Psycho is a 7 x 58 gordo-sized vitola The cigars are packaged 20 per box.

The following are the releases for the Ortega Wild Bunch 2013 series.

January: Big Bad John "Jackhammer"
February: Iron Mike "I Beam"
March: Island Jim "WaHoo"
April: Tony The Boss "Enforcer"
May: Dandy McCoy "Empire State"
June: Honest Abe "Ringmaster"
July: Wild Bill "Cheroot"
August: Fast Eddie Eight-Ball
September: Gearhead Gary "Crankshaft"
October: Warrior Joe "Bushmaster"
November: Da Byrdman "Boys Club"
December: Crazy Jack "Psycho"