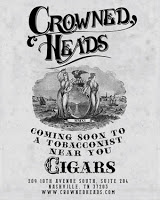 Crowned Heads has announced a new project for 2014.  This past week the company announced its Las Calaveras project to both Cigar Insider and Cigar Aficionado.  This will be a new annual release project.  In addition to be an annual limited edition release, this project will be significant because it will be made at the My Father Cigars factory in Esteli, Nicaragua by the Garcia Family.  The product is being targeted for a May 2014 release.
The name Las Calaveras translates to "The Skulls".  Crowned Heads co-founder Jon Huber mentioned in the stories it is a tribute to those who have passed away.  Skulls made of sugar are often made for the Mexican holiday "Dia de los Muertos" (Day of the Dead).

Huber mentioned in the Cigar Insider story that the blend and presentation style will change with each release of Las Calaveras.
Huber recently put some pictures of some samples of the Las Calaveras Edicion Limitada 2014 on social media.
Las Calaveras marks Crowned Heads first cigar not produced at Ernesto Perez-Carrillo's La Alizana factory.  In their company newsletter (Crowned Heads Royal Report Vol. 16), Huber discusses why they went with a different manufacturer:
"So WHY a different manufacturer for LAS CALAVERAS?  Indulge me, and allow me to explain with another 'music-related' analogy.  Imagine you're a band and you've released three successful albums–all recorded with a producer who's respected and recognized as among the best.  Then, you have the opportunity to create a new album working with a different, but equally skilled, producer.  That new album is going to have a completely different sound and feel to it.  In fact, the same song can be recorded using two different producers, and the final recording will more than likely result in a different sound or 'vibe.'  As I told Gregory Mottola (Cigar Aficionado) when we were discussing the LAS CALAVERAS project, "It's like we've been able to release three albums produced by Rick Rubin, and now we are fortunate enough to have the opportunity to work on a new record with Pharrell Williams."  LAS CALAVERAS EDICION LIMITADA 2014 will mark the advent of a completely different 'sound' for Crowned Heads. But suffice it to say, we look forward to making 'beautiful music' with both My Father Cigars, as well as Tabacalera La Alianza for years to come."
At a glance, here is a look at the Las Calaveras Edicion Limitada 2014
Blend Profile
Wrapper: Ecuador Habano (8th priming)
Binder: Nicaraguan
Filler: Nicaraguan
Vitolas Available
Three sizes of the Las Calaveras Edicion Limitada 2014 will be launched.  They will be packaged in boxes of 24 and only 1,000 boxes per size will be produced.  Huber has mentioned there already is a wait list for the product.
LC550: 5 x 50
LC652: 6 x 52
LC754: 7 x 54