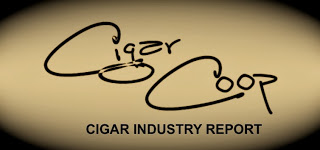 The Cigar Industry Report is a one stop place to catch up on the activity here at Cigar Coop and Stogie Geeks. It is a combination of our news reports, cigar reviews, and assessment updates we do throughout the week. We will also recap what happened on our Stogie Geeks show. Finally, each week we will look back at Cigar Coop history. Look for this report every Saturday morning at 8am Eastern time.


Feature of the Week: Cigar Media Association Established


This week was as busy a week in the cigar industry with a lot of news, however the one that we feel will have long term impacts to the industry is the establishment of the Cigar Media Association.
It's been talked about for many years, but this week the cigar media has announced its very own media association. Cigar Coop / Stogie Geeks is proud to be a founding member of the Cigar Media Association (CMA) to serve the cigar community.
The press release was published this past Monday. C.M.A has already onboarded 8 media outlets since the announcement.
Editor's Comment: One reason for the formation of the Cigar Media Association is the rise in the importance of cigar media. Cigar Media is not in 2009 or 2010 now, it is in 2014. Cigar Media has grown over the years with the increase of online media. With this increase, it was very important for us who are serious about the media angle to solidify our relationship with cigar industry as a whole. It is important for many of us to not just be referred to as "bloggers" or "podcasters". This group wants to show it is serious about the media craft an not just "in it for the free sticks". This will also help the industry recognize legitimate media and provide an outlet to disseminate information. The goal is to appeal to those who are serious about media whether its from a business or just a love of industry perspective (or both). It's one thing to be passionate about cigars. It's another thing to be passionate about being media. At Cigar Coop / Stogie Geeks we like to think we are passionate from both angles.
The Cigar Media Association is not a silver bullet to solve every problem with the media and the industry. It will be a collaborative and team effort. There are long term goals to the industry as a whole. This author been vocal about the need to improve the flow of press information and feel it needs to be one priority of the CMA's goals. Contrary to some opinions, this is not about getting press releases to re-post them. This author thinks by getting accurate press information, it will have a ripple effect to improving the accuracy of reviews, news reports, cigar interviews, and feature stories. This author will have move opinions on this in an upcoming "Editor's Corner".
The end goal is to benefit our readers and supporters who have followed many brands over the years to get cigar information. There will be on-going debate on whether a CMA is necessary. Time will eventually validate if this is a good idea or not.
Finally, a special thanks to Fred Rewey of Nomad Cigar Company. He originally suggested the idea, and I rejected it. However circumstances changed and the more I thought about it, the more I realized he was right. He helped broker some introductions and turn executing the launch of CMA to reality.
News and Previews.
Legislative News
Assessment Update


Stogie Geeks – Episode 88