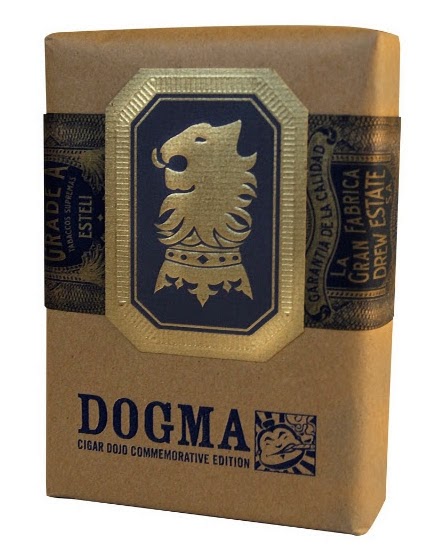 Drew Estate has announced a new limited production run of a line extension to the Undercrown line. The Undercrown Dogma will add the first box-press vitola to the line. It will measure 6 x 56 and be based on the Undercrown Corona ¡Viva!. The cigar was created to be a tribute to the Cigar Dojo online community and it will be sold exclusively through Smoke Inn.
When asked about the "Dogma" project, Jonathan Drew said, "we have been major supporters of Cigar Dojo from the beginning. A handful of Drew Estate employees, myself included, are Dojo members, and we have always been floored by the support Drew Estate has received on the app and website. When Eric (owner of Cigar Dojo) approached us about coming up with this special commemorative cigar, it was a no-brainer. My dad, "Baitfish" Gary, came up with the name 'Dogma'."

In the press release, Drew Estate says the Undercrown Dogma will align closely with the Corona ¡Viva! in terms of the flavors of earth, note, and spice. The Undercrown Corona ¡Viva! was introduced in 2012 as a line extension to the Undercrown line. The Corona ¡Viva! uses a modified blend from the original Undercrown line. That cigar finished as our #13 Cigar of the Year for 2012.
Smoke Inn will make the cigar available for pre-order on Friday March 28, 2014. The company also announced that it will be running a social campaign and giveaway through their website which will allow consumers to try the cigar before it hits the market. To enter, visit http://drewestate.com/dojodogma.
As for Cigar Dojo, this is the second cigar done as a tribute to the community. Moya Ruiz's Nunchuck was also done paying homage to the growing Cigar Dojo community. Last week, it was also announced that Cigar Dojo would be joining the newly formed Cigar Media Association.
At a glance, here is a look at the Undercrown Dogma:
Blend Profile
Wrapper: San Andres Mexican
Binder: Connecticut Stalk Cut Habano
Filler: Nicaraguan and Brazilian Mata Fina
Vitolas Available
The addition of the Undercrown Corona ¡Viva! adds a eighth vitola to the Undercrown family and the second vitola to use the Corona ¡Viva! blend. The Dogma will be sold in ten count bundles for $99.50 or $9.95 per cigar. The Dogma will also be the first Undercrown with a secondary band that also includes the Cigar Dojo logo.

Dogma: 6 x 56 (Limited Edition – exclusively available through Smoke Inn)
Corona ¡Viva!: 5 5/8 x 46
Corona Double: 7 x 54
Belicoso: 6 x 52
Gran Toro: 6 x 52
Gordito: 6 x 60
Robusto: 5 x 54
Flying Pig: 3 15/16 x 60