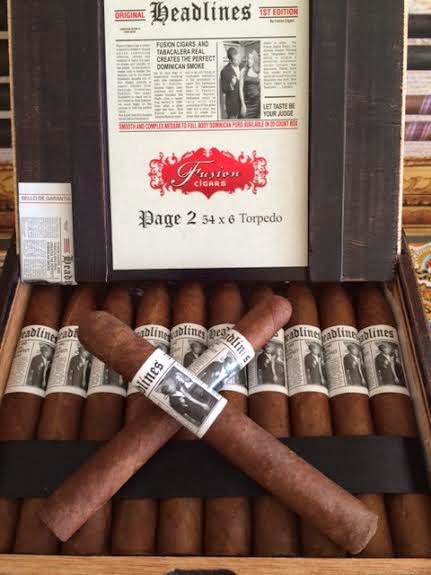 Headlines Cigars will be doing an overall to its existing offerings. The brand has reblended and rebranded its current cigars. The new offerings include two Dominican made cigar lines Headlines First Edition and Headlines Second Edition. Both cigars are being done in collaboration with Arby Sosa.

Headlines Cigars is owner by Dee Aguasvivas and Ulises Delgado of Fusion Cigar in Clearwater, Florida. Last year, the company announced it was entering into a distribution agreement with Antillian Cigar Corporation which owns the Sosa Cigars brand that Arby Sosa is a part of.
Both cigars are described as full-bodied offerings. The Headlines First Edition features a Pennsylvania Seed wrapper grown in the Dominican Republic along with a Dominican binder and filler. The Headlines Second Edition is a maduro that features a Dominican Habano Oscuro wrapper over a Dominican binder and combination of Piloto Cubano, Dominican 20-20, and Andullo. Andullo tobacco undergoes a very different curing process than traditional cigar tobacco leaves. This involves putting tobacco leaves in palm seed pods. The pods are then wrapped in rope causing the andullo tobacco to compress into a thick bar almost looking like a roll of salami.
Both cigars will have a price point between $7.50 and $8.50.
According to Arby Sosa, "I've never been a part of creating an all-Domincan Puro, so this was an exciting project for me. It took over 6 months to perfect both blends, but we are all impressed with the final result. I believe in this cigar and hope all cigar fans will venture out and try this one, and I know they will be happy."
At a glance, here is a look at the revamped Headlines Cigars line:
Blend Profile
First Edition
Wrapper: Dominican Grown Pennsylvania Seed
Binder: Dominican Olor
Filler: Dominican Criollo 98 Ligero, Dominican Piloto Cubano Ligero, Dominican Criollo 98 Seco, Dominican Olor Seco
Second Edition
Wrapper: Dominican Habano Oscuro
Binder: Dominican Piloto Cubano
Filler: Piloto Cubano, Dominican 20-20, Andullo
Vitolas Available
The following sizes are available for the Headlines First Edition and Headlines Second Edition:
Page 1: 5 1/2 x 60
Page 2: 6 x 54 (Torpedo)
Page 3: 6 x 50