Agile Cigar Reviews replace what we termed "Assessment Updates". The concept is the same, but the name is different. Agile Cigar Reviews use a lightweight, shorter format. These will never take the place of our comprehensive reviews. They are only used on blends we have previously assessed. This might be a blend we are re-scoring or providing a score for a first time. It might be a blend we are looking at in a different size. Today we look at the Black Label Trading Company Deliverance Nocturne in the Short Salomon Snub Nose size. This is a cigar we previously did an assessment in the (full) Salomon Snub Nose size back in September, 2015.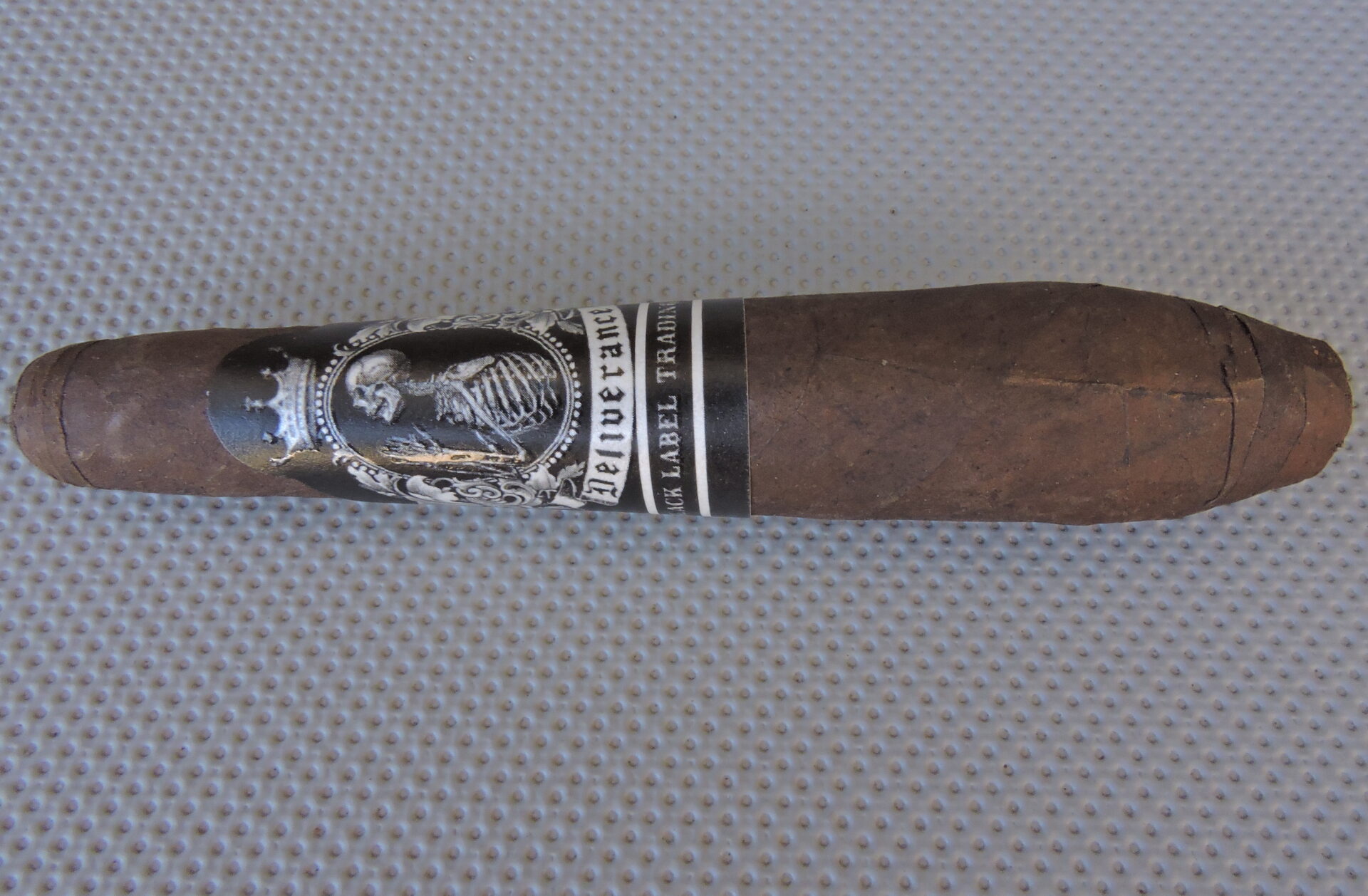 Wrapper: Pennsylvania Broadleaf
Binder: Nicaraguan Habano
Filler: Nicaragua and Pennsylvania
Country of Origin: Nicaragua (Fabrica Oveja Negra)
Short Salomon "Snub Nose": 4 3/4 x 40 x 56
The Deliverance Nocturne is the second installment of Black Label Trading Company's Deliverance line. The Deliverance Nocturne introduces an all-new blend highlighted by a Pennsylvania Broadleaf wrapper in two unique salomon shapes. Today we look at the smaller of those two salomons – the Short Salomon "Snub" Nose.
In addition to the Pennsylvania Broadleaf wrapper, Nocturne consists of a Nicaraguan Habano wrapper and fillers from Nicaragua and Pennsylvania.  The Short Salomon measures 4 3/4 x 40 x 56 – and is a shorter, thicker version of the full size eSalomon we assessed back in September.  Both "Snub Nose" saloons have almost a baseball bat-like shape.  The cigar is made at Black Label Trading Company's own factory, Fabrica Oveja Negra in Nicaragua.  The cigar is packaged in 18 count boxes.
Overall I found the Nocturne Short Salomon Snub Nose to have similar flavor notes than its bigger longer sibling.  The cigar is going to deliver notes of chocolate, fruit sweetness, pepper, and earth. The earlier part of the Short Salomon delivered more in the way of chocolate, while the second half saw a little more in the way of earth and pepper spice. Throughout the smoking experience, the fruit sweetness was a little more dialed back on the Short Salomon than the full Salomon.
Like the Salomon,  I found Short Salomon to be a medium to full strength, medium to full-bodied smoke. While the Short Salomon still falls into that range of the spectrum, I still found it to be a little stronger and fuller (if the Salomon rates a "6" in these categories, I'd put the Short Salomon at an "7").
The burn and draw of the Short Salomon were excellent. This was a low maintenance cigar to puff on.
Overall, I found the Deliverance Nocturne to be a blend that brings out the best in Pennsylvania Broadleaf. This was a fun cigar to smoke, and it's definitely one that is worthy of a box split.
Summary
Burn: Excellent
Draw: Excellent
Complexity: Medium
Strength: Medium to Full
Body: Medium to Full
Finish: Good
Assessment: 3.5-Box Split
Score: 91
References
Original Assessment: Black Label Trading Company Deliverance Nocturne Salomon Snub Nose
News: Black Label Trading Company Deliverance Nocturne
Price: $10.00
Source: Cigars Provided by Manufacturer
Stogie Geeks Podcast: n/a
Stogie Feed: n/a