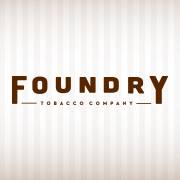 Foundry Tobacco Company (FTC), the subsidiary cigar company under the General Cigar Company umbrella has announced it has added two sales brokers and brand manager. These moves are aimed at driving growth for Foundry.
First up, FTC has hired Taven Johnson and Stefan Mayer of C.H.I.M.P, a broker agency to represent the Foundry brands. Both Johnson and Mayer are well-established having worked with many leading boutique cigar brands in the market. C.H.I.M.P will represent Foundry in Alabama, Georgia, Kentucky, Maryland, Mississippi, North Carolina, South Carolina, Tennessee, Virginia, Washington DC, and West Virginia. Plans are to increase Johnson and Mayer's territories to include additional geographies.
Meanwhile Justin Andrews, who was recently hired to support FTC Creative Director Michael Giannini will also support him in leading the day to day operations of Foundry. Andrews is best known for his time as Vice President at Lou Rodriguez Cigars.
"This is an exciting step in the development of Foundry Tobacco Company," said Giannini in a press release making the announcements. "The addition of these players to our team will allow us to deliver increased flexibility in tailoring programs to retailer needs and the ability to deepen the support of our brands on both the retailer and consumer level."
Foundry Cigar Company made its debut at the 2012 IPCPR Trade Show with its eponymous cigar dedicated to the Steampunk movement. The brand became known for its unpredictable and served a sandbox to creative some very innovative blends. Last year, the company made a decision to move longtime staple brands Bolivar and Ramon Allones into the FTC umbrella. Meanwhile the company continues to market contemporary brands such as Compounds, Elements and Musings, and the value-priced Chillin Moose line.