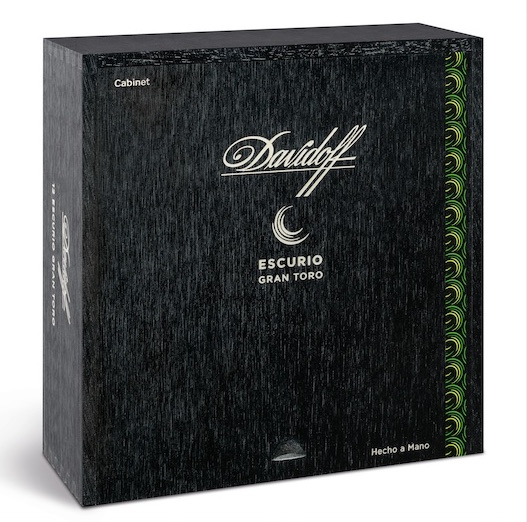 The Davidoff Escurio line is expanding. Today Davidoff announced a series of line extensions, including two new vitolas to its premium Davidoff Escurio line. Today the company announced it is adding a Corona Gorda and Gran Perfecto offering to the Davidoff Escurio line – bringing the total number of vitolas offered in the premium line to five. The new line extensions will launch globally this month.
The Corona Gorda will be a classic 6 x 46 vitola. It will be sold in twelve count boxes and four packs. The Escurio Corona Gorda will be priced at $15.90 per cigar.

Meanwhile the Gran Perfecto will be a 5 x 50/61 perfecto. It will also be offered in twelve count boxes, but also sold in three count packs. The Escurio Gran Perfecto will be priced at $16.90 per cigar

Both the Corona Gorda and Gran Perfecto will feature the same blend as the premium Davidoff Escurio line.
In addition to the line extensions to the premium line, the company also announced aa Davidoff Escurio offering in its Primeros (Small Cigar Line) and a new Davidoff Escurio Cigarillo offering.
The Davidoff Escurio was the company's signature launch of 2015. It was the second line to be included as a part of the "Davidoff Black Band" line. It follows up the Davidoff Nicaragua, Davidoff's Nicaraguan puro. For the Escurio, Davidoff sets its sights on another country – Brazil. However, while Davidoff Nicaragua contains 100 percent Nicaraguan tobacco, the Davidoff Escurio builds a multi-national blend that has a significant Brazilian component.
The name Escurio is a derivative of two words – Escuro (which means dark in Portuguese, Brazil's language – and in this case the cigar's wrapper falls into this category) and Rio (short for the Brazilian city of Rio de Janeiro – which was an inspiration for this cigar.
At a glance, here is a look at the Davidoff Escurio premium line:
Blend Profile
Wrapper: Habano Ecuador
Binder: Brazilian Cubra
Filler: Dominican (San Vicente, Piloto and HybridOlor/Piloto Seco), Brazilian (Cubra and Mata Fina)
Country of Origin: Dominican Republic.
Vitolas Available
Corona Gorda: 6 x 46
Gran Perfecto: 5 x 50/61
Short Robusto: 3 1/4 x 50
Robusto Tubo: 4 1/2 x 54
Gran Toro: 5 1/2 x 58
Photo Credits: Oettinger Davidoff