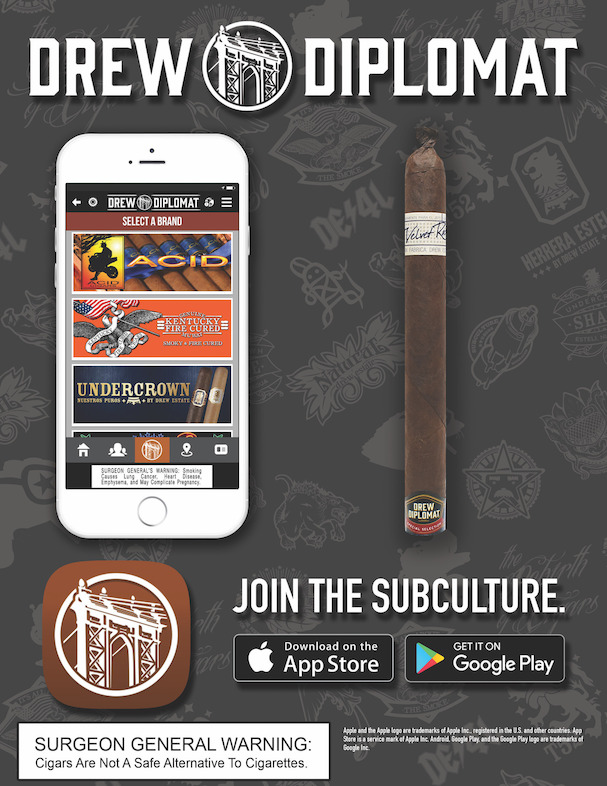 Drew Estate's Liga Privada Unico Serie Velvet Rat, one of the most limited releases by Drew Estate will be released this summer as a part of the new Drew Estate Diplomat Event Series. Plans are for the Velvet Rat to be available to members of the Drew Diplomat Mobile App Program who make a qualifying purchase at one of the 64 scheduled Drew Diplomat Events. The series kicks off on June 28th, 2016  at the Beet Sellar in Newport, Kentucky and concludes at Drew Estate's second annual Connecticut River Valley Barnsmoker.
Back in January, 2015, Drew Estate made a production run of 5,000 Velvet Rats at La Gran Fabrica SA in Esteli, Nicaragua. The cigars wee not released and have been resting in the cold rooms since then.
Prior to the Drew Diplomat Event Tour, the Velvet Rat has made two previous retail appearances. In 2012, 100 ten count bundles were released at Chicago, Illinois' TESA Cigars. Last August (2015), the Velvet Rat also made an appearance at the first annual Connecticut River Valley Barnsmoker. The cigar has also been offered several times to visitors to Drew Estate's Cigar Safari in Esteli, Nicaragua.
The Velvet Rat features a Connecticut Broadleaf "High" Mediums wrapper, a Plantation Sungrown Brazilian Mata Fina binder and fillers from Nicaragua and Honduras. Consistent with the Unico Serie mantra (one blend, one size), the blend comes in one size – a 6 1/4 x 46 lonsdale.

In a press release, Jonathan Drew commented, "Fellowship is at the cornerstone of Drew culture, and now that we are over 5,000 members on DIPS, we wanted to do something extra-ordinary for you guys. Over the last five years, peeps keep asking about snagging some Velvets. With this momentous Diplomat achievement, we wanted to get ya'll something bangin."
President of Drew Estate, Michael Cellucci added "One of the main goals of creating Drew Diplomat was to connect our Drew Estate final consumers to the Retailers who have stood behind our premium cigars for so many years. Now, with the "Drew Diplomat Rewards Program" we are truly effective from both the on-line and in-store avenues. It's a fun and effective approach to show appreciation to the Drew Estate extended family."
In addition Jessi Flores, Director of Subculture Studios dedicated a dedicated a commemorative graffiti mural at De la Esquina de los Bancos media cuadra al Oeste in Esteli, Nicaragua, in honor of the first 5,000 Drew Diplomat Members. Flores commented,"This mural is a process that is going to take the summer to complete. We started off with the Diplomat logo and added our unique techniques. We are dropping a Velvet Rat on the wall to compliment the Guardabarranco, the bird that represents our Country. We are proud to see Nicaragua play such a pivotal role in the Diplomat program."
Flores also goes into more detail on how Subculture Studios, how it fits into he Drew Diplomat App program, and a little about the "Rat" concept.
The Drew Diplomat mobile application launched on June 3, 2016 and is available on the App Store for iPhone® and iPod Touch® and on Google Play™ for Android™. Representatives from Drew Estate will also be available to help answer questions from consumers related to setting up their the Drew Diplomat app on their mobile devices.
The list of the 64 Drew Diplomat Events follows:
06/28/2016 – The Beer Sellar in Newport, KY from 5:00 PM – 8:00 PM
06/29/2016 – Tobacco Road Outlet in Fayetteville, NC from 3:00 PM – 6:00 PM
06/29/2016 – Blend Bar and Cigar in Indianapolis, IN from 5:00 PM – 8:00 PM
06/29/2016 – Fort Orange Club in Albany, NY from 5:00 PM – 9:00 PM
06/29/2016 – Humidor Fine Cigars & Wine in Dothan, AL from 5:00 PM – 8:00 PM
06/29/2016 – ABC Fine Wine & Spirits in Orlando, FL from 6:00 PM – 8:00 PM
06/30/2016 – Cigar Club in Modesto, CA from 4:00 PM – 8:00 PM
06/30/2016 – Up Down Tobacco in Chicago, IL from 5:00 PM – 8:00 PM
06/30/2016 – Brookelyn Premium Cigars in Wilmington, NC from 5:00 PM – 8:00 PM
06/30/2016 – Superior Smoke Shoppes in Natrona Heights, PA from 5:00 PM – 8:00 PM
06/30/2016 – Brennans in Taunton, MA from 6:00 PM – 10:00 PM
06/30/2016 – ABC Fine Wine & Spirits in Hudson, FL from 6:00 PM – 8:00 PM
07/01/2016 – Tobacco Road Outlet in Fuquay Varina, NC from 12:00 PM – 3:00 PM
07/01/2016 – Aficionado's Premium Cigars in Coral Springs, FL from 5:00 PM – 8:00 PM
07/02/2016 – Three J's in Davie, FL from 12:00 PM – 3:00 PM
07/02/2016 – East End Cigar Co in Myrtle Beach, SC from 1:00 PM – 6:00 PM
07/05/2016 – Tinderbox in Myrtle Beach, SC from 5:00 PM – 9:00 PM
07/06/2016 – Five Points Cigar Shop & Lounge in Athens, GA from 5:00 PM – 8:00 PM
07/07/2016 – Pars & Cigars in West Des Moines, IA from 4:00 PM – 7:00 PM
07/07/2016 – Jungle Jims in Fairfield, OH from 5:00 PM – 8:00 PM
07/08/2016 – Smoker Friendly in Pittsburgh, PA from 2:00 PM – 5:00 PM
07/08/2016 – Aphelion Cigar in Gambrills, MD from 5:00 PM – 9:00 PM
07/09/2016 – Cascade Cigar & Tobacco in Happy Valley, OR from 1:00 PM – 6:00 PM
07/09/2016 – Allegheny Smokeworks in Pittsburgh, PA from 11:00 AM – 2:00 PM
07/09/2016 – Buttheads Tobacco Emporium in Danbury, CT from 12:00 PM – 4:00 PM
07/09/2016 – Hawaii Prince Hotel in Honolulu, HI from 6:00 PM – 9:00 PM
07/09/2016 – Havana Mix Cigar Emporium in Memphis, TN from 6:00 PM – 9:00 PM
07/09/2016 – En Fuego Tobacco Shop in Rockwall, TX from 2:00 PM – 6:00 PM
07/11/2016 – Cup O Joes in Queensbury, NY from 12:00 PM – 5:00 PM
07/13/2016 – Genuine Tobacco Company in Columbia, PA from 5:00 PM – 9:00 PM
07/13/2016 – Park Avenue Club in Florham, NJ from 6:00 PM – 10:00 PM
07/14/2016 – Cigar Box in Midwest City, OK from 5:00 PM – 8:00 PM
07/14/2016 – Cigars and More in Bakersfield, CA 3:00 PM – 8:00 PM
07/14/2016 – Davidus Cigars in Baltimore, MD from 5:00 PM – 9:00 PM
07/14/2016 – La Casa Toledo in Toledo, OH from 2:00 PM – 4:00 PM
07/14/2016 – Tobacco Grove in Maple Grove, MN from 4:00 PM – 10:00 PM
07/15/2016 – The Cigar Box in Broken Arrow, OK from 4:00 PM – 6:00 PM
07/15/2016 – Girouard Vineyards in Tulsa, OK from 7:00 PM – 11:00 PM
07/15/2016 – Old Oak Cigar Shop in Thousand Oaks, CA from 4:00 PM – 9:00 PM
07/15/2016 – Cigars Plus in Wyomissing, PA from 3:00 PM – 7:00 PM
07/15/2016 – West Coast Cigars in San Jose, CA from 5:00 PM – 9:00 PM
07/16/2016 – Planet RYO in Shrewsbury, PA from 2:00 PM – 7:00 PM
07/16/2016 – Three J's in Davie, FL from 12:00 PM – 3:00 PM
07/17/2016 – Smoke Inn in Boynton Beach, FL from 7:00 PM – 11:00 PM
07/17/2016 – Smokes Wisconsin in Appleton, WI from 5:00 PM – 9:00 PM
07/20/2016 – Dirty Dog Cigar Shoppe in Mckessport, PA from 5:00 PM – 8:00 PM
07/20/2016 – Cigar Loft in San Mateo, CA from 5:00 PM – 9:00 PM
07/20/2016 – Dallas Cigars in Dallas, TX from 5:00 PM – 8:00 PM
07/21/2016 – Cigar Club in Modesto, CA from 4:00 PM – 8:00 PM
07/21/2016 – Cross Street Tobacco in Baltimore, MD from 5:00 PM – 8:00 PM
07/21/2016 – ABC Fine Wine & Spirits in Sarasota, FL from 6:00 PM – 8:00 PM
07/21/2016 – Smoker Friendly in Pittsburgh, PA from 11:00 AM – 1:00 PM
07/21/2016 – Bloom Cigar Company in Pittsburgh, PA from 2:00 PM – 4:00 PM
07/22/2016 – Smoke inn in Del Rey Beach, FL from 7:00 PM – 11:00 PM
07/22/2016 – Slow Burns in Baltimore, MD from 5:00 PM – 8:00 PM
07/22/2016 – Tinderbox in Myrtle Beach, SC from 5:00 PM – 9:00 PM
08/02/2016 – Cup O Joes in Queensbury, NY from 12:00 PM – 5:00 PM
08/02/2016 – Smoke Cigar Shop in Bridgeville, PA from 3:00 PM – 5:00 PM
08/02/2016 – Jernigans Cigar Bar Mount in Lebanon, PA from 6:00 PM – 8:00 PM
08/03/2016 – ABC Fine Wine & Spirits in St. Augustine, FL from 6:00 PM – 8:00 PM
08/04/2016 – Habana Premium Cigar Shop in Albany, NY from 5:00 PM – 9:00 PM
08/05/2016 – Lil Brown Smoke Shack in Yakima, WA from 3:00 PM – 7:00 PM
08/05/2016 – Sid's Tobacco Store in Memphis, TN from 5:00 PM – 9:00 PM
08/06/2016 – Connecticut River Valley Barn Smoker in South Windsor, CT