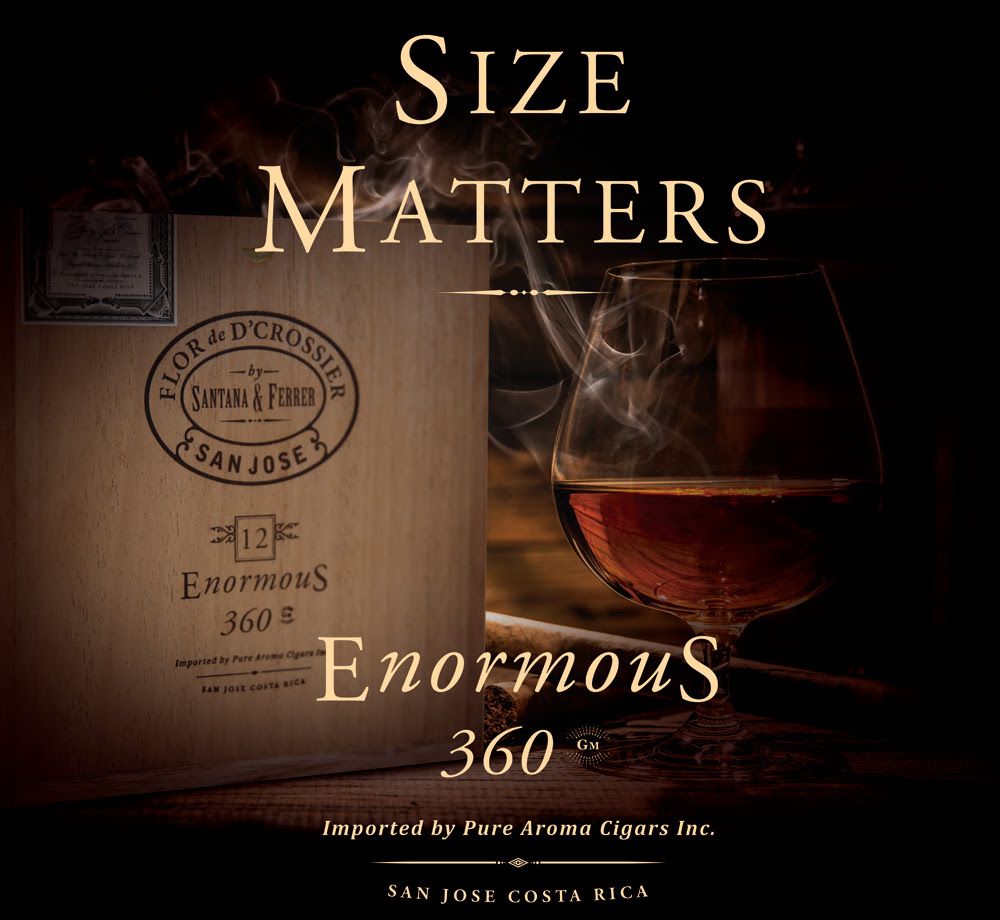 Pure Aroma Cigars, the maker of D'Crossier Cigars is introducing a new line under its Flor de D'Crossier brand geared toward large ring gauges. The new Flor de D'Crossier Enormous 360 will make its debut at the 2016 IPCPR Trade Show on July 24th. It's a blend that Pure Aroma Cigars founder Isaias Santana Diaz says will even please the critics of big ring gauge cigars.
To make the Flor de D'Crossier Enormous 360, Diaz was able to leverage aged tobaccos from 2005.  The Enormous 360 has two different blends – a Claro and Oscuro. For the Flor de D'Crossier Enormous 360 Claro, it will be offered in one size – 6 1/8 x 65 vitola in a blend the company is not disclosing. Pricing for the Claro will be $16.50.
Meanwhile the Flor de D'Crossier Enormous 360 Oscuro will be offered in 6 1/4 x 68. The blend features a Costa Rican wrapper and incorporates three ligeros (two f3 and one f4) from 2005. Pricing for the Oscuro will be $17.20.
Both blends will be offered in 12 count slide-top cabinet boxes with the cigars aged a minimum of 16 months. The 12 count box factors into the "360" name. According to Diaz, each of the individual cigars weigh 30 grams each. Given there are 12 cigars per box, the resulting weight of the cigars in the 12 count box is 360.
In terms of introducing a large ring gauge line, Diaz commented in a press release, "Exploring new avenues in this industry has always been my biggest challenge. Growing up I soaked up the history and traditions of the world of tobacco like a sponge. With this knowledge I began my life in the world of cigars with one goal, which was to preserve the values of our tradition, no matter where I lived, it was just how I was raised. But thankfully being able to spend time with cigar smokers throughout this great country, I was able to learn, that it is ok to think outside the box. It is my expectation that my ENORMOUS 360 performs to that level, bringing some complex, flavorful and distinctive notes to the big ring gauge cigar enthusiast," said Isaias Santana Diaz.
The new Enormous 360 is the third line being launched by D'Crossier at the 2016 IPCPR Trade Show. The company also has plans to release the  D'Crossier Presidential Collection Pennsylvania Avenue and the Flor de D'Crossier Cabinet Selection No.1 at this year's trade show.
At a glance, here is a look at the D'Crossier Flor de D'Crossier Enormous 360 line.
Flor de D'Crossier Enormous 360 Claro
Wrapper: Not Disclosed
Binder: Not Disclosed
Filler: Not Disclosed
Country of Origin: Costa Rica
Vitola: 6 1/8 x 65
Flor de D'Crossier Enormous 360 Oscuro
Wrapper: Costa Rica
Binder: Not Disclosed
Filler: Not Disclosed
Country of Origin: Costa Rica
Vitola: 6 1/4 x 68
Note: The blend incorporates three ligeros (two f3 and one f4) from 2005