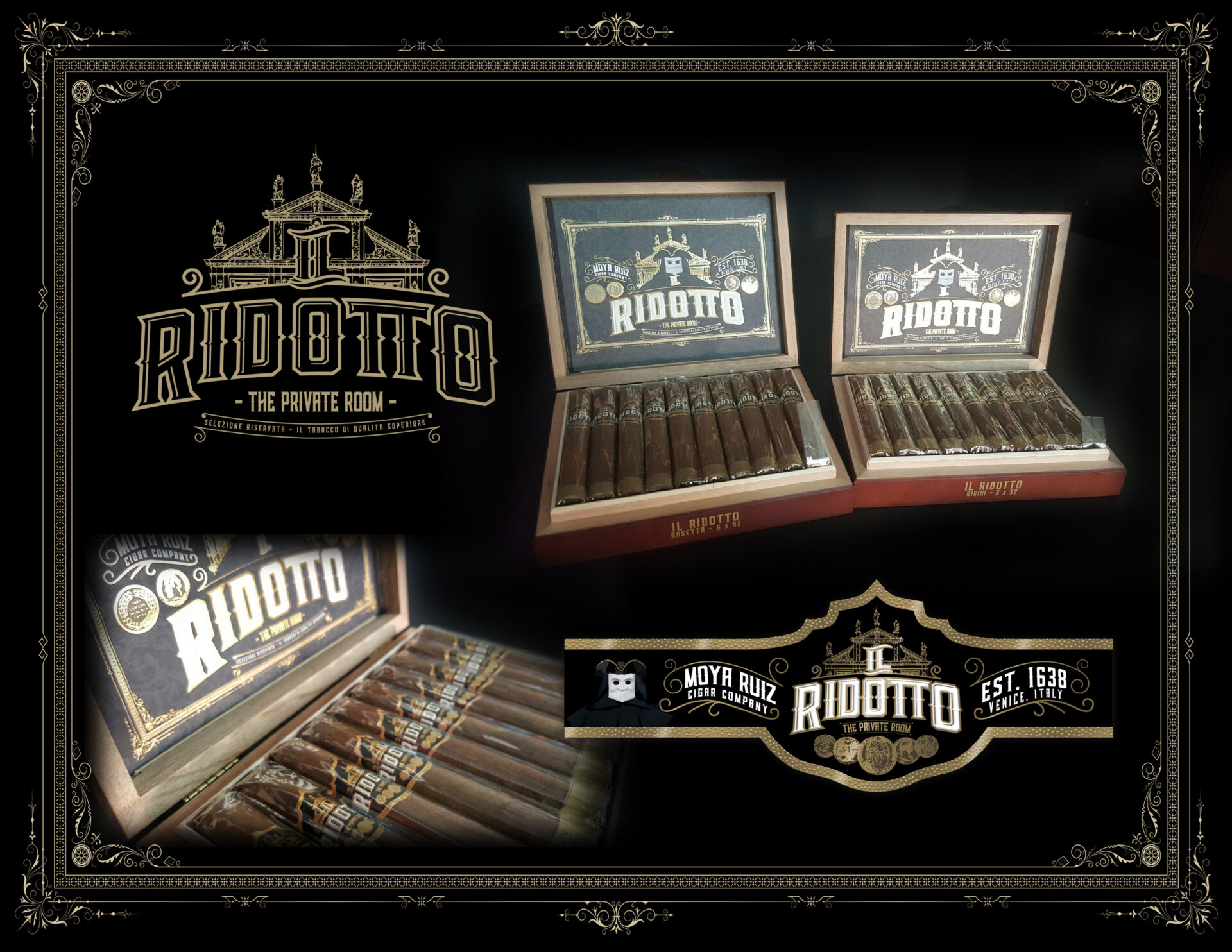 MoyaRuiz Cigars has announced its latest release, Il Ridotto. For this release, MoyaRuiz has become well known for its game themed releases like La Jugada (Dominos) and The Rake (Poker). For Il Ridotto, the company explores the roots of gambling – something that is an integral part of gaming.
According to MoyaRuiz, the name Il Ridotto translates to "The Private Room" and was known to be the first legal public gaming house, opening in 1638. After there were several attempts to bar citizens from gambling in the streets of Venice, the decision was made to open Il Ridotto. It was opened in the west wing of Venice's Dandolo Palace.
"Since both of our prior releases have to do with games, playing dominos and poker, we wanted to go back to the roots of gambling. That's where the inspiration came from, to really tell the story of gambling, which Americans love so passionately." commented Danny Moya, co-proprietor of MoyaRuiz Cigars in a press release.
The Il Ridotto packaging also showcases the required attire for casino guests -including Tricorne (3 cornered) hat and Bauta (Venetian) masks which were intended to cultivate a more noble environment and consume one's identity.
The names of the vitolas pay homage to two games played at Il Risotto: Biribi (5 x 52) and Basetta (6 x 52). Biribi was game of chance game in which players placed bets on one of 70 possible outcomes. Meanwhile Basetta incorporates elements poker, blackjack, and gin rummy.
The blend itself consists of a Brazilian Habano wrapper over Nicaraguan binder and filler. This is the first MoyaRuiz line to utilize a Brazilian wrapper.
Once again teaming with the La Zona factory in Esteli, Nicaragua, MoyaRuiz showcases a Nicaraguan blend, wrapped in a premium Brazilian-grown Habano wrapper. Il Ridotto offers a luxurious and complex profile, while retaining a very attractive price point.
Select retailers will receive Il Ridotto this week with a full rollout following the 2016 IPCPR Trade Show.
Il Ridotto joins La Jugada Claro No. 1 by MoyaRuiz Cigars, Civil Disobedience, and Dim Mak-The Death Touch as MoyaRuiz's 2016 IPCPR releases.
At a glance, here is a look at the Il Ridotto:
Blend Profile
Wrapper: Habano (Brazil)
Binder: Nicaragua
Filler: Nicaragua
Country of Origin: Nicaragua (La Zona)
Vitolas Available
Both vitolas are available in 20 count boxes
Biribi: 5 x 52 (SRP $8.00)
Basetta: 6 x 52 (SRP $8.20)
Image Credit: MoyaRuiz Cigars