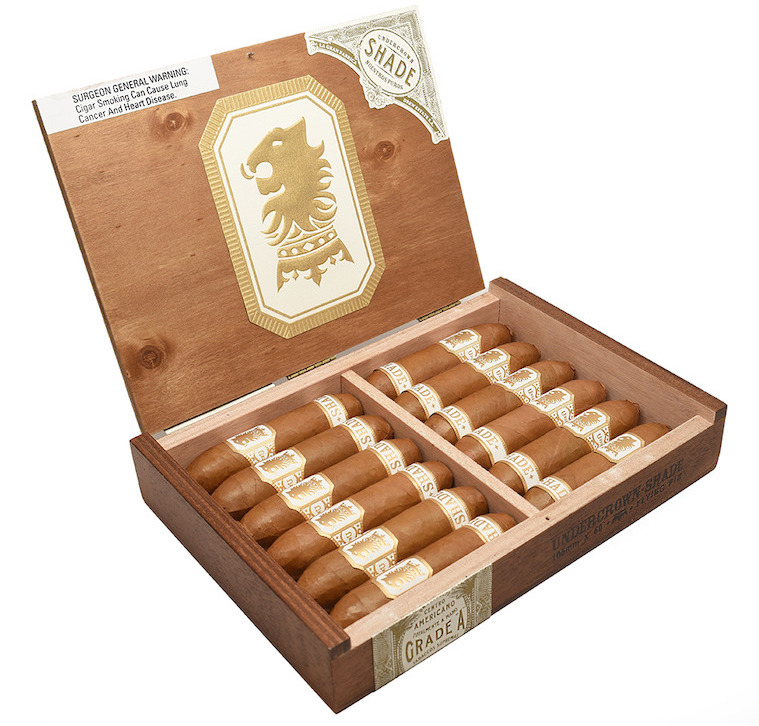 A sixth blend by Drew Estate will now be available in the Flying Pig vitola. At this year's 2016 IPCPR Trade Show, Drew Estate will officially unveil the Undercrown Flying Pig – the sixth blend in the company's signature short, fat perfecto format.
The Undercrown Shade was introduced at the 2015 IPCPR as a project done by Drew Estate Master Blender Willy Herrera. The line introduced a Connecticut Shade offering into the Undercrown brand.
Liga Privada No.9 Flying Pig
Liga Privada T52 Flying Pig
Liga Privada Unico Serie Feral Flying Pig
Undercrown Flying Pig
Kentucky Fire Cured Flying Pig
The Undercrown Shade Flying Pig will be a 3 15/16 x 60 format. All of the Flying Pigs except for the Feral Flying Pig (5 3/8 x 60) are in this size range. The blend will use the same tobacco components as the rest of the Undercrown Shade line – an Ecuadorian Connecticut Wrapper, a Sumatran Binder, and a mix of Dominican Criollo 98, Nicaraguan Criollo, and Corojo fillers.
In a press release, Drew Estate co-Founder Jonathan Drew stated, "It was amazing to witness the release of the Undercrown Flying Pig exclusively in Holland, and how many boxes ended up back in States. Hundreds of consumers, retailers, and Media visited Cigar Safari this past year and were able to try the Undercrown Shade Flying Pig at our La Gran Fabrica Drew Estate. Releasing the Shade pig was a natural progression in the development of the Shade line, this Flying Pig really kicks ass."
In addition to the Flying Pig, Undercrown Shade is adding a Churchill, Tubo Toro, and a 4 x 32 tin offering.
Photo Credit: Drew Estate