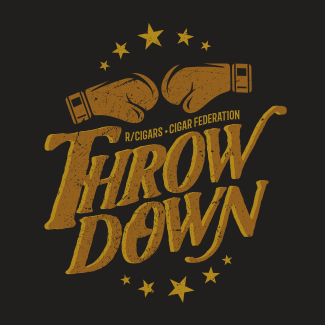 The Throw Down project is returning. Black Label Trading Company has announced it will produce the cigars for 2016 Throw Down Project. This year's participants in the Throw Down project are Cigar Federation and Reddit.
The Throw Down project was originally launched in 2015 between the Cigar Dojo and Cigar Federation online communities and was produced by Viaje Cigars. The project involves each community selecting a unique blend that represents the community. Consumers then have the opportunity to select the blend they prefer through voting.
In a press release announcing Throw Down, James Brown creator of Black Labeling Trading Company and an owner of Fabrica Oveja Negra said, "The cigars they chose are extremely different flavor profiles so it might be an obvious choice for some people, however I find it hard to pick my favorite of the two. This is going to be a tough competition for sure."
This year, the vitola of choice was a lancero. While it might be a surprise to many, the lancero is a size often embraced by online communities. Once again, consumers have the opportunity to vote for their favorite cigar.
Logan Lawler, owner of Cigar Federation selected a 7 x 38 lancero that features a Connecticut wrapper and Nicaraguan and Dominican filler. Lawler commented, "I went against the tide with this cigar. Normally, I don't gravitate toward Connecticut's but this blend is going to surprise people".
The Reddit blend is also a 7 x 38 lancero and consists of a San Andres Maduro wrapper with a Nicaraguan Habano binder and Nicaraguan filler. Reddit moderator An Phan commented, "Very few factories use San Andres as well as Fabrica Oveja Negra. The richness of the flavor will command your attention from the first draw."
The cigars will be sold in bundles of ten -each consisting of five cigars of the Cigar Federation blend and five cigars of the Reddit blend. A total of 150 bundles have been produced and each bundle is priced at $79.95. Cigar Federation will be exclusively selling the blend. Sales begin Tuesday, October 25th at 1PM Eastern for Cigar Federation and Reddit community members and those who sign up for early access and will be opened up to the general public starting at 3:00PM Eastern.