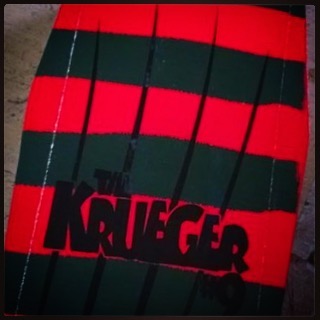 It was a couple of days later than normally, but today Tatuaje Cigars owner Pete Johnson announced on social media the list of the thirteen "Unlucky Retailers" who were chosen to receive custom dress boxes of the ninth installment of his annual Monsters Series – The Krueger. As the name indicates, this monster plays homage to the character of Freddy Krueger from the Nightmare on Elm Street horror movie series.
Dress boxes are limited custom-designed boxes with the 2016 Monster Theme. The thirteen retailers on the list will be allocated will be authorized to sell the dress boxes. In the past 666 boxes have been created. As in the past, Tatuaje will also make a limited production of plain (cedar boxes). . It is expected that authorized Tatuaje retailers will be able to acquire plain boxes containing The Krueger, but in the past the Unlucky 13 have gotten larger allocation.
Over the past few years, this has typically become one of the most anticipated cigar releases of the year by many cigar enthusiasts. As in the past, a pre-announcement of these retailers was made to the Tatuaje Saints and Sinners clubs has made prior to the public announcement. The name Unlucky 13 comes from the fact that the retailers selected to carry the dress boxes often has to deal with a frenzy of consumers trying to acquire a box.
The Krueger is a 7 1/4 x 48 bellicoso that features a Mexican San Andres wrapper over Nicaraguan binder and filler. This is the second Monster installment to use a Mexican wrapper joining The Face. It is also the third Monster installment to be box-pressed joining The Frank and The Wolfman. Finally, this is also the third bellicoso / torpedo int he series joining The Drac and The Wolfman.
The list of the retailers appears below:
8 to 8 Cigars (Villa Park, IL)
Beehive Cigars (Salt Lake City, UT)
The Cigar Box (Columbia, SC)
Cigar Smiths (Tiverton, RI)
Delaware Cigars (Newark, DE)
Emerson's Cigars  (Virginia Beach, VA)
En Fuego Cigars (Las Vegas, NV)
Habana House Cigars (Austin, TX)
Mission Pipe Shop (Pleasanton, CA)
Smoke Inn Wellington (Wellington, FL)
Smokers Delight (Union, NJ)
Tobacco Barn (Lake Forest, CA)
V-Cut Smoke Shop (Los Angeles, CA)
Photo Credit: Tatuaje Cigars
Editor's Note: The Freddy Krueger character was incorrectly linked to the Friday the 13th movies. This has been corrected to Nightmare on Elm Street.