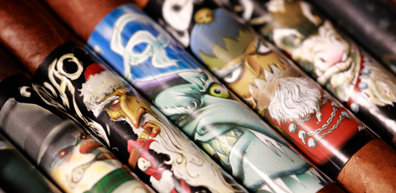 For the past three years CAO has been releasing several holiday themed releases. This year, seven of these blends will be packaged up in a 14 count sampler called the CAO Holiday Horde. The sampler is now available just in time for the end of the year holidays.
The sampler consists of six previously-released Christmas themed releases plus Sinister Sam, a 2014 limited edition release done for the Independence Day holiday.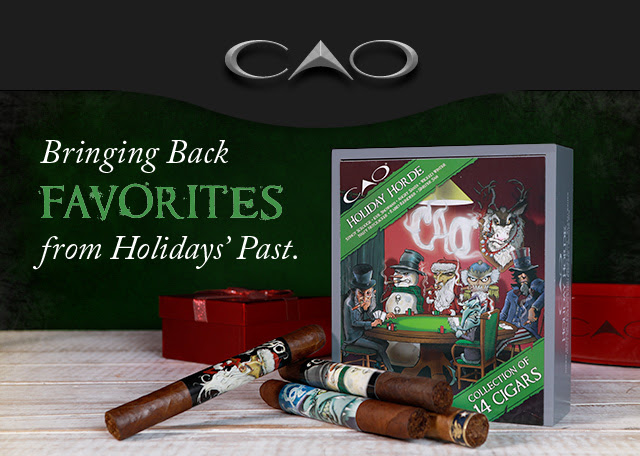 Here's a closer look at the cigars featured in the CAO Holiday Horde box. The sampler will contain two cigars per blend.
CAO Angry Santa (2013): A modified version of the CAO La Traviata.
CAO Evil Snowman (2013): A modified CAO La Traviata Maduro.
CAO Nasty Nutcracker (2014): A modified CAO Gold that utilizes golden shade tobacco throughout the cigar.
CAO Rabid Reindeer (2014): A modified Mx2 using Nicaraguan and Honduran ligeros for a stronger flavor profile. Available in 6.5 x 52.
CAO Stingy Scrooge (2015): This blend that incorporates five different tobaccos from five different countries.
CAO Wicked Winter (2015): This blend features a Honduran wrapper over Nicaraguan fillers.
CAO Sinister Sam: A modified version of the CAO America featuring a broadleaf binder, a ligero-driven filler, and a hint of Colombian.
Each of the seven offerings are a 6 1/2 x 50 toro-sized vitola.
Photo Credits: CAO Cigars