Agile Cigar Reviews replace what we termed "Assessment Updates". The concept is the same, but the name is different. Agile Cigar Reviews use a lightweight, shorter format. These will never take the place of our comprehensive reviews. They are only used on blends we have previously assessed. This might be a blend we are re-scoring or providing a score for a first time. It might be a blend we are looking at in a different size. Today we look at the Black Label Trading Company Deliverance Nocturne in the Perfecto size. This is a cigar we previously assessed several times, most recently in the Short Salomon Snub Nose size in January 2016.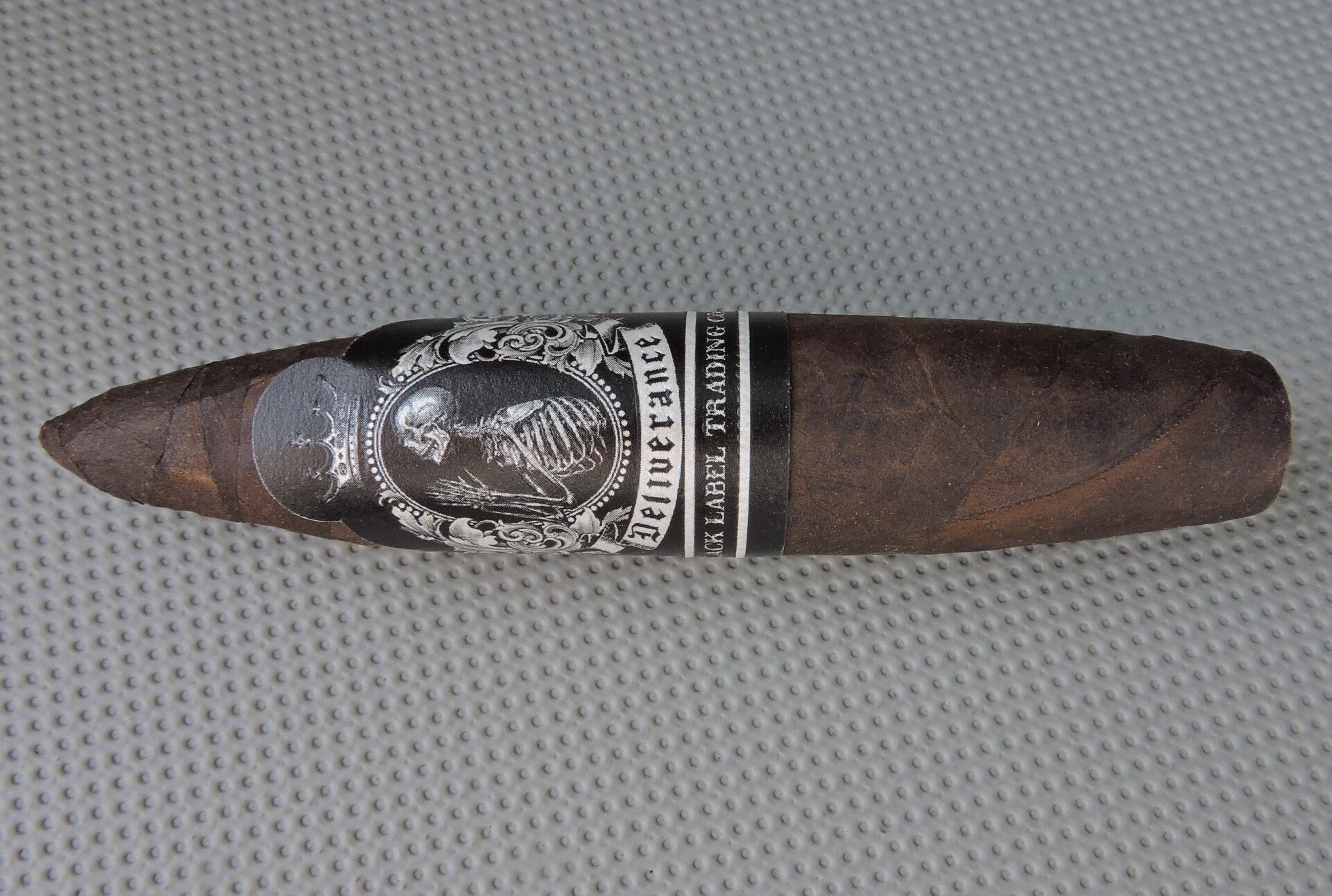 Wrapper: Pennsylvania Broadleaf
Binder: Nicaraguan Habano
Filler: Nicaragua and Pennsylvania
Country of Origin: Nicaragua (Fabrica Oveja Negra)
Perfecto: 5 x 56
Late in 2016, Black Label Trading Company released the 2016 installment of its limited edition Deliverance Nocturne line. The line was originally released in 2014 as a San Andres Natural wrapper blend. Last year, the Deliverance Nocturne blend made its debut – highlighted by a Pennsylvania Broadleaf wrapper. The Deliverance Nocturne was released in two unique salomon shapes that look almost like baseball bats – Salomon Snub Nose and Short Salomon Snub Nose. Those two sizes returned for 2016, but this year a 5 x 56 perfecto size was added to the mix. Today we take a look at the Deliverance Nocturne Perfecto from 2016.
In addition to the Pennsylvania Broadleaf wrapper, Nocturne consists of a Nicaraguan Habano wrapper and fillers from Nicaragua and Pennsylvania. The cigar is made at Black Label Trading Company's own factory, Fabrica Oveja Negra in Nicaragua and distributed by Boutiques Unified. The Nocturne Perfecto is packaged in 20 count boxes.
The Snub Nose vitolas have showcased the artesian craftsmanship coming out of Fabrica Oveja Negra and the new perfecto size is no exception. The head of perfecto is sharply tapered and closed torpedo-like tip. The footer contains a more gentle taper and is open.
The flavor profile Deliverance Nocturne Perfecto contains the signature big chocolate notes that I have found across the Salomon Snub Nose and Short Salomon Snub Nose lines. There are also notes of earth, pepper, and cedar. The flavor pattern of the Perfecto is also similar to its Snub Nose siblings – delivering more chocolate in the first half. The second half sees more in the way of spice and pepper.
I found the flavors to be bold, but not overwhelming on the palate. They start out medium to full in the first half before progressing to full-bodied in the second half. This is countered by medium to full strength. Both the burn and draw are excellent.
Deliverance Nocturne is an excellent Pennsylvania Broadleaf blend and the 2016 Perfecto keeps to the nice track record established by the 2015 edition. Since it's bolder, I'd probably first recommend this to a more experienced cigar enthusiast. At the same time since this is not overwhelming on the palate, it's a great cigar for a newbie to progress to something on the fuller side. As for myself, this is a cigar I'd smoke again – and it's worthy of a box split.
Summary
Key Flavors Chocolate, Earth, Citrus, Cedar, Pepper
Burn: Excellent
Draw: Excellent
Complexity: Medium
Strength: Medium to Full
Body: Medium to Full (1st Half), Full (2nd Half)
Finish: Very Good
Rating
Assessment: 3.5-Box Split
Score: 91
References
Previous Assessment: Black Label Trading Company Deliverance Nocturne Short Salomon Snub Nose
News: Black Label Trading Company Deliverance Nocturne Returns with Third Size
Price: $10.00
Source: Gifted to Cigar Coop
Brand Reference: Black Label Trading Company
Photo Credits: Cigar Coop