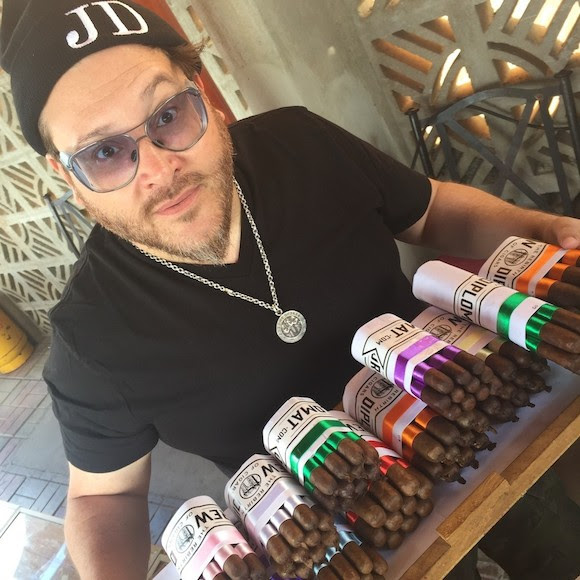 Drew Estate has announced company co-founder Jonathan Drew has signed a new multi-year agreement where he will assume the role as President of the company. In this role, Drew returns to an executive operations position reporting to CEO Glenn Wolfson where his responsibilities will include overseeing the entire portfolio of Drew Estate's brands.
Following the acquisition of Drew Estate by Swisher International in 2014, Drew had taken on more of an ambassador role focused on events.
"Jonathan Drew is a dynamic entrepreneur, respected tobacco man, and a tenacious brand evangelist. He is the original Disruptor, and I am excited to help build a team around JD that is raw, provocative, and unafraid to challenge the mainstream and take risks," explained Drew Estate's CEO Glenn Wolfson in a press release. "Jonathan Drew will reduce his travel and event schedule, instead focusing on the Rebirth of Drew Estate with a conceptual lens toward brand building and team building."
Drew Estate stated the move was meant to be a  return to its roots with the objective to "unleash the entire team's creative power under the leadership of JD".
Simultaneously, Drew with continue in his role as CEO of John Drew Brands – his startup company in the spirits industry.
"I'm a student of graffiti … and philosophically I look at tobacco the same way. There is an evolution to the painted walls in the streets, just like there was on the subways back in the day. Change is natural and accepted. You just have to bomb harder and stay true to your technique and style – and always keep loyal to your crew. There's a lot to learn from areas outside of our main canvas at DE. We will return to high-level curation, mixed media platforms, and true collaboration. We have lost our way a bit, but DE will bubble back 1,000 times stronger. Believe me," stated Drew.
Photo Credit: Drew Estate