Agile Cigar Reviews are cigar assessments where we use a lightweight, shorter format. These will never take the place of our comprehensive reviews. They are only used on blends we have previously assessed. This might be a blend we are re-scoring or providing a score for the first time or it might be a blend we are looking at in a different size. Today we look at the Black Works Studio in the Robusto size. This is a cigar we assessed back in October 2016.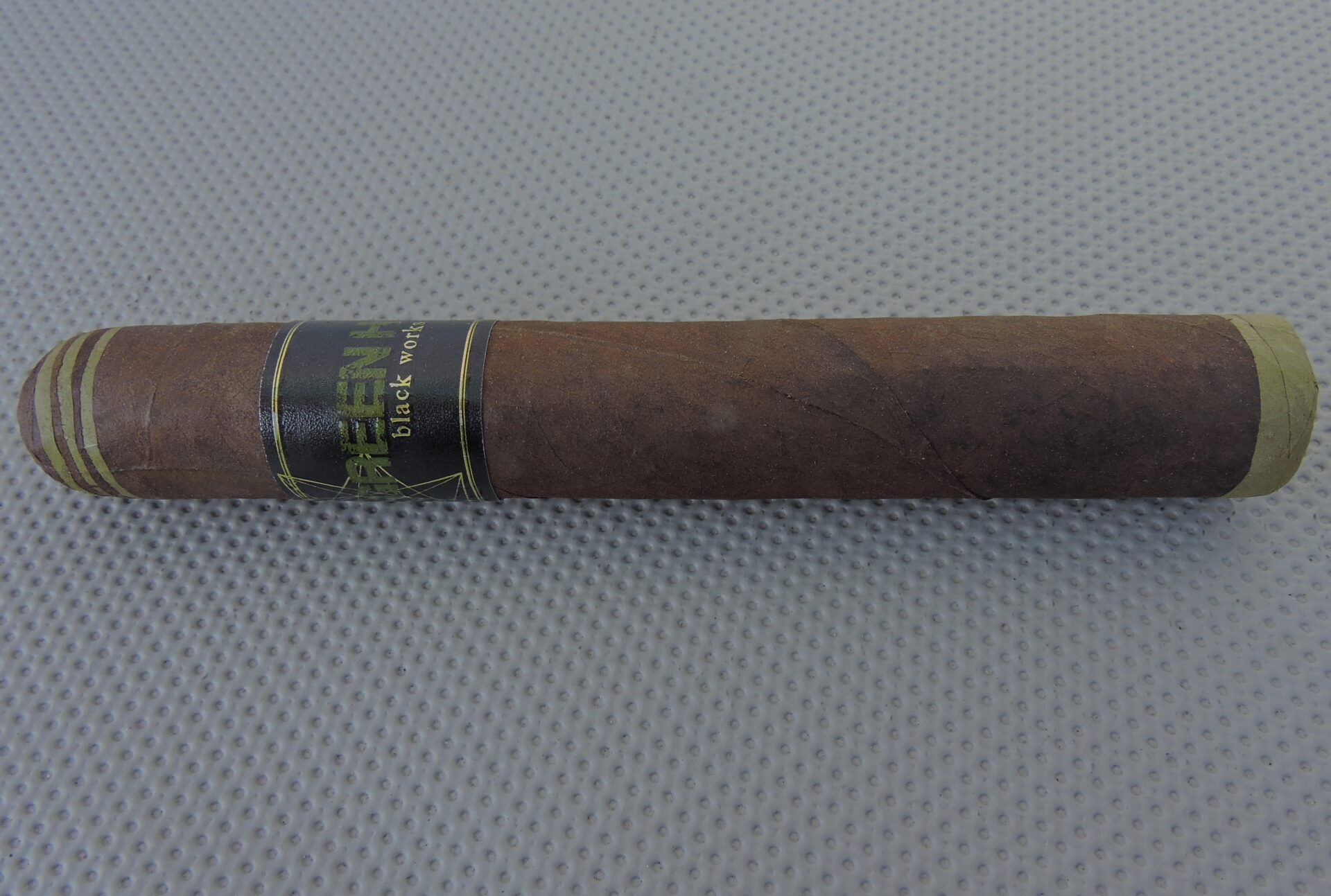 Wrapper: Ecuadorian Maduro w/ Candela linear cap & closed foot
Binder: Nicaraguan Habano
Filler: Nicaragua
Country of Origin: Nicaragua (Fabrica Oveja Negra)
Robusto: 5 x 48
Black Works Studio is a boutique brand that comes from James Brown and Fabrica Oveja Negra. The brand has quickly become known for its artisan style cigars. The story of the Black Works Studio Green Hornet traces back to another release, the Black Works Studio Killer Bee. The Killer Bee is a cigar that features natural tobacco linear rings around the cap. The Green Hornet introduced a variation to the Killer Bee. It uses candela tobacco for the linear rings as well as candela to cover the footer. Originally, the line was branded as the Killer Bee Green Hornet. Earlier this year, Black Works Studio officially made Green Hornet a standalone line – complete with its own packaging.
In addition to the candela accents, the Green Hornet blend incorporates an Ecuadorian Habano Maduro wrapper, a Nicaraguan Habano binder, and an all-Nicaraguan filler. The Robusto is pretty close to a Rothschild size measuring 5 x 48.
The one thing that is quite unique about the Green Hornet is the "candela blast" this cigar delivers at the beginning. This consists of classic candela notes of grass, herb, and white pepper. Once the cigar crosses into the maduro portion, it transitions to notes of coffee, cream, and background notes of chocolate and white pepper. By the second third, a lemon note entered the equation and the creaminess  greatly diminishes.
Later during the second third, the white pepper increases and by the final third, the white pepper joins the coffee in the forefront. Some lemon notes remains in the background and the chocolate becomes more distant.
The one thing I noticed is that the strength and body was dialed back slightly. I didn't find this to negatively affect the flavor profile.
The Green Hornet Robusto made our 2016 Cigar of the Year Countdown and with good reason – it's an excellent cigar. While there might be some different packaging on this cigar now, it's the same high quality cigar out of Fabrica Oveja Negra. It's a cigar that I'd recommend to a novice or experienced cigar enthusiast. This cigar has been and still remains box worthy in my book.
Summary
Key Flavors: Grass, Herb, Coffee, Chocolate, Lemon, White Pepper
Burn: Very Good
Draw: Excellent
Complexity: Medium+
Strength: Medium
Body: Medium
Finish: Excellent
Rating
Assessment: 4.0-Box Worthy
Score: 92
References
Previous Assessment: Black Works Studio Killer Bee Green Hornet Robusto
News: Black Works Studio Killer Bee Green Hornet to Debut at the 2016 IPCPR Trade Show
Price: $9.50
Source: Black Works Studio
Brand Reference: Black Works Studio