---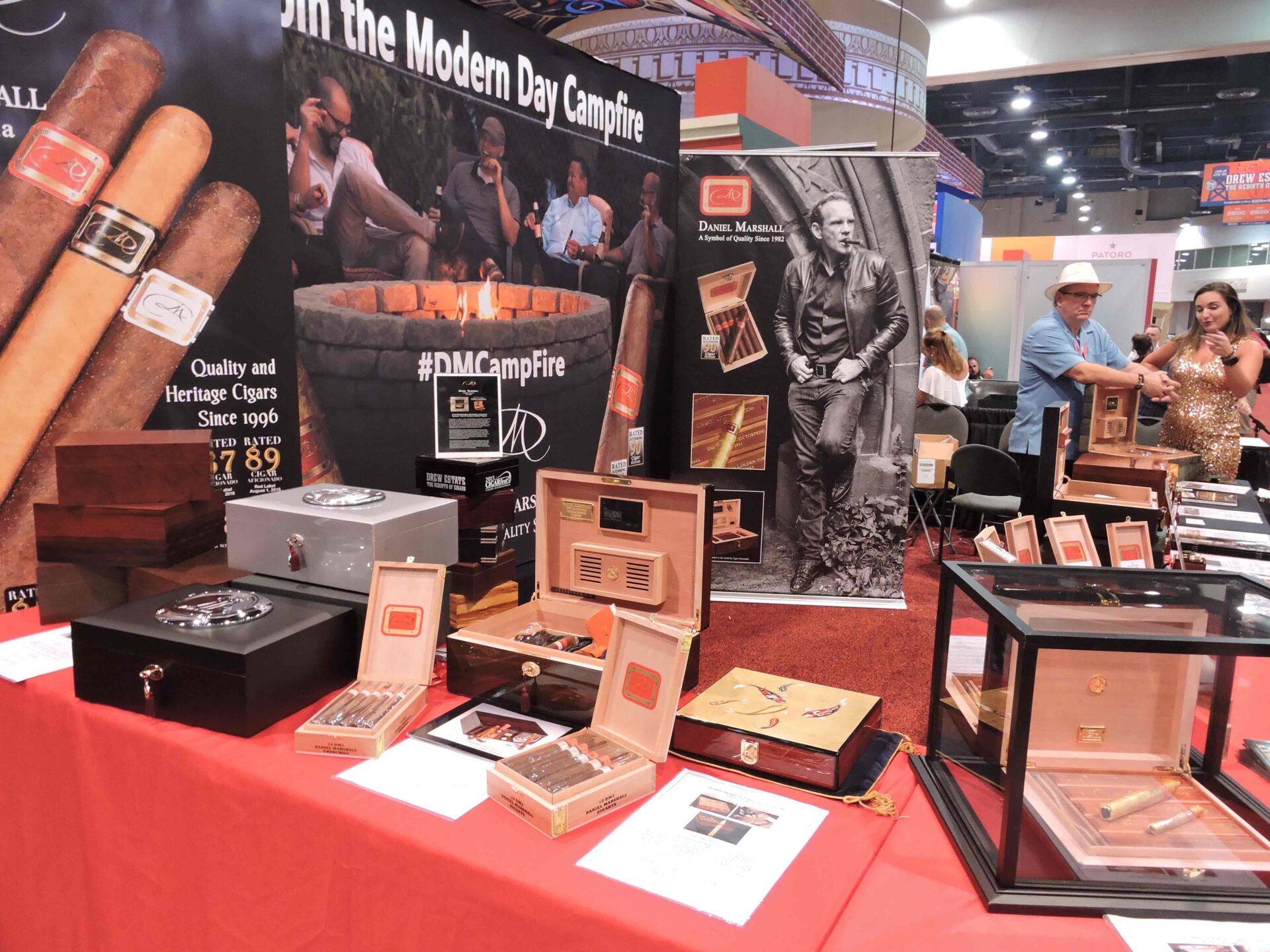 Daniel Marshall is a name synonymous with the luxury cigar lifestyle. Upon visiting the Daniel Marshall booth, there were plenty of items keeping true to that mission. However, there were two other themes this year which were a big part of Daniel Marshall's presentation: Affordable Luxury and the 35th anniversary of founder Daniel Marshall in the cigar business.
The centerpiece luxury item was the 24k Art Cigar. It is an extension of another project released by Daniel Marshall, the Daniel Marshall 24kt Golden Torpedo. It was a cigar that was wrapped with 24-carat gold leaves that was designed to be smokable. Once rolled with the gold the cigars are handprinted with an edible ink Koi fish design. The cigars are sold in a set of five with each cigar having a different fish design. The cigars are packaged in a Daniel Marshall desktop humidor where the lid is covered in 24kt gold and Koi fish paintings.
Besides the gold leaves, the tobacco components are 100% Nicaraguan. It's available in a 6 1/4 x 54 Torpedo. The humidor along with five 24k Art Cigars retails for $4995.00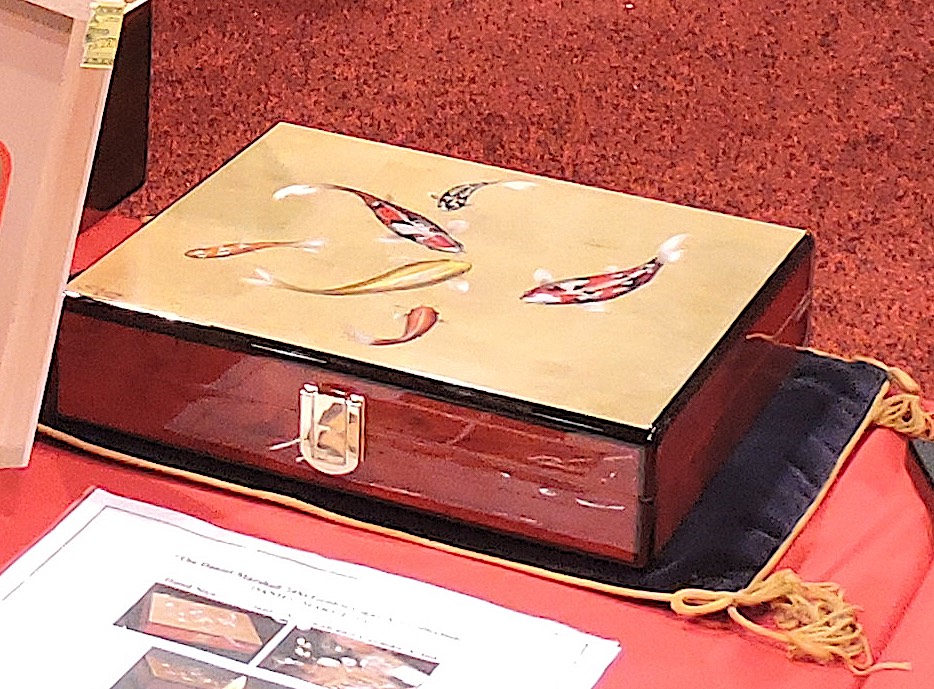 Prior to IPCPR, Daniel Marshall said it would give its dealers a chance to host an in-store event featuring Daniel Marshall and a Balvenie Whisky brand ambassador. The event will include a tasting of both Balvenie Whisky and Daniel Marshall cigars. Select retailers will get the opportunity to host a "Golden Moment" event that includes the Daniel Marshall 24k Golden Cigar.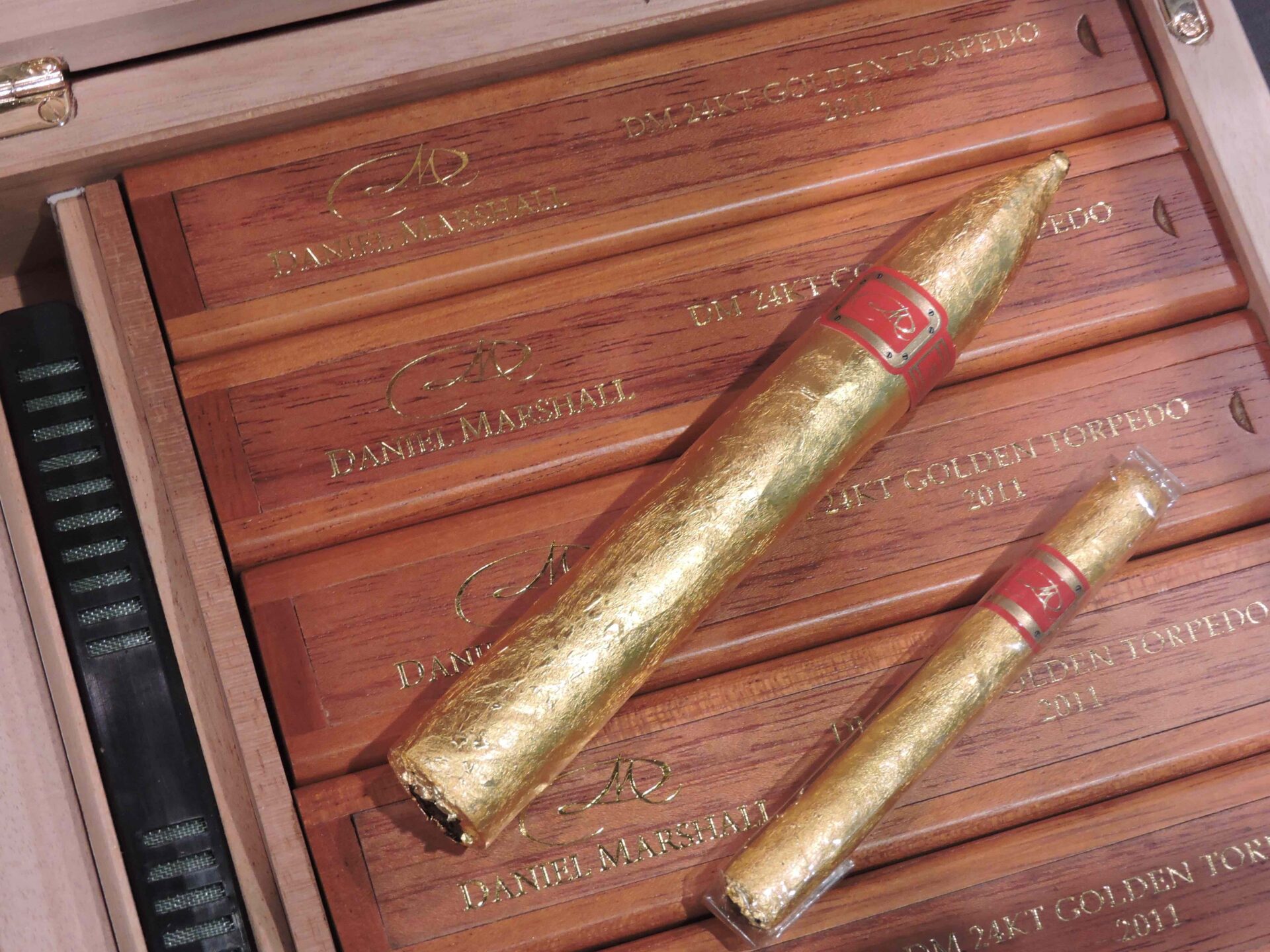 Daniel Marshall is also introducing a 35th-anniversary cigar. Produced at Plasencia S.A., the cigar itself is a Nicaraguan puro offered in four sizes (Corona, Robusto, Torpedo, 6 x 60) and utilizing tobaccos aged for two years. The cigars are rolled and packaged in ten-count boxes. The boxes are then aged in the company's DM Humidors. The cigar is meant to demonstrate the benefits of box aging a cigar in a DM Humidor.
The company showcased what was the final version of its 35th-anniversary humidor. This humidor was inspired by the first humidor that founder Daniel Marshall designed 35 years ago. It's finished with a Macassar Ebony wood. It also contains a bottle of Glenfiddich 21-year Scotch whisky.
It also contains a unique bottle of Glenfiddich 21-year Scotch whisky that is not available in the United States and two Glenfiddich nosing glasses from Scotland. The bottle is hand-signed by Kristen Grant, the great-great-granddaughter of Glenfiddich founder William Grant.  Each unit is numbered and contains a gold nameplate. The unit retails for $1495.00.
Daniel Marshall is introducing a bespoke humidor program known as "Passion for Harley's". Under the program, customers can order a specialized hand carved American Alder wood Daniel Marshall humidor. The top of the humidor will feature a custom Derby Cover bolted on the top that matches the one on their Harley Davidson motorcycle – complete the Harley Davidson Vin number carved into the top.
Daniel Marshall will also produce a special series that feature the famous "Fat Boy" Derby Cover. This is the from the same kind of motorcycle used in the Terminator films. One of these units will be auctioned for charity.  The Passion for Harley's units will retail for $1295.00.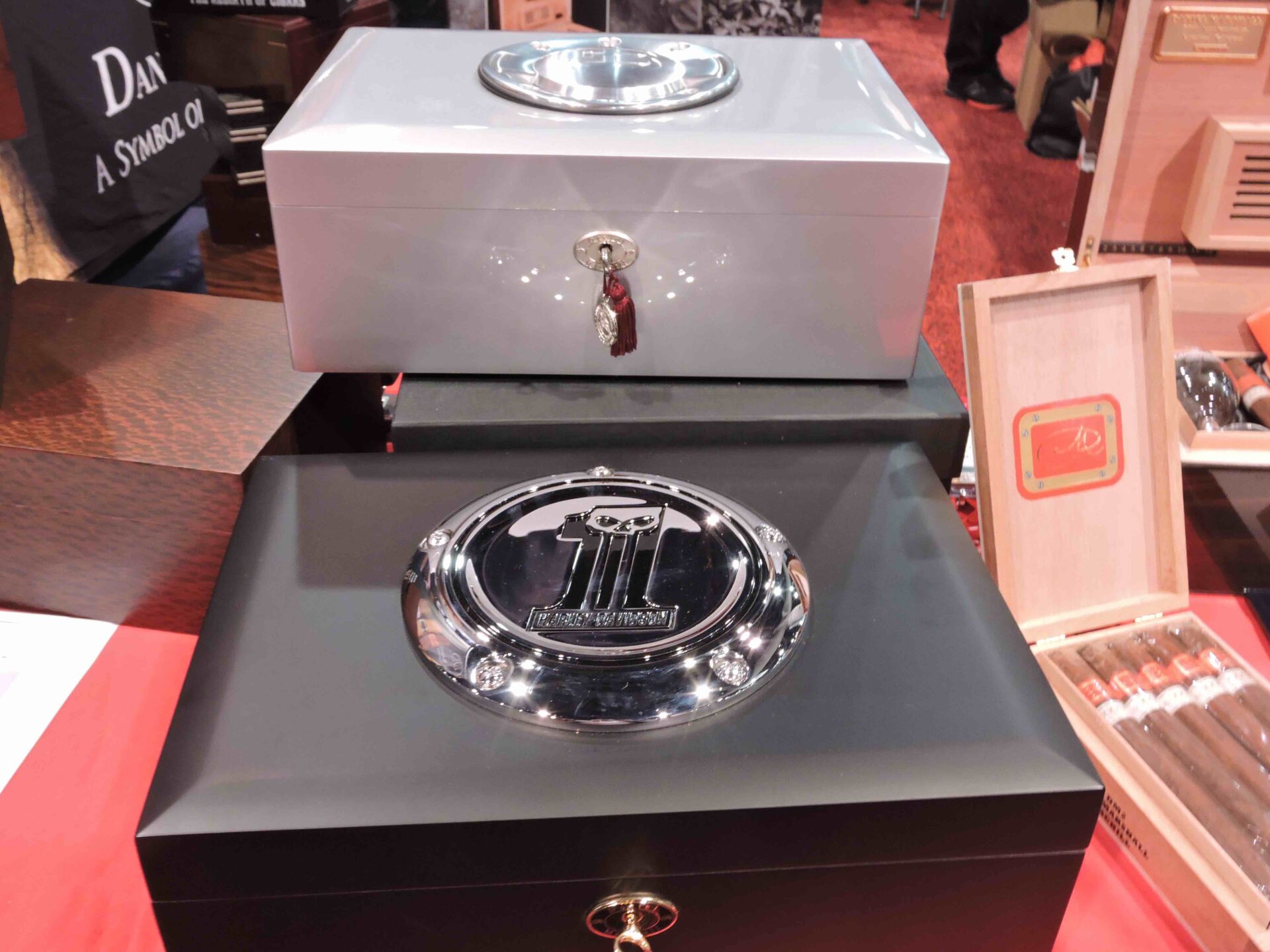 In terms of Affordable Luxury, the company has been looking at ways to put a more affordable Daniel Marshall humidor into the hands of consumers who desire a high-end product. This year the company introduced Ambiente by Daniel Marshall "Affordable Luxury" Collection. It's a set of humidors designed to be exactly what the name indicates. The humidors are available in five matte finishes: Maple, Macassar, Ebony, Bubinga, and Lacewood. The units also have a holder designed to work with a new DM rechargeable humidification device. Pricing for the Ambiente is $395.00 per unit.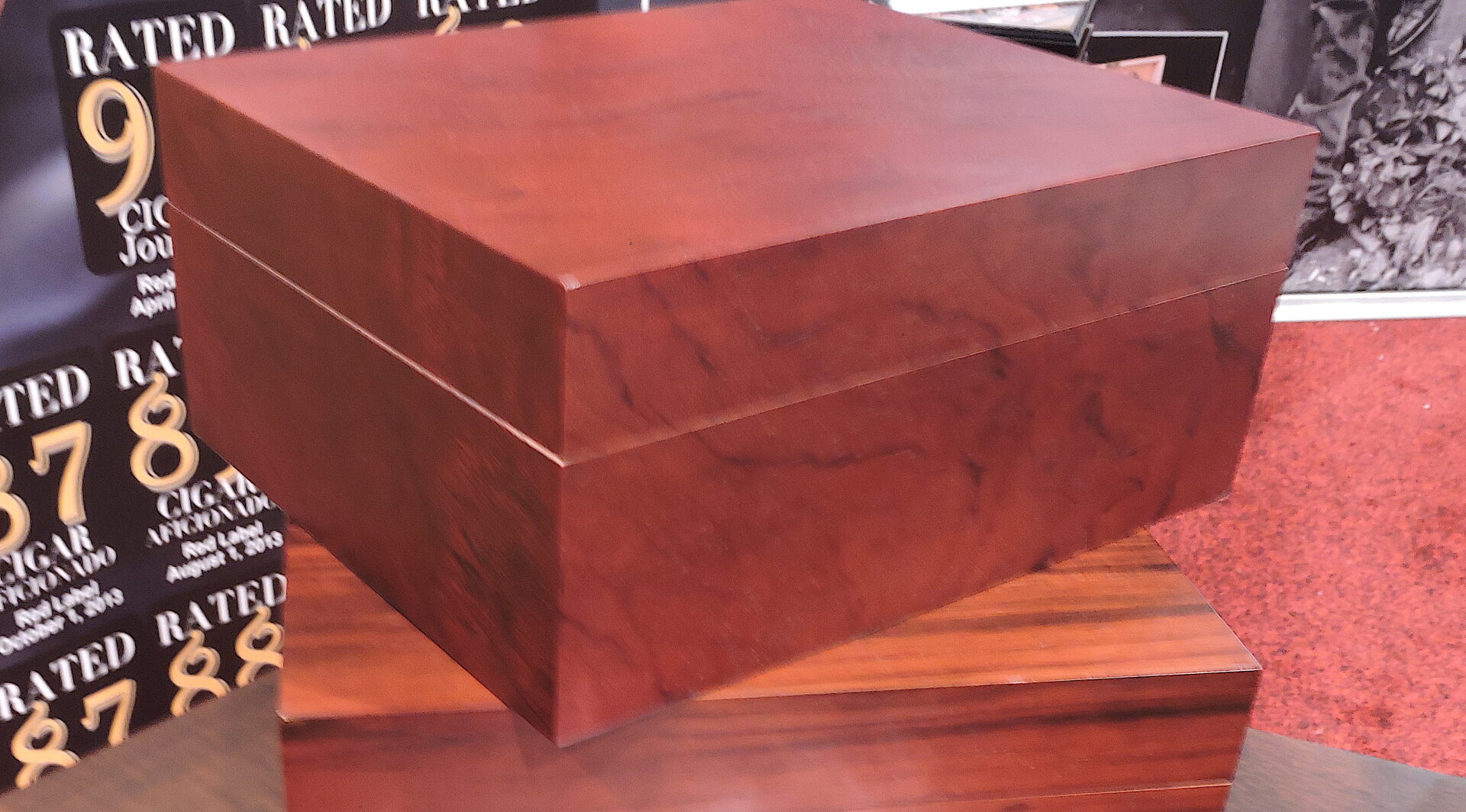 Meanwhile, the company continues to promote its "DM Cash for Clunker" program. "DM Cash for Clunkers" was inspired by the popular "Cash for Clunkers" automotive program where customers can trade in used cars for a cash voucher that could be used for a new car. "DM Cash for Clunkers" applies to humidors, as cigar enthusiasts will now have the opportunity to trade a used ("clunker") humidor and receive a $100.00 voucher toward one of three DM luxury humidors. Marshall told me the program has had an overwhelming response from consumers.
Finally, the company is also introducing Daniel Marshall Cigarillo cases. There are two versions: Flat Pocket – a flat pocket version that holds eight cigarillos; and Oval – a double layered version that holds ten. Each is handmade in California out of solid brown/black striped Macassar ebony wood from Sri Lanka. The unit also has magnets that hold the lid closed. It features a solid brass plate that can be engraved. Daniel Marshall holds patents for the exclusive design. The units retail for $195.00 each.
2018 Product Reports
Photo Credits: Cigar Coop, except where noted