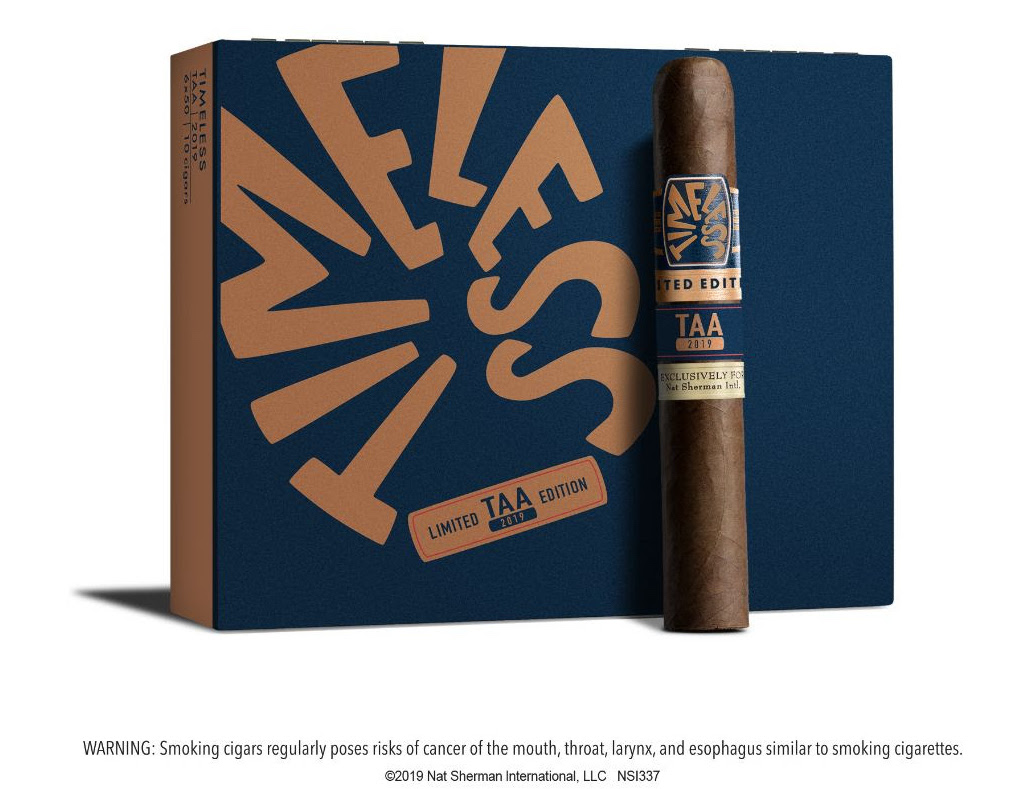 At this year's annual Tobacconist Association of America (TAA) Convention taking place at Casa de Campo in the Dominican Republic, Nat Sherman will introduce a cigar that will be part of the 2019 TAA Exclusive Series. That cigar is the Nat Sherman Timeless Limited Edition TAA Exclusive.
The Nat Sherman Timeless Limited Edition TAA Exclusive is the first limited edition cigar to come under the Timeless brand. The cigar is described as full-bodied Dominican Puro and will come in one size – a 6 x 49 Toro.
"We are offering this incredibly special cigar to an equally special group of retailers," said Michael Herklots, Vice President of Nat Sherman International in a press release. "This project has been in the works for just over a year, and the cigars are enjoying their final stages of cold aging, preserving the tobacco's rich characteristics while allowing proper marriage of essential oils, and balancing of humidity."
The Nat Sherman Timeless Limited Edition TAA Exclusive will be presented in ten-count boxes. A total of 1,500 boxes are being produced. Pricing is set at $145.00 per box prior to state and local taxes. While the cigars feature the new design used for the Timeless brand introduced last year, it does use a unique color scheme.
This is the second cigar that Nat Sherman has produced for the TAA. In 2015, Nat Sherman released the Panamericana as an exclusive to TAA retailers. It was an ongoing exclusive offering to the TAA until late last year where it was added as a regular offering.
Typically TAA Exclusive Cigars are unveiled at the annual convention and made available to the approximately 80 retail members. The members come together at the annual convention and collectively make high volume purchases on cigars in exchange for exclusive promotions and pricing.
While other companies are expected to make TAA releases, very few make formal announcements on the products being offered to the TAA. The TAA also does not make formal announcements. The Nat Sherman Timeless Limited Edition TAA Exclusive joins Crowned Heads' The Angel's Anvil 2019, Eiroa Jamastran, E.P. Carrillo La Historia 656, and La Palina Silver Label as TAA releases Cigar Coop has been able to confirm thus far.
Nat Sherman expects the cigars ship to retailers in late spring.