Agile Cigar Reviews are cigar assessments where we use a lightweight, shorter format. These will never take the place of our comprehensive reviews. They are only used on blends we have previously assessed. This might be a blend we are re-scoring or giving a score for the first time. It might be a blend we are looking at in a different size. Today we look at the Atabey in the Ritos size. This is a cigar line we previously assessed in the Brujos size back in June 2013.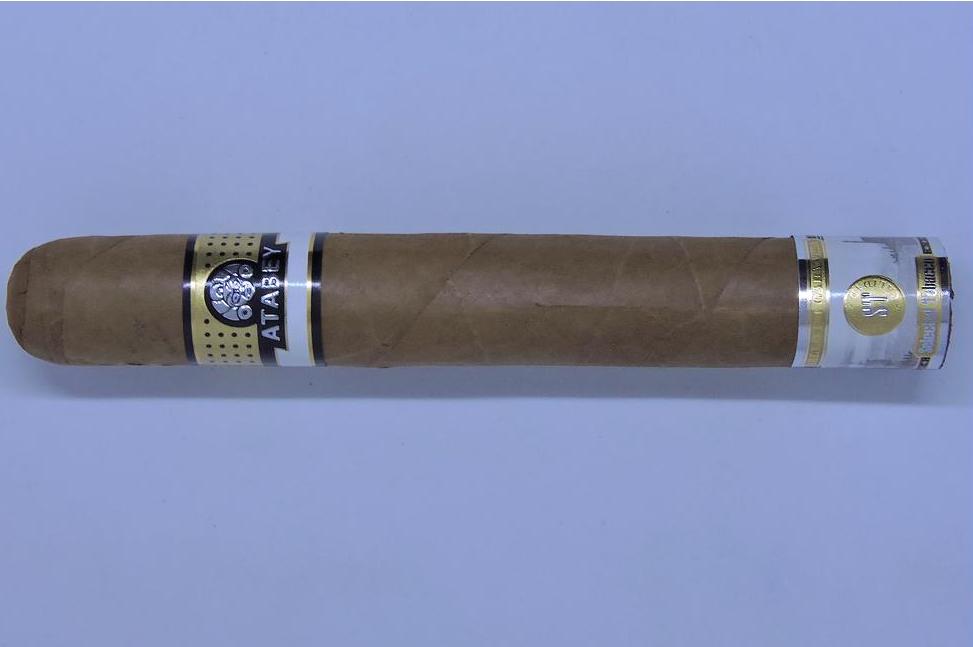 Wrapper: Not Disclosed
Binder: Not Disclosed
Filler: Not Disclosed
Country of Origin: Costa Rica
Factory: Tabacos de Costa Rica
Ritos: 6 1/8 x 55
Atabey is an ultra-premium brand from Selected Tobacco. Selected Tobacco is the brainchild of Nelson Alfonso. Alfonso is an artist from Cuba who has worked on the branding of several projects for Habanos S.A., most notably the Cohiba Behike. His work has also been used on non-Cuban brands as he designed the humidor for the Padron 50th Anniversary cigars. In addition to his art and design work, Alfonso founded his own cigar company Selected Tobacco. There are three brands: Atabey, Byron, and Bandolero. The cigars from Selected Tobacco are distributed by David Garofalo's United Cigar Group and are produced in Costa Rica at Tabacos de Costa.  Selected Tobacco was on the Cigar Coop radar back in 2014 as we identified it as one of our "Five Companies to Watch." Back then Selected Tobacco was an unknown, today it is much more recognizable. Meanwhile, the Atabey brand has emerged as one of the more popular offerings. It's an ultra-premium brand. Over the years it has grown to 11 different vitolas. Today we take a closer look at this cigar in the Ritos (6 1/8 x 55 size).
One thing about the blends of Selected Tobacco is there isn't a lot disclosed. The official statement is that the blend is undisclosed, but Cigar Aficionado reported in 2015 as the cigar as having an Ecuadorian Havana wrapper with mostly "Nicaraguan guts."
Like all of the Selected Tobacco offerings, Atabey features some innovative packaging. There have been things such as humi-tubes (tubos with a humidification device), jars, and humidor packaging. The Atabey Ritos comes in a 30-count box that can be reused as a humidor.
The Atabey Ritos started out with notes of wood, straw, berry, and a subtle brown sugar note. Herbal and toast notes soon followed. The herbal and straw notes took over as the primary notes. By the second third, the herbal and straw notes morphed into a natural tobacco note and some black pepper emerged. The berry and brown sugar continued to deliver some sweetness. The last third saw a slight decrease of this sweetness and there was an increase of pepper.
The flavors delivered were medium-bodied countered by mild to medium strength. There was a slight increase in intensity of the strength and body along the way, but in the end the cigar remained a mild to medium strength, medium-bodied cigar. In terms of strength versus body, the body maintained the edge.
OVERALL ASSESSMENT
Final Thoughts
The Atabey Ritos is a cigar that fires on all cylinders – flavor, complexity, and construction. It's not a powerhouse cigar, but what it doesn't have in terms of strength, it pays back dividends in terms of flavor. Six years ago, we scored the Brujos size of the Atabey a 95. A lot has changed in terms of our scoring methodology, and while the Atabey Ritos pulls in a 92, it still should be regarded as equally impressive. This is a cigar I would recommend to any cigar enthusiast – even someone who tends not to go for a milder cigar in strength. At $33.00, it's still worth the investment of buying multiples to have in your humidor.
Summary
Key Flavors: Herb, Wood, Straw, Berry, Brown Sugar, Toast, Natural Tobacco, Black Pepper
Burn: Excellent
Draw: Excellent
Complexity: High
Strength: Mild to Medium
Body: Medium
Finish: Very Good
Rating
Value: Buy Multiples
Score: 92
References
Previous Assessment: Atabey by Selected Tobacco
News: n/a
Price: $33.00
Source: United Cigar, Purchased
Brand Reference: Atabay
Photo Credit: Cigar Coop