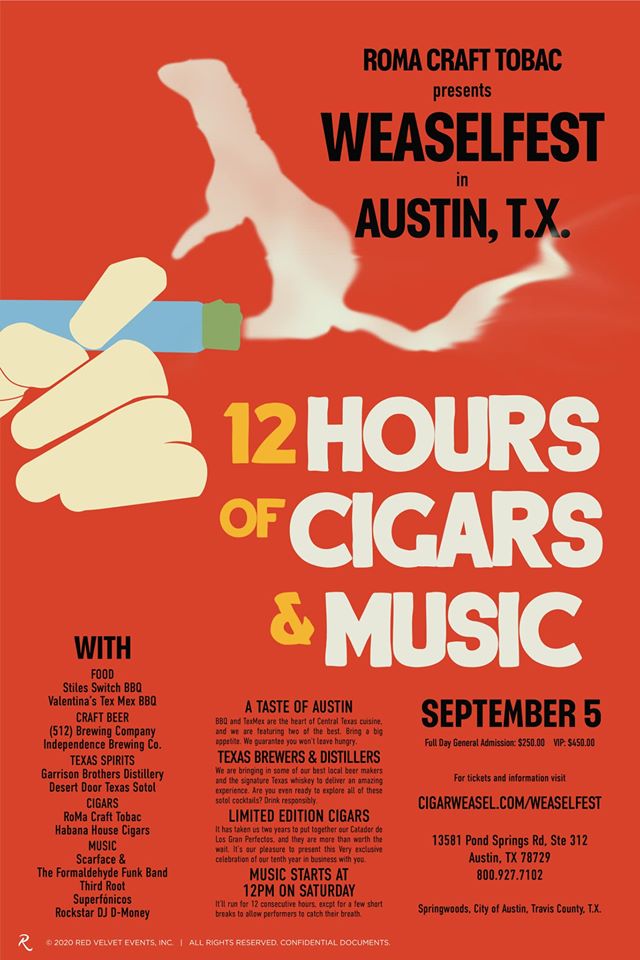 On Saturday, June 6, RoMa Craft Tobac will begin selling tickets to its inaugural WeaselFest event that will take place Labor Day Weekend on September 5, 2020, in Austin, Texas. It's a 12-hour event to celebrate RoMa Craft Tobac's 10 year anniversary.
The company has set up a special website to purchase tickets:
https://weaselfest.app.rsvpify.com
RoMa Craft Tobac was originally targeting the event Memorial Day Weekend, but postponed the event due to COVID-19 pandemic.
The event will feature a combination of BBQ and TexMex food, beer and spirits, music, and of course cigars. Attendees will have the option of purchasing a General Admission Ticket ($250.00) or VIP ($450.00). A total of 400 tickets will be available with 350 slated for General Admission and 50 for VIP.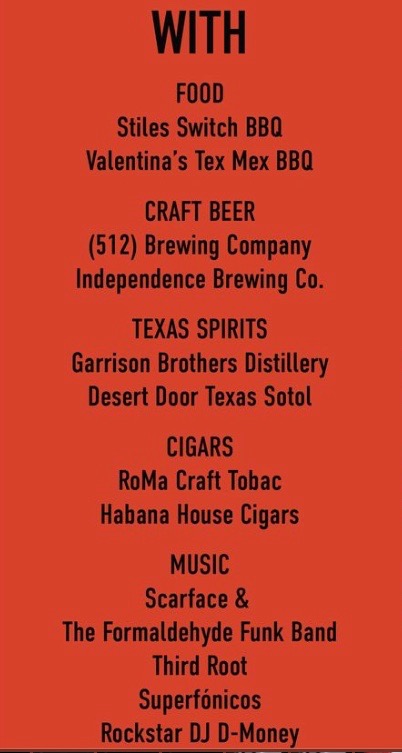 At the event, the company will make available its El Catador de Los Gran Perfectos sampler made for RoMa Craft Tobac's 10th Anniversary. This is a sampler of eight 5 5/8 x 60 Gran Perfecto cigars from RoMa Craft Tobac's popular lines including CroMagnon, Aquataine, Intemperance BA XXI, Intemperance EC XVIII, Intemperance Whiskey Rebellion (WR) 1794, Neanderthal, Baka, and Wunder|Lust. The packs will sell for $120.00 with a total of 1,500 samplers available. VIP tickets will include one of the El Catador de Los Gran Perfectos samplers.
In addition, all attendees will be mailed two weasel packs in July and August prior to the event.
Music at Weaselfest will include a famous Latin Super Band from Austin and a legendary hip hop MC.
At the time of ticket purchase, RoMa Craft Tobac will also provide booking information for special rates at host hotels. There will be shuttle service throughout the day between parking venues, host hotels, and the event itself.
In terms of COVID-19, RoMa Craft Tobac says the event is expected to proceed as planned but is monitoring the situation to ensure all local rules and regulations are observed, as well as taking health and safety measures into account. Should COVID-19 post a risk, the company says a partial refund of the base ticket price will be refunded. The non-refundable portion ($50.00/person) will be used to support the local artists and businesses who partnered with them to produce this event and to cover the costs of the Weasel Packs that will be sent prior to the event.
RoMa Craft Tobac says questions of the event can be emailed to: sales@cigarweasel.com