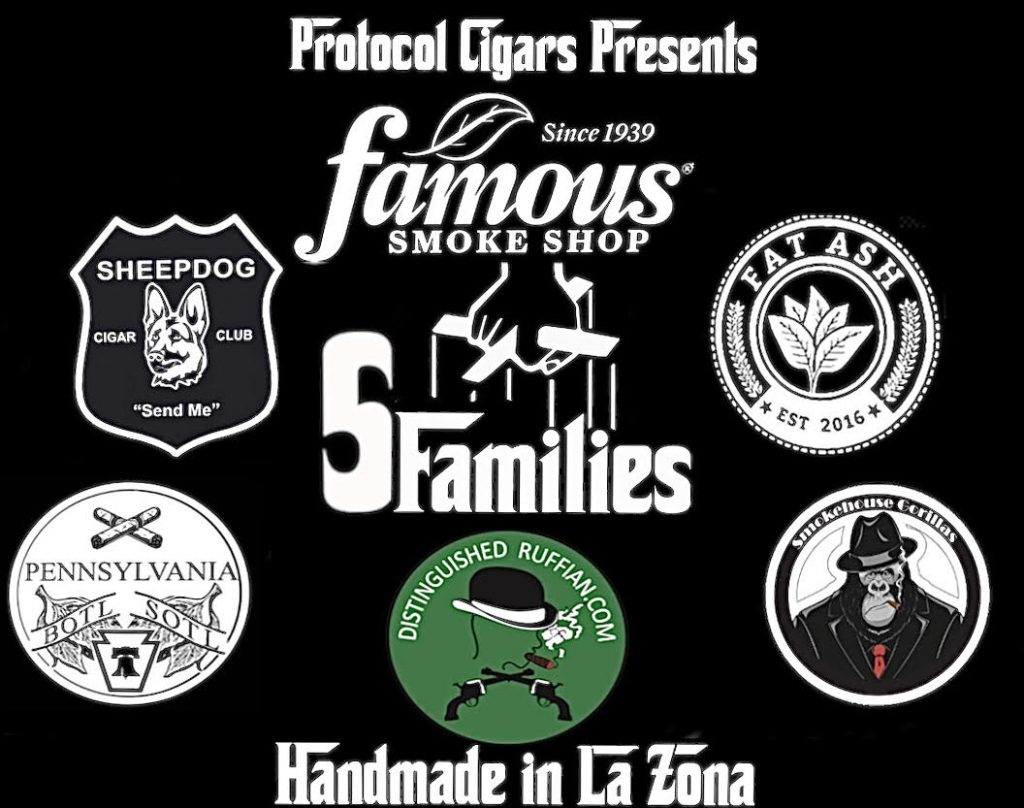 Protocol Cigars has announced a limited edition cigar – 5 Families. For the release, Protocol 5 Families is a collaboration being done in conjunction with five consumer-based cigar clubs to support Cigars for Warriors. It's a cigar that will also be done exclusively with Famous Smoke Shop. In addition, the 5 Families marks the first time Protocol has released a 6 x 60 vitola.
Word of the 5 Families first emerged on the Prime Time Virtual Trade Show on July 23rd, 2020. On September 10th, co-owners Juan Cancel and Kevin Keithan expanded on details of the release.
The cigar is produced at Erik Espinosa's La Zona factory. The blend features an Ecuadorian Habano wrapper over Nicaraguan binder and filler. The cigars will be packaged in ten-count bundles and priced at $99.99.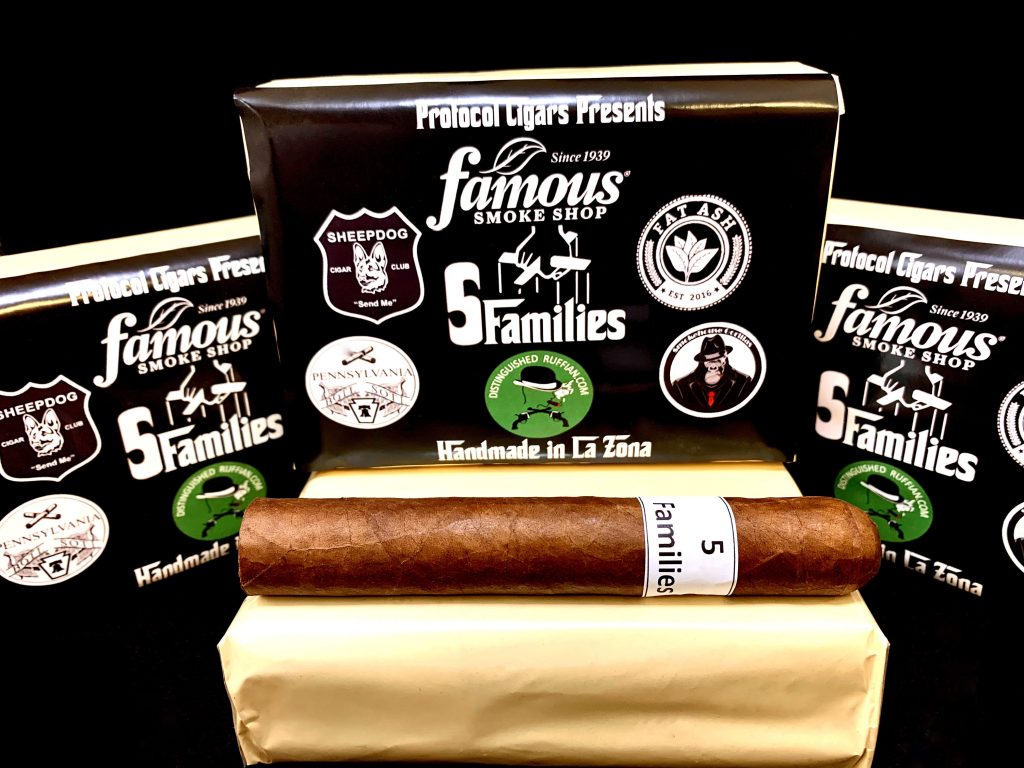 "We are excited to do something special for these 5 cigar clubs that support us!" said founder and owner Juan Cancel. Owner Kevin Keithan, added; "For this special project we wanted to do a special vitola. Everyone has been asking us for a 6X60 offering… so here they go, but they will go fast!" Nicole Patoki, General Manager of Famous Smoke Shop explained; "We are so happy to be teaming up with Protocol Cigars once again, along with these 5 phenomenal Cigar Clubs in support of Cigars for Warriors!"
The Protocol 5 Families will go on sale on Saturday, October 3rd, 2020 at Famous Smoke Shop from 1pm to 5pm. The shop is located at 90 Mort Drive, Easton, PA 18040. Protocol Cigars says that the event will be held outdoors with the Leaf Cigar Bar and Restaurant which is working at a 50% capacity as per Pennsylvania CDC/DOH COVID-19 regulations. There will be 100 ten-count bundles made available. The blend is an Ecuadorian Habano wrapper with Nicaraguan binder and filler. The initial 100 bundles will be available at the time of the event. If there are any left, they will go on sale via Famous Smoke Shop (telephone 610.559.8800) starting Sunday, October 4th.
Protocol Cigars says a portion of the proceeds of this event will go to Cigars for Warriors.
At a glance, here is a look at the Protocol 5 Families:
Blend and Origin
Wrapper: Ecuadorian Habano
Binder: Nicaragua
Filler: Nicaragua
Country of Origin: Nicaragua
Factory: La Zona
Vitolas Offered
Gordo: 6 x 60
The Five Families
Fat Ash
Fat Ash was founded in 2014 by Dax Shingle and Brad Weidenhammer, but later rebranded in 2016 where they brought in David Papp. Fat Ash has over 2,700 members on their Facebook group page. Protocol created a Fat Ash Cigar for the group in 2018, which has grown to become a yearly release, with the latest installment being Fat Ash Year 3 in 2020.
Smokehouse Gorillas
Smokehouse Gorillas was founded in 2017 by Al LaPeter. They have 1,300 members on their Facebook group page. They consider themselves a HERFing Community. Protocol Cigars has done Smokehouse Gorilla events with the club in the past and maintains a great relationship with them.
Distinguished Ruffians
Distinguished Ruffians was founded in 2014 by Mitch Rockwell. Distinguished Ruffians has over 10,000 members nationwide and with 15 chapters, they are the largest Cigar Club in this project. Learn more about them at https://distinguishedruffian.com/
BOTL PA Chapter
BOTL PA Chapter, Brothers Of The Leaf is a testament to the brotherhood that is shared for the love of cigars. The BOTL movement has chapters in every state. The BOTL PA Chapter was founded in 2017 by Rick Riley. They have grown to over 1,700 members.
Sheepdog Cigar Club
Sheepdog Cigar Club was founded in 2018 by Brian Peck. It is the youngest cigar club in this project, they have about 200 members and a Facebook group. Sheepdog Cigar Club is a Non-Profit 501(c)(3). Sheepdog Cigar Club brings six distinct groups of people together (Police, Fire, EMS, Dispatch, Corrections, and Military). Sheepdog Cigar Club members maintain a passion for the fine art of hand-rolled cigars and a dedication to public service. Sheepdog Cigar Club raises funds and collects essential supplies to support local Police & Fire K-9s Units. Learn more about Sheepdog Cigar Club and how to help out K-9 units at https://sheepdogcigarclub.org/
Photo/Image Credits: Supplied by Protocol Cigars