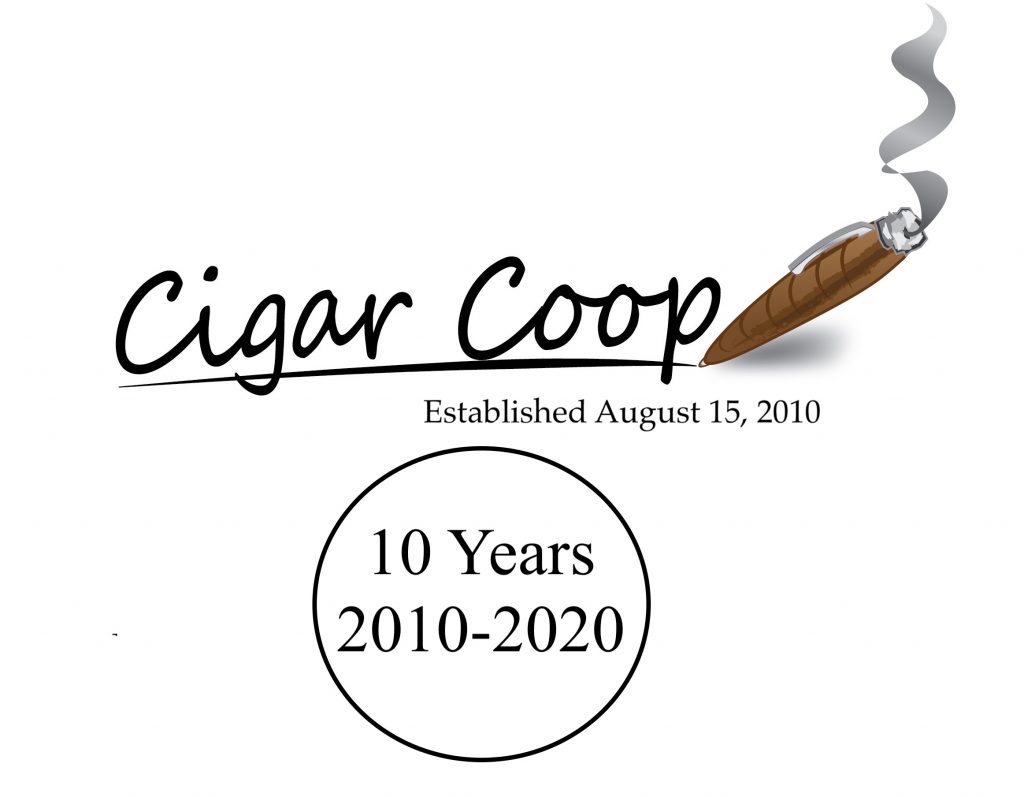 This year Cigar Coop celebrated its ten-year anniversary. Late in 2019, we completed the last Cigar Coop Cigar of the Year Countdown for the Decade of 2010 through 2019. One thing that I wanted to look at was how cigar companies performed overall on the Countdowns done during the decade. This was covered by two metrics: 1) Overall performance of companies by ranking throughout the decade; 2) Which companies made at least one appearance year by year.
While the goal each year is to provide an objective view of the best cigars, it is still important to know the Countdown is curated by a single person (this author).
The dataset for these rankings can be found here.
Overall Rankings
The formula used was simple. If a company got the #1 Cigar of the Year, it got 30 points, if it got #2 the company got 29 points, #3 – 28 points, etc – all the way to #30 where the company got one point. The points were then all tallied up – first by year and then across all of the years of the decade. The Top 25 companies that accumulated the most points for the decade are listed below (with the point total in parentheses).
1. Davidoff (420)
2. General Cigar Company (194)
3. Tatuaje (192)
4. Aganorsa Leaf (158)
5. Drew Estate (152)
6. E.P. Carrillo (130) (tie)
Espinosa Cigars (130) (tie)
8. Crux Cigars (119)
9. Bombay Tobak (117)
10. JRE Tobacco Co. (115)
11. La Palina (114)
12. My Father (113)
13. Viaje (104)
14. Dunbarton Tobacco & Trust (103)
15. Altadis USA (95)
16. Illusione (92)
17. Quesada (90)
18. Debonaire House (88)
19. AJ Fernandez (87)
20. Boutique Blends (81)
21. Alec Bradley (72)
22. Emilio (71)
23. La Aurora (65) (tie)
Padrón (65) (tie)
25. De Los Reyes (64)
Appearances
The formula here was even simpler. If a company got at least one cigar on a Countdown, it received one point for the year. We didn't count the total number of cigars on the list, but rather if the company made a single appearance in a year or not.
Nine
Davidoff
Seven
Aganorsa Leaf
Boutique Blends
E.P. Carrillo
Espinosa Cigars
General Cigar Company
Six
Drew Estate
Quesada
Tatuaje
Viaje
Five
Bombay Tobak
Dunbarton Tobacco & Trust
Four
AJ Fernandez
Altadis USA
Alec Bradley
Crux Cigars
Illusione
JRE Tobacco Co.
La Palina
My Father
Rocky Patel
ANALYSIS
While the cigars that make the Countdown are curated by me, I've also tried to cover a wide range of cigar companies. There were a total of 84 companies that have secured a spot on a Cigar Coop Countdown, so it's my assessment that I've got good coverage.
Davidoff dominated the past decade on Cigar Coop. Since this assessment is by company, the AVO and Camacho brands were included in the totals. Davidoff appeared on nine of the ten Countdowns during the Decade, but perhaps more astonishing was the 420 points – a whopping 226 points ahead of the second place finisher General Cigar. While there was an attempt to cast a wide net of products – there were a lot of Davidoff products reviewed on Coop.  Much of this is due to the fact that there were a lot of Davidoff releases this past decade. At the same time, many of these performed well and the result was it thrust Davidoff to the top of the rankings.
General Cigar in 2010 had the biggest single year for accumulation of points with 96 points. That year General had six cigars from three brands (La Gloria Cubana, Macanudo, and CAO).
General Cigar was second in the overall rankings, but never had a "podium cigar" (i.e. a cigar that received a Top 3 position on an individual Countdown.
Of the companies that had a #1 cigar during the Decade, two companies did not qualify for the Top 25 in overall ranking points – Nat Sherman and CLE Cigar Company.
La Palina had two #1 cigars (2011, 2012), but still finished outside the Top 10.
Only two of the Top 10 ranked companies had a #1 Cigar: Davidoff (2010) and JRE Tobacco Company (2018).
In terms of appearances, the five companies that tied for second (seven appearances) did not have a #1 Cigar in the Decade.
Emilio Cigars was the highest-ranked company (#22) that did not have at least four years where it appeared on a Countdown.
Espinosa Cigars, Aganorsa Leaf (Casa Fernandez), and Davidoff had the most consecutive years with at least one cigar on the Countdown with seven.
Additional Notes
Distribution played no role in grouping of companies. If Company B is distributed by Company A, then Company A was ranked separately from Company B.
If a company has multiple brands, they were accumulated as a single company. For example, Davidoff included Camacho and AVO.
Single store releases were a part of the Countdown from 2010 through 2014. Beginning in 2015, single store releases were excluded from the Countdown. On the other hand, line extension releases of a previously released blend were not eligible to the Countdown until 2015.
Since CAO was already a part of Swedish Match, CAO was covered under General for the whole decade.
Toraño Cigars was covered as a single company until 2014. Following the acquisition by General Cigar in 2014, subsequent rankings for Torano were put under General Cigar.