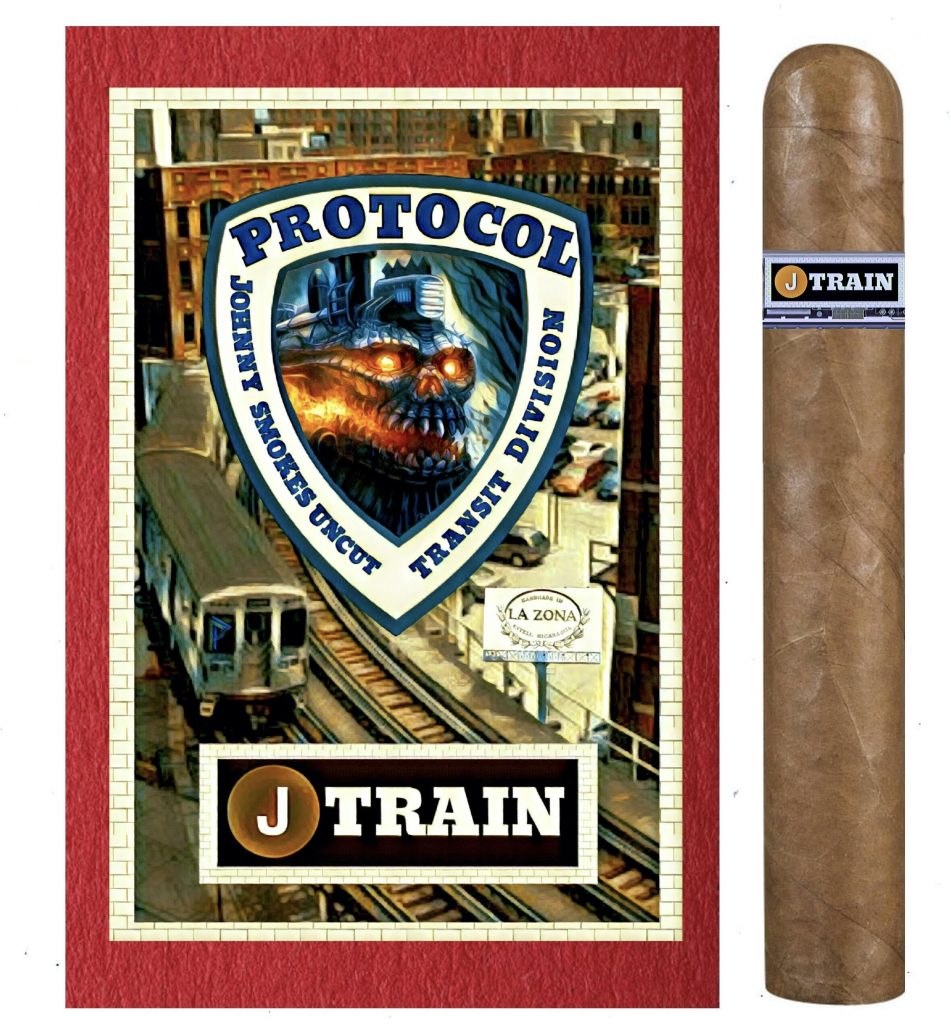 Protocol Cigars has announced a new limited release known as the Protocol J Train. The Protocol J Train will be a cigar done in collaboration for the Johnny Smokes Uncut Facebook group. The cigar will be launched on March 13, 2021 and will be sold exclusively through Caravan Cigar Company in Bath, Pennsylvania.
The J Train is the latest cigar done for a cigar community. In the past Protocol has released three cigars for the Fat Ash Cigar Group, two cigars for the Cigar Dojo community, and most recently the Protocol 5 Families which was a collaboration with Distinguished Ruffians, Fat Ash, Smokehouse Gorillas, Sheep Dog, and BOTL PA Chapter. The J Train is the newest addition to that philosophy.
The J Train features a Nicaraguan Corojo wrapper, a Nicaraguan binder, and a combination of Nicaraguan and Honduran fillers. The J Train comes in one size – a 5 x 50 Robusto. The cigars come in ten-count paper bundles with an MSRP of $95.00 per bundle. The initial release will be limited to 200 bundles, which the opportunity for further production in the future.
The initial release will be on Saturday, March 13th, starting at 3pm at Caravan Cigar Company in Bath, PA. Caravan will have it at an introductory price of $89.99. The J Train will be available at the Caravan Cigar company website and in-store initially, with the possibility of being available to other retailers in the future.
Johnny Smokes Uncut Cigar Group was started during the COVID-19 pandemic in 2020 by John Remer, an avid cigar smoker for over 20 years.  According to Protocol Cigars the group has grown to 3,600 members, spanning over 78 countries.  In a press release, Remer commented, "I was home like everyone else and wanted to create a cigar group that was a bit different. I wanted to create something bigger than just me. I wanted to create a place where our members can become close and grow into a family through engagement. The J Train was a dream that has become a reality. I couldn't be happier about this cigar!"
"John has created something extraordinary here and we wanted to help him celebrate his accomplishments with a commemorative cigar. That is how the Protocol J Train was created," added Kevin Keithan co-owner of Protocol Cigars.
Juan Cancel, co-owner and founder of Protocol Cigars, added, "Just like with any collaboration, we want to make the project feel special to those involved. We used the J Train theme because it John Remer's nickname. To keep it with the law enforcement theme, we went with a Police Transit Patch for the packaging. We worked hand in hand with John so he felt like this was his baby! We love the way the cigar came out from the packaging to the cigar itself. We feel confident that the members of Johnny Smokes Uncut will be very please with how it all turned out."
At a glance, here is a look at the Protocol J Train:
Blend and Origin
Wrapper: Nicaraguan Corojo
Binder: Nicaragua
Filler: Nicaragua, Honduran
Country of Origin: Nicaragua
Factory: La Zona S.A.
Vitolas Offered
Robusto: 5 x 50