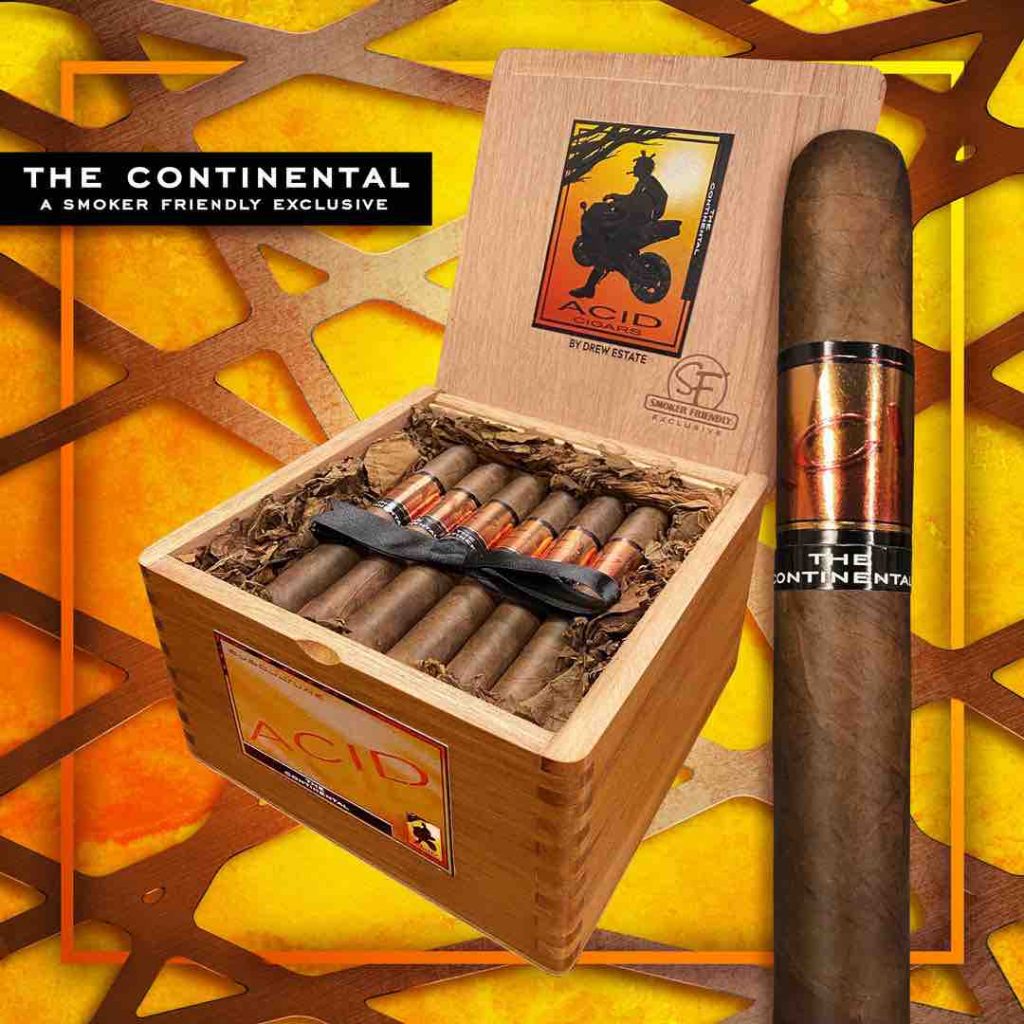 Drew Estate is releasing a new Subculture offering, the ACID Subculture Continental. This will be an exclusive offering for Smoker Friendly retail stores. The Acid Subculture Continental will be launched at the Rocky Mountain Cigar Festival on Aug. 28th which is hosted by Smoker Friendly.
Produced at La Gran Fabrica Drew Estate in Estelí, Nicaragua, ACID Subculture Continental is a 5 1/2 x 52 Robusto featuring an Indonesian wrapper and binder over Nicaraguan binder and fillers. The cigar also features a sweetened tip.
In a press release Drew Estate's Founder and President, Jonathan Drew, commented, "Smoker Friendly is an outstanding family-run business and their name describes everything about them …! For many many years, I've personally watched and experienced their commitment to serving the premium cigar smoking community in Colorado and way beyond. We are genuinely excited to add ACID Continental to Smoker Friendly's amazing list of exclusive products. I suggest banging some EPMD, Rakim or LL when you spark 'em up. Bless!!"
"Smoker Friendly's relationship with Drew Estate began when Jonathan Drew founded the company 25 years ago," said Jeremy Weiner, Smoker Friendly's Cigars & Premium Products Category Director. "We are very appreciative of the support that Drew Estate has shown our retail locations and the Rocky Mountain Cigar Festival over the years. Drew Estate has been the largest sponsor of the Rocky Mountain Cigar Festival since its inception. This year, at the 12th Rocky Mountain Cigar Festival, we are fired up to launch the ACID Continental, an exclusive cigar for Smoker Friendly corporate locations. ACID Continental should appeal to all cigar consumers and especially the Drew Estate ACID fans!"
The ACID Subculture Continental will be available in both 24-count boxes and 5-count packs. Pricing is set at $180.34 per box, $37.49 per box and $7.51 per cigar.
Image Credit: Drew Estate