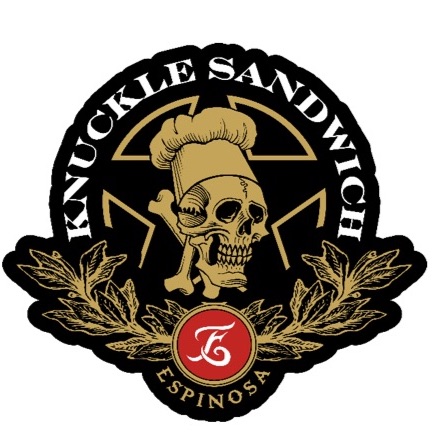 Back on January 4, 2022, Espinosa Cigars announced a collaboration brand with a famed restauranteur Guy Fieri called Knuckle Sandwich. Today more details had surfaced on the release.
Knuckle Sandwich is a lifestyle brand owned by Fieri, and for the past 18 months, he has worked with Erik Espinosa and Hector Alfonso Sr. on the blends. The result is two cigars: Knuckle Sandwich Habano and Knuckle Sandwich Maduro. Espinosa is producing the cigars out of AJ Fernandez's factory. In addition, Espinosa Cigars will handle distribution.

The Natural and Maduro blends will be available in three sizes: Corona Gorda R, Robusto J, and Toro H – each available in 20-count boxes.
"Guy's a cigar guy, loves to smoke, and is super excited about this project. Just last week, he took a break from shooting one of his television shows, to join me as I visited several cigar shops throughout South Florida. The reception to both Guy and the cigars were overwhelming. We are very excited with the level of enthusiasm Guy has brought to this project; and we are both looking forward to getting out there and promoting this brand. We truly believe that this will be one of the most highly anticipated releases of 2022," commented Erik Espinosa in a press release.
The cigars are slated to ship in the first quarter of 2022.
At a glance, here is a look at the Knuckle Sandwich:
Knuckle Sandwich Habano
Wrapper: Habano
Binder: Nicaraguan
Filler: Nicaragua
Country of Origin: Nicaragua
Factory: San Lotano
Corona Gorda R: 5 5/8 x 46 ($11.50 SRP/Cigar, $230 SRP)
Robusto J: 5 x 52 ($12.50 SRP/Cigar, $250 SRP)
Toro H: 6 x 54 $13.50 SRP/Cigar, $230 SRP)
Knuckle Sandwich Maduro
Wrapper: Dark Sumatra
Binder: Nicaraguan
Filler: Nicaragua
Country of Origin: Nicaragua
Factory: San Lotano
Corona Gorda R: 5 5/8 x 46 $11.95 SRP/Cigar, $239 SRP)
Robusto J: 5 x 52 ($12.95 SRP/Cigar, $259 SRP)
Toro H: 6 x 54 ($13.95 SRP/Cigar, $279 SRP)
Image/Photo Credits: Espinosa Cigars