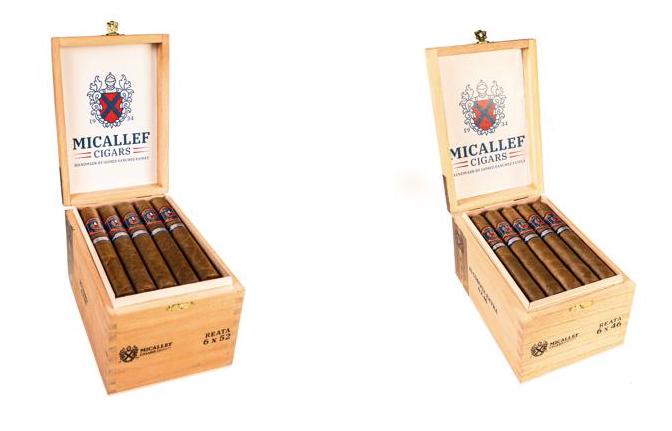 Micallef Cigars has announced it is adding Toro and Corona Extra size to its Reata blend. The Reata bears the same name as Al Micallef's successful restaurant in Fort Worth and Alpine, TX. The name Reata pays homage to the majestic Reata ranch in the 1950's epic movie "Giant" starring James Dean, Rock Hudson, and Elizabeth Taylor, based upon the famous novel by Edna Ferber.
"Growing up, I loved movies, especially "Giant." The story uniquely symbolizes the strength, courage, and excitement of the wide-open west. When I named our first restaurant, I wanted to capture the spirit of Texas and the American frontier," says Al Micallef. "The west was both romantic and wild. A time of rugged individualism and a sense anything is possible. That's how I want people to feel when they smoke a Reata. I love that feeling!"
The Micallef Reata Toro will be a 6 x 52 parejo, while the Corona Extra comes in a 6 x 46 format. Reata consists of a San Andrés Sumatra wrapper, Ecuadorian binder, and Nicaraguan filler. Both sizes come in 25-count boxes. The Reata Toro is priced at $11.00 SRP per cigar or $275.00 SRP per box. Meanwhile, the Reata Corona Extra is priced $10.50 SRP per cigar or $262.50 per cigar. Both the Toro and Corona Extra join the Torpedo (6 x 52) and Churchill (7 x 48) sizes that already exist in the line.
"In 2021, we significantly scaled our factory in Estelí to keep up with growing demand and maintain our strong inventory position. We are excited to deliver fantastic cigars in sizes our consumers are requesting. I am very proud of the work the team in Estelí has accomplished," shares Dan Thompson, President.
The two new Reata vitolas join a Torpedo and Churchill to round out the blend family. The Reata is part of the Micallef Legacy line, blended by the Gomez-Sanchez family and produced at the Micallef Cigars factory in Estelí, Nicaragua.
The Reata Toro and Corona Extra are slated to ship to retailers nationwide on February 7.