For the 12th year, the Cigar Coop brand will be providing coverage of the Premium Cigar Association (PCA) Trade Show and Convention. This is also the 12th consecutive trade show we are covering and are proud to be a part of a very small group of media to say that. Our four-part series for the 2022 PCA Trade Show has you covered whether you are going to the show or following from home.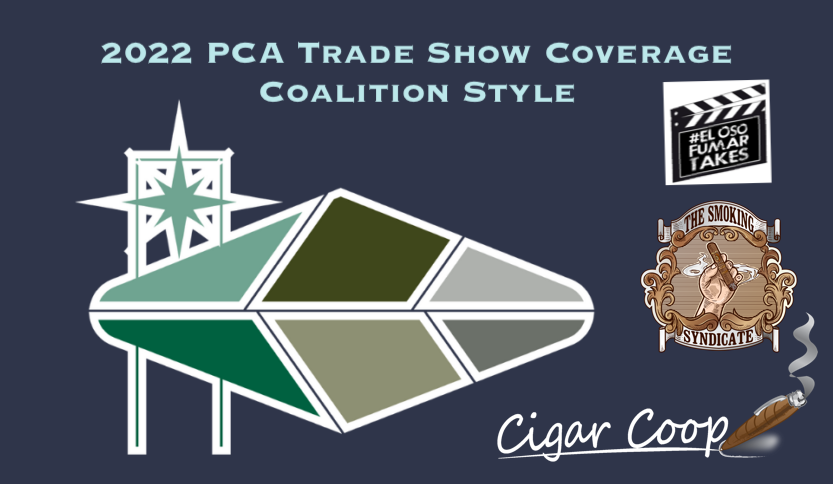 In this installment, we review some of the basics of the show and hit on some of the questions we've encountered in the past.
PCA 2022 Pre-Game – The Basics
What is the PCA?
PCA stands for Premium Cigar Association. It was originally called the RTDA (Retail Tobacco Dealers of America). In 2007, it was renamed to IPCPR (International Premium Cigar and Pipe Retailers) and then renamed the Premium Cigar Association in 2019. The Premium Cigar Association defines itself as:
Founded in 1933 as the Retail Tobacco Dealers of America, the Premium Cigar Association (PCA) is the oldest, largest and most active trade association representing and assisting retailers of premium tobacco products and their suppliers.

The PCA represents nearly 3,000 retail stores who employ 30,000+ retail workers. As the only full-service premium tobacco organization, we fight for our members against onerous, business-killing regulations and taxes, provide business-enhancing professional development, and help strengthen business relationships through our best-in-class trade show and other business-to-business offerings.

The PCA is the premium cigar and pipe industry's center of excellence.
What is the PCA Trade Show and Convention?
It is an annual gathering that provides an opportunity for the cigar industry to showcase and sell products to cigar retailers. Typically, cigar manufacturers will use this event to launch and showcase their latest products. Often "show deals" will be provided by manufacturers to offer incentives to buy product.
In addition, there are a series of educational seminars and social networking events. In recent years, the education piece has been more of a focus of the PCA. Much of the education has been set up with the retailer in mind.
The Trade Show and Convention is an event geared specifically toward retailers, manufacturers, and service providers. All attendees, including members of the media, must be members of the PCA. The 2022 show is the 89th edition of this event.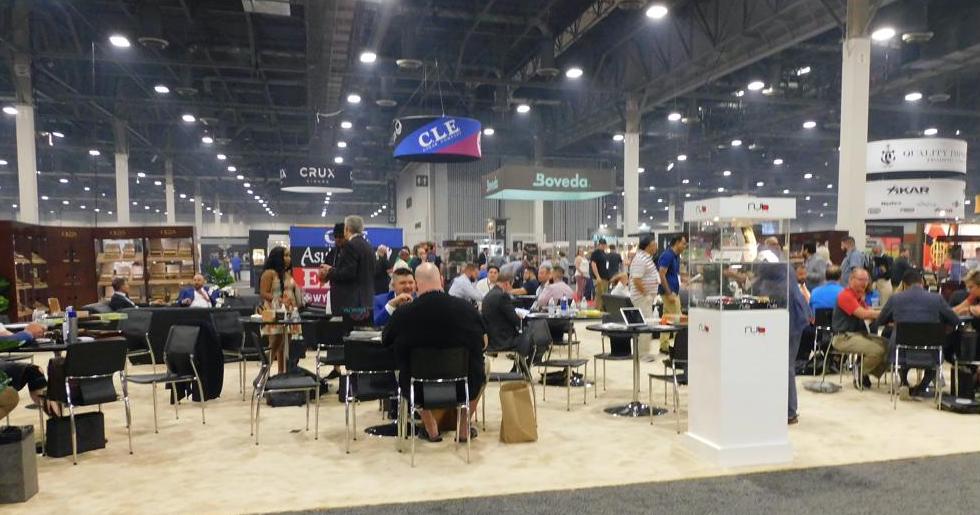 When and Where is This Year's Trade Show and Convention?
July 8th – July 12, 2022
Sands Expo Center
Las Vegas, Nevada
The Trade Show and Convention will be in Las Vegas for the sixth year in a row. This is the ninth time in twelve years it is being held in Vegas.
The Sands Expo Center is connected to the Venetian and Palazzo hotel properties.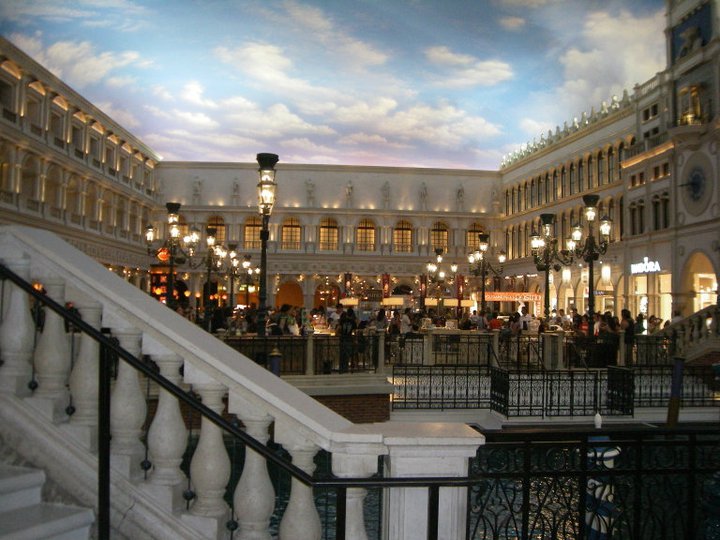 PCA Officers/Board of Directors
Five new members of the PCA Board of Directors will be named at the opening breakfast. Three will be filled by retailers, and two by associate board members (manufacturers), etc.  An election was held during the month of May among the following candidates:
Retail Board Seats (3 will be Selected)
Troy Benne: Owner, Sequoia Cigar Company, Fresno CA
Anthony Goins: Owner, Capital Cigar Lounge, Lincoln NE
Kathleen Kelly: Owner, Queensbury Cigar and Pipe, Queensbury, NY
Alan Price: General Manager, Cigar Mojo, King of Prussia PA
Bob Roberts: Owner, Smoke It,  Casa Grande, Mesa, AZ
Associate Board Seats (2 will be selected)
Mike Gold, Arango Cigar Co.
Michael Herklots, Ferio Tego
Les Mann, Coles of London
Brian Motola, Cavalier Geneve
Jarrid Trudeau, Kristoff Cigars
Every other year on an odd-numbered year, the PCA selects a new set of officers. A new set of officers will be named at the 2023 Show.
Smoking Policies
For 2022, there is not much change with the smoking policies surrounding the PCA Trade Show.
Smoking, in general, is getting more difficult in Las Vegas every year. Much of this is due to a combination of pressure from anti-smoking groups combined with opposition to the increased use of legalized marijuana in the state of Nevada. As a result, the Sands Expo Center has strictly limited smoking to designated smoking areas in the facility.
While smoking is allowed on the trade show floor during trade show hours, it is prohibited in common areas, hallways, registration areas, meeting rooms, ballrooms, guest rooms, and any other non-designated smoking areas in the Sands and adjacent Venetian and Palazzo hotels.
PCA has stated that the rules will be strictly enforced and that fines could be as much as $7,500, removal from the show, and potential banning from future shows.
2022 Agenda and Schedule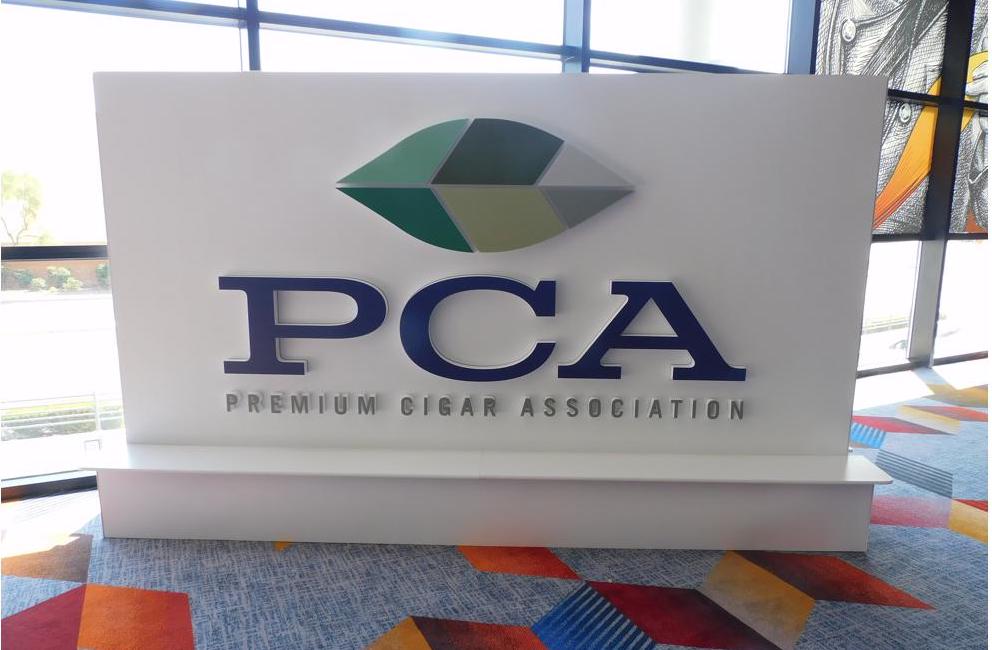 Note: This is the schedule as reported at press time.
July 8th
There are only three seminars scheduled for the day before the Trade Show actually opens up. This day is highlighted by the Fuente Friday Seminar hosted by Carlos "Carlito" Fuente" and José Blanco of Arturo Fuente Cigars. This will be an interactive session that will involve activities around cigar blending. Seats will be limited on a first-come, first-serve basis. Participants will also be limited to retailers. This is due to the availability of tobacco and seating.
10am — 6pm: Check-In Open

1pm — 2:30pm: Fuente Friday Seminar

2:45pm – 3:45pm: State of Retail: Interactive Live Audience Response Seminar

4pm — 5pm: Government Affairs Seminar

6pm — 8pm: Opening Night Cocktail Party
July 9th
At the Annual Meeting and Breakfast, the new Board of Directors will be announced. For the second year in a row, there will be no keynote speaker. Following the breakfast, the doors to the Trade Show open.
An added feature will be a Happy Hour Cigar Lounge. Early Trade Show for Venetian/Palazzo Guests as well as early access for the media returns as well.
One may notice,that the hours for the three full days of the Trade Show have changed – with most Trade Show activities starting an hour later, including the opening breakfast
9am — 10am: Annual Meeting & Light Breakfast

9:30am — 10:30am: Early Entry for Venetian/Palazzo guests & Media

11:am — 6pm: Trade Show Open

4pm — 7pm: Happy Hour Cigar Bar (Presented by Toscano Cigars)
July 10th
The Government Affairs Breakout session will garner considerable attention. It is expected that PCA will unveil its plans around responsible marketing and self-regulation at that time.
9am — 10am: Education Seminar: Tech Talks

10am — 11am: Early Entry for Venetian/Palazzo guests & Media

10am — 11am: Government Affairs Breakout Session: The Road Ahead: FDA, Self-Regulation, and Vision 50

11am — 6pm: Trade Show Open

4pm — 7pm: Happy Hour Cigar Bar (Presented by Toscano Cigars)

10pm — 3am: Drenched After Dark: PCA Member Night at Marquee Night Club
July 11th
For the second show in a row, a press conference is being hosted for the media.  This year the press conference is being held on Day Three.
9am — 10am: Member Q&A with PCA Executive Committee

10am — 11am: Media Press Conference

9am — 10am: Early Entry for Venetian/Palazzo guests

11am — 6pm: Trade Show Open

3:30pm : Best in Show Awards

4pm — 7pm: Happy Hour Cigar Bar (Presented by Boveda)
July 12th
The hours of the trade show are not changing for the final day.
9:00 AM – 1:00 PM Trade Show Open
PCA 2022 Pre-Game – Additional Thoughts and FAQs
The following is an editorial piece. Except where noted, it represents the thoughts of this author and this author alone. These are listed in no particular order.
1. Why were the Trade Show Hours Changed?
Because the cigar industry likes to stay out late at the bar….. a tongue a cheek answer, but a valid one. It's one that perplexes me. The Trade Show is still a business event, and starting business at 11am is not my idea of being productive.
If you haven't noticed, the Trade Show floor hours for Days 1 to 3 are 11am to 6pm. For as long as I have been going to the Trade Show, the hours have been 10am to 5pm. Executive Director Scott Pearce said on Episode 231 of the Prime Time Show, that the 2018 fire on Day 1 of the IPCPR Trade Show gave many a taste of what a later trade show time would look like, thus it led to this decision.
While on the surface, it seems like the PCA heard the demands of many exhibitors wanting a later start time, it has allowed them to use the time to schedule educational and interactive sessions. I'm not sure how many retailers will take advantage of this type of stuff in the morning, but I still like the fact mornings will be used for something besides sleeping in.
2. Is the PCA Show Making Strides for becoming an Experience Show?
The addition of the Fuente Friday seminar is a good one, and it's this author's hope that we see more of these kinds of events in 2023 and 2024.
Personally, I think the seminars need to be hosted by the key manufacturers and popular stakeholders in the industry. My vision for the pre-Trade Show seminars would be to have three – and have the likes of not just Fuente, but folks like Michael Herklots, Steve Saka, Pete Johnson, etc. also doing seminars. This may be a difficult ask because the manufacturers are quite busy during the Trade Show, but if it's rotated to different folks every year I think it can be pulled off.
The one concern I had about the Fuente Seminar was the timing. The seminar was announced on June 2nd, just a month before the trade show. I really think these things need to be announced 90 days before the Trade Show. This gives attendees ample opportunity to come and plan appropriately.
3. What is the Outlook for Attendance and Foot Traffic?
According to Scott Pearce, PCA is expecting a boost in attendees at the 2022 PCA Trade Show. On Prime Time Episode 231, Executive Director Scott Pearce reported that the numbers are closer to the 2016 Trade Show. Last year's show was planned in a 100-day window, so there was some uncertainty with retailers and exhibitors attending. With COVID-19 lockdowns being less of a concern for 2022, I'm sure that is working in PCA's favor.
Like last year, "how does this translate to foot traffic on the show floor?" is going to be the $20,000 question. The 2019 and 2021 Trade Shows saw a drop in foot traffic the last two days of the show. Some retailers told me they simply cannot afford four days at the Trade Show as they have limited buying funds – and worry about being away from their establishments too long. As I mentioned in the past, this isn't a new problem. The assertion that some retailers cannot afford to be at the Trade Show for four days is one this author has heard for many years.
4. Are early show specials still hurting PCA attendance?
We've written about this several times, and this is going to be an interesting year to watch – especially with reports of increased attendance. With PCA being a trade show, many manufacturers offer "show specials" to retailers who buy at the show. In recent years, it has become more common for these specials to be honored pre or post-PCA – regardless of whether the retailer attends the show or not.
As I have said in the past, this is still a problem and it is not going away. While it is plausible there will be an increase in attendance, I think longer term, there are still many retailers who know they can buy outside the trade show, and work will be needed to bring these people into the trade show.
It is also worth noting, that this is also not a unique problem to the PCA Trade Show. This goes on already with the TPE show held at the beginning of the year.
I don't think the PCA Exclusive Series is a silver bullet to solve this problem (more about this in Part 2). In the end, building the Experience piece is going to be the key.
5. Has there been a decrease in after-hours hosted events?
These are hosted events by cigar companies and manufacturers for attendees after the trade show. For many years, they have been an important part of the experience. Last year saw a drop in these events, and this year the trend is continuing.
There are two factors driving this. First, it is getting more difficult to smoke in Vegas. It is almost impossible to smoke at an indoor cigar dinner. Outdoor cigar dinners are often challenged by oppressive heat and even some outdoor venues have gone non-smoking.
Second, inflation is playing a role. As a result, companies are being forced to cut back some discretionary expenses, thus also leading to fewer after-hours events.
6. What about the PCA's Increase in Social Events?
PCA has added two social events this year. Both are steps in moving PCA toward a more experience-driven show. These can help fill the gap with the decrease in after-hours events being done by the manufacturers.
The first is the Happy Hours events after each of the first three days of the Trade Show. This was born out of the After Hours Lounge that had been planned for 2021. The After Hours Lounge was meant to provide an area for attendees to smoke after the Trade Show had closed. Because it was then still very much at the height of the COVID-19 pandemic, there was some uncertainty if smoking would be allowed on the casino floors. It turned out that smoking was allowed at the Trade Show. The result is the After Hours Lounge was sparsely attended because people were smoking on the casino floor and at Bar Luca (the unofficial after-hours hub of the PCA Trade Show). The PCA went on to cancel the remaining After Hours Lounge nights and create a Happy Hour on the Trade Show floor.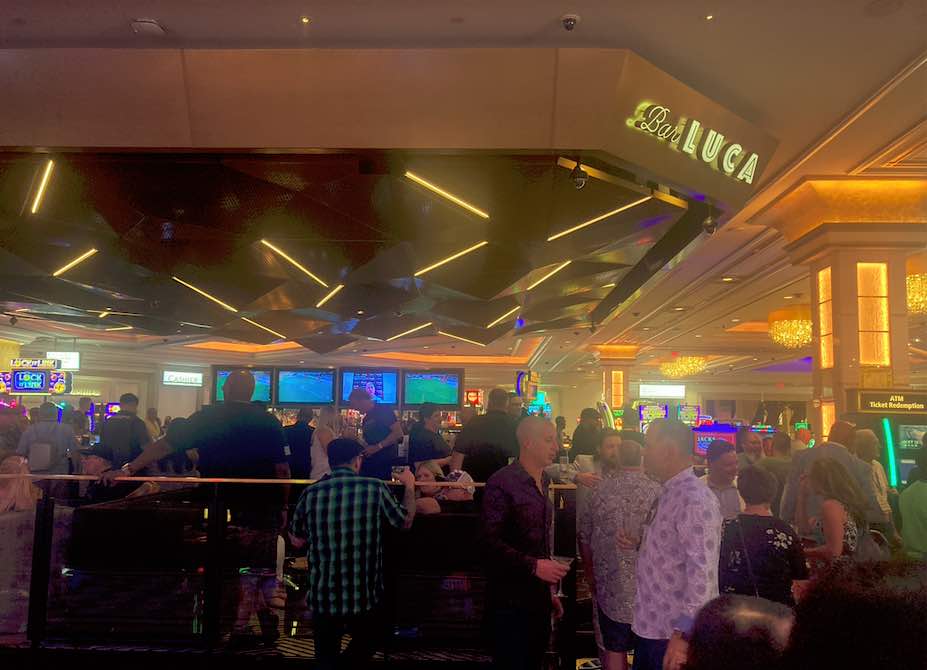 For 2022, the Happy Hour returns to the Trade Show floor. It will start at 4pm and run till 7pm. While it will overlap with the actual Trade Show floor, PCA hopes it still will provide another channel for manufacturers and retailers to do business. There will be a sponsor each night:
7/9 Day One: Toscano Cigars
7/10 Day Two: Espinosa Cigars
7/11 Day Three: Boveda
The second social event follows the Day Two Happy Hour. It's been dubbed Drenched After Dark: PCA Member Night at Marquee Night Club. It's being held at the Cosmopolitan Hotel. The first  500 people with a Trade Show badge will get free admission before 1am. The first 200 people with a Trade Show badge get free admission plus a free drink. It's an outdoor venue, so you will be able to smoke there.
Ideally,  I wonder if there is a way the PCA can work with the Venetian or another venue to turn Bar Luca into an exclusive area for attendees to host a social event. This seems to be what many people want in terms of a social event – namely a place to smoke and drink in the casino setting close to where they are staying.
7. Have the "Damn Bloggers" Been Accepted?
For many years there has been this notion the IPCPR (now the PCA) has been at war with the online media. Much of this stems from an isolated incident where a group of rogue online media went around from booth to booth trying to accumulate a bunch of free samples. It angered many retailers and manufacturers and you started to see cries of "those damn bloggers are just at the trade show for free samples."
For many years, broadcast media has had to pay the price for the sins of those IPCPR trick-o-treaters, but fast-forward to 2021 and online media seems to have its place at the Trade Show.  Last year, online media was invited to a PCA press conference, and this year there will be another one.
Perhaps the most interesting development was the listing of PCA Media Coverage partners on the PCA's webpage itself. If you are a member of the online media, or have been lumped in with the "damn bloggers," this is simply huge. Online media now has been recognized. The "damn bloggers" have been accepted.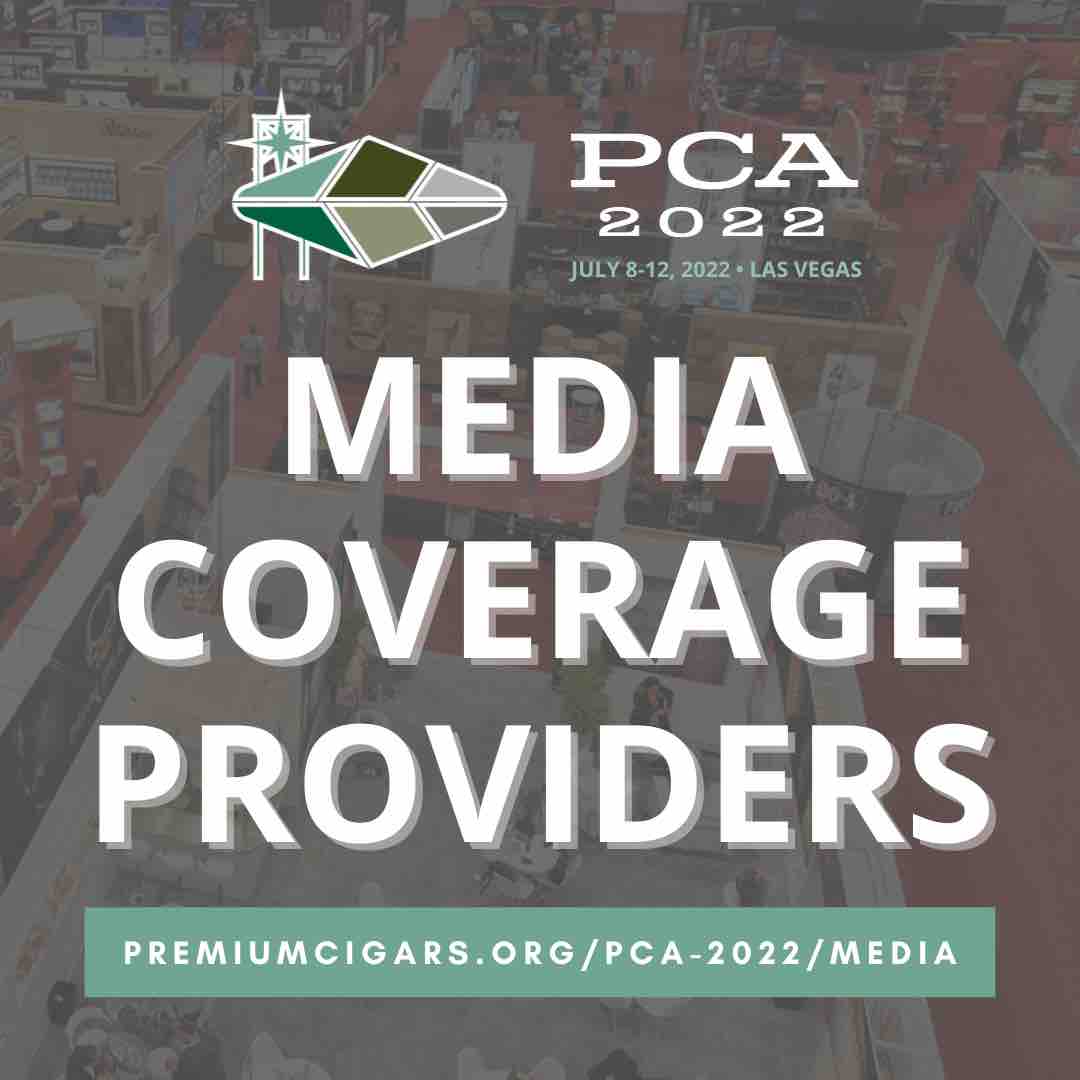 8. What about the "Influencers"?
Last year, there were reports of social media influencers (those who are on Instagram, YouTube, and now Rumble) allegedly interrupting business, asking for samples, and trying to sell items such as calendars.
I'll also say, I believe this issue was blown entirely out of proportion. I say allegedly because many reported it, but I did not see it occur firsthand.
It's kind of like where online media (aka the "damn bloggers") were a decade ago. Back then, print media was on the inside, and online media was on the outside.
I've said it below, I do believe influencers have a role at the PCA Trade Show. I'm just not sure the guidelines for credentials and conduct have been put in place for them. The interesting thing is I wouldn't consider the media partners listed on the PCA website as the pure social media influencers. The question will be is if they aren't listed, how are they getting into the show.
It was reported last year that the influencers got in using manufacturer badges. This has been a huge problem for many years, and it is the #1 source of how consumers get into the show. In reality, if you are credentialed and listed on the PCA page, then you should be the ones getting interviews and sitting down with manufacturers.
Unfortunately, it won't work like that – and I'm guessing you will still see a lot of influencers who potentially are getting in with invalid credentials. This is an area where PCA has work to do.
9. Can anyone go to the PCA Convention and Trade Show?
No, it is not open to the public. This is strictly enforced by the PCA. In the past, the messaging has been as strong as "consumers are not welcome." The reason for this goes back to the fact that while on the surface it might seem like an Expo, it still very much is a retail buying show.
10. How easy is it to smoke in Las Vegas?
It's not easy, but it's not much different from past years.
My excerpt from previous years:
There are smoking restrictions on the Sands/Venetian/Palazzo properties and as a result, one cannot simply walk around smoking. In fact for some time now, attendees have not been allowed to walk out of the convention area with a cigar. But as I've mentioned before, it's been getting increasingly more difficult to smoke in Las Vegas in recent years. In 2017, this became very noticeable in this author's eyes. At that time I documented my observations:
While Las Vegas offers more in the way of areas to smoke than New Orleans, it is getting increasingly more difficult to find a place to enjoy a cigar. This is not your father's Las Vegas.
For starters, getting a smoking room in a hotel is more difficult. In fact a little over a year ago, MGM Resorts revamped all of their properties to have smoke-free hotel rooms. While you can still obtain a smoking room at certain hotels, it's becoming more and more difficult. In fact, I've also found that some of the travel websites are not correct on whether a hotel has smoking rooms available or not. My advice, call the hotel directly to check the availability of smoking rooms and make sure you have one reserved.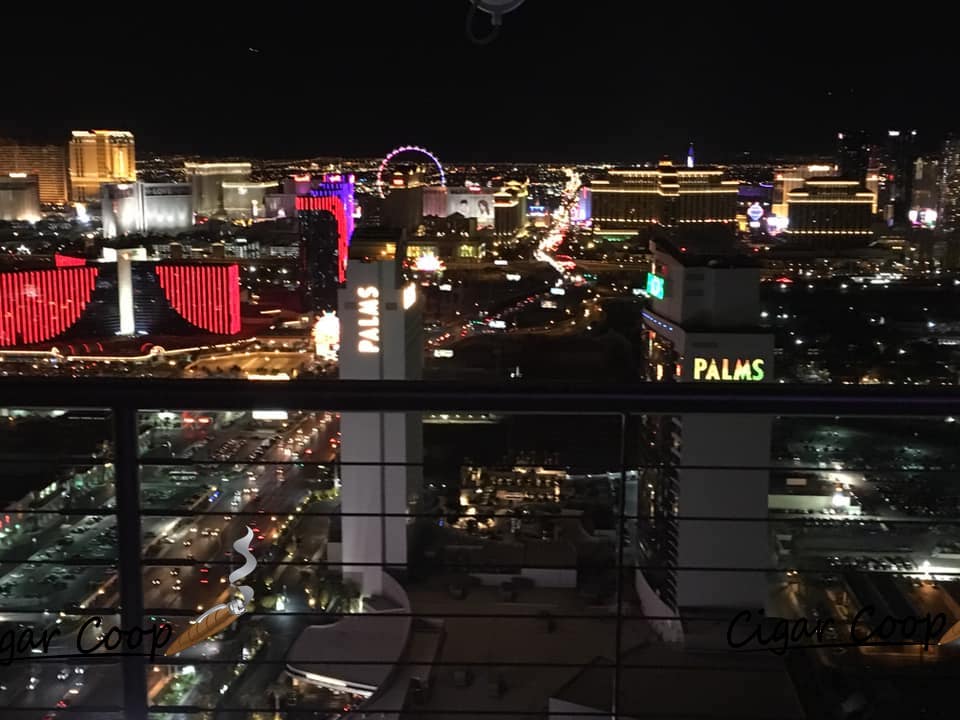 I believe there are two factors driving hotel rooms to become smoke-free. First, I believe the anti-tobacco movement is at play here. Second, I think the hotels prefer to have people smoking on the casino floor rather than being tucked away in a hotel room away from the temptation to spend money. The reduction in smoking rooms has impacted the availability of hospitality suites during the trade show. There is probably more demand for hospitality suites that allow smoking since it is banned almost everywhere, but there are fewer suites that allow smoking.
I am also noticing that the casinos, lounges, and restaurants are reducing the space where you can smoke. It seems like each year, there are more "smoke-free" areas popping up in the casinos and lounges. In fact, over the past three years, I've seen a great reduction in smoking areas. The majority of the sportsbook areas are now smoke-free. As for a restaurant – good luck finding one where you can smoke. And it's not just the indoor areas, I've seen several areas that had restrictions in some of the outdoor areas as well.
I'd also like to note that casinos consider the smoking areas to be one size fits all. Cigar and pipe smokers will be mixed in with cigarette smokers. Not an ideal arrangement for many cigar enthusiasts.
If all seems like it is bad news, the good news is there are some premium cigar lounges where you can enjoy a cigar. The strip is now home to cigar bars such as Casa Fuente, Davidoff, and Montecristo. While you will pay Las Vegas prices for your cigar, the good news is you will be in a cigar-friendly environment where you can also enjoy a fine spirit.
The trend above has continued since then. The Park MGM, Vdara, Signature at MGM Grand, and Delano Hotel (all not in near proximity of the Trade Show) are major properties that have become non-smoking properties.
The net result – while it doesn't provide an ideal situation, Las Vegas still provides plenty of smoking options.
11. What Will Cigar Coop's PCA Media Coverage Look Like in 2022?
Cigar Coop announced this information a few weeks ago.  Our coverage will be under the "Cigar Coop Coaltion" using the combined talents of The Smoking Syndicate, El Oso Fumar, and Cigar Coop.
Other Installments of the PCA 2022 Pre-Game Series
Podcasts
Feature Stories
Sunday 6/27/22: PCA Pre-Game Series Part 1: The Logistics
Sunday 7/3/22: PCA Pre-Game Series Part 2: The Things to Watch
Thursday 7/7/22: PCA Pre-Game Series Part 3: Predictions for the Impact Cigars
Friday 7/8/22: PCA Pre-Game Series Part 4: Selection for "The Company" of the 2022 PCA Trade Show
Photo Credits: Cigar Coop, except where noted