For the 13th year, the Cigar Coop brand will be providing coverage of the Premium Cigar Association (PCA) Trade Show and Convention. This is also the 13th consecutive trade show we are covering and are proud to be a part of a very small group of media to say that. Our four-part series for the 2023 PCA Trade Show has you covered whether you are going to the show or following from home.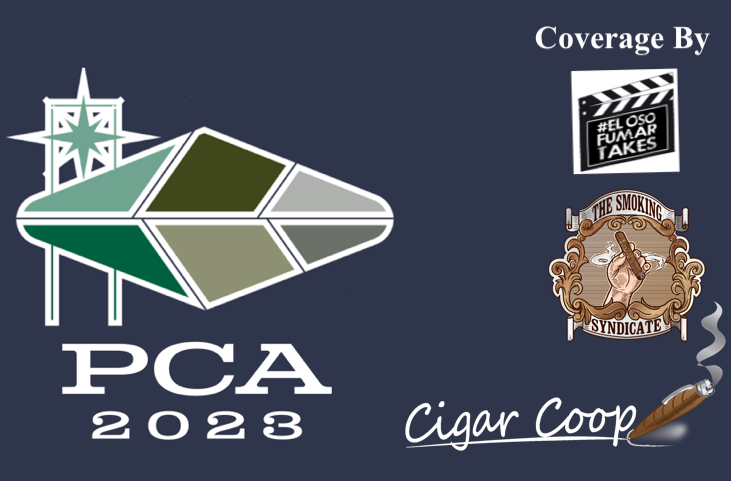 This article is usually in the running for the most controversial article of the year on Cigar Coop. This is the tenth year I have done this article. In the past, I have looked to see what the hottest cigars are at the Trade Show, and what would sell out at the Premium Cigar Association Trade Show.
This has been an evolving project. Last year, I asked the members of the Cigar Coop Coalition to give me their picks. The idea was to allow team members to think independently and come up with their own list for what their picks were for the most impactful cigars – i.e. which ones would be hits
For the most part, each member of our team looked at what he felt would be impactful cigars. Of course, this author had to make things more complicated by having rigid criteria – something the cigar industry absolutely loves hates. This criteria was a personal choice and was not imposed on the other panelists.
Predictions for Top 5 Cigars at PCA 2023
Will Cooper's Picks
"This year I once again did not include one-and-done cigars. I went with regular-production cigars or ongoing limited-production releases. The cigars I considered had to have not been released prior to the opening of the Trade Show. One change I made this year is I eliminated my personal rule that packaging had to be shown. As long as the company acknowledged the release would be at PCA, that was fine." – Will Cooper
| | | |
| --- | --- | --- |
| | Cigar | Will's Comments |
| 1 | Perdomo 30th Anniversary | Hands down, there is nothing that will beat this release. It's been one that has been talked about and anticipated for a while. I included all three blends (Connecticut, Sun Grown, Maduro) because this is the true definition of a triple-headed monster. |
| 2 | Foundation Metapa | This is Foundation's first Sumatra release, and I think there are a lot of people who will have faith that Nick Melillo can knock it out of the park. This follows up on 2022's Olmec release. Like Olmec, there is a Claro and Maduro. For the purposes of this exercise, I included both. |
| 3 | Alfonso Gran Selección by Selected Tobacco | Last year, Selected Tobacco introduced its fourth brand, Alfonso, and released the Alfonso Añejo. The success of the Alfonso Añejo solidified Selected Tobacco as a player in the ultra-premium space. Now comes the second blend under Alfonso, the Alfonso Gran Selección.  I have no reason to believe this won't be in high demand. |
| 4 | Ferio Tego Summa | It's been two years since Michael Herklots and Brendon Scott launched Ferio Tego.  So far we have seen the transition of the former Nat Sherman brands – and some limited editions. This is the company's first regular production line under the Ferio Tego name. This alone will have people talking. |
| 5 | Aganorsa Leaf Lunatic Maduro 10 x 100 | Folks might laugh, but there is demand for huge cigars Oscar Valladares "The Woody" and Asylum's 90 x 9. It's not a huge production (2,500 cigars), but it will be an ongoing one – and one Aganorsa Leaf will have no problem selling |
Bear Duplisea's Picks
| | | |
| --- | --- | --- |
| | Cigar | Bear's Comments |
| 1 | Powstanie Connecticut / RoMa Craft Intemperance Volstead VO 1920 | Here it is my first pick and I'm already breaking the rules. I think these two cigars represent a new era of Nico Sueno and if this era is anything like the first, watch out… it's going to deliver. |
| 2 | Perdomo 30th Anniversary | The highly anticipated release of the decade for Perdomo makes my list. Nick's impeccable standards make this an easy pick and a cigar you know retailers will be begging for. |
| 3 | Quesada Casa Magna XV Anniversary | The last 2 trade shows, Quesada has burst back onto the scene with additions to their Casa Magna Line. I'm riding the wave, this will be an awesome tribute to Casa Magna. |
| 4 | Ferio Tego Summa | The Ferio Tego brand and name gets its first unique expansion. Herklots has handled steps with his new company with tender loving care, this should be another example |
| 5 | Alfonso Gran Selección by Selected Tobacco | The release of Alfonso last year answered the question of what Atabey and Byron could be built on. I made the mistake of underestimating the Alfonso last year, fool me once… |
Ben Lee's Picks
| | | |
| --- | --- | --- |
| | Cigar | Ben's Comments |
| 1 | Ferio Tego Summa | A completely new blend from Michael Herklots always gets my attention. |
| 2 | Perdomo 30th Anniversary Sun Grown | Perdomo is one of the best when using sun-grown tobacco. The 30th seems to be something really special and paired with a Connecticut, sun-grown, and maduro wrapper, I'm in. |
| 3 | Foundation Cigars Charter Oak Pegnataro and Pasquale | A richer and more complex Charter Oak sounds amazing, but will consumers embrace a much more expensive Charter Oak |
| 4 | Powstanie Connecticut | Powstanie always seems to deliver so I can't wait to see what they do with a Connecticut wrapper |
| 5 | Tatuaje 20th Anniversary | I'm always excited about any new Tatuaje release, especially an anniversary release. |
Erron Nielsen's Picks
| | | |
| --- | --- | --- |
| | Cigar | Erron's Comments |
| 1 | Foundation Metapa | Olmec was a good addition to the Foundation Line  I expect this Sumatra to follow suit. |
| 2 | ADVentura Navigator Ponce de Leon | Looking to see if they can continue the momentum with prior releases. |
| 3 | Micallef Black | A lot of expectations as Micallef needs to come out with a hit. |
| 4 | Ferio Tego Summa | Built around high-end prior releases, Ferio Tego looks to build off this core line |
| 5 | Black Works Studio Poison Dart | James Brown is firing on all cylinders. Expect this to be the same. |
2023 PCA Pre-Game Series – Other Installments
PCA Pre-Game Series Part 2: The Things to Watch at PCA 2023
PCA Pre-Game Series Part 4: Selection for "The Company" of the 2023 PCA Trade Show