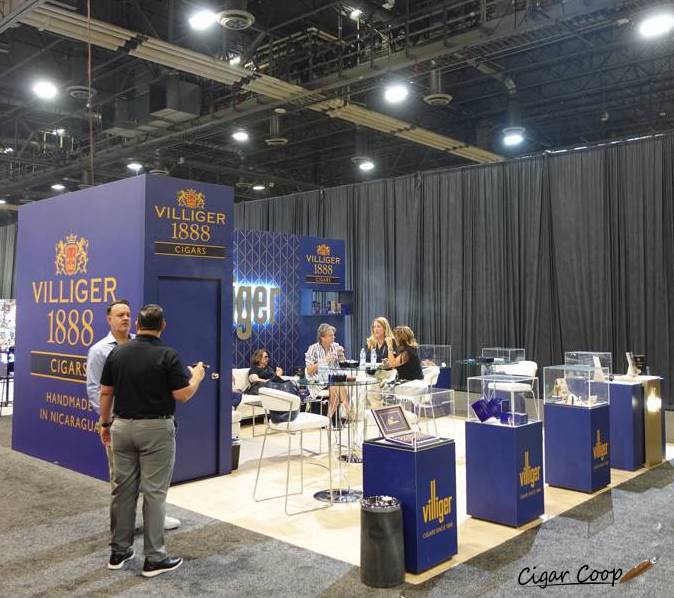 From the look at Villiger Cigars North America's PCA Trade Show booth, one would think the color blue would be the story here. Villiger's two main releases at the Trade Show were adorned with bold blue packaging. However, the story is more as Villiger has now officially opened its factory in Estelí, Nicaragua and the company is showcasing this prominently.
Villiger's Nicaraguan factory, Villiger de Nicaragua, is a partnership with Joya de Nicaragua. Joya de Nicaragua has worked to lend expertise to get the factory off the ground and operational. Villiger de Nicaragua had its official grand opening at Puro Sabor 2023. The factory was actually open to production over a year prior to that. During this time brands such as La Vencedora, San'Doro, La Meridiana, La Libertad, Corrida Nicaragua, and Casa de Nicaragua have moved here. It's not Villiger's only production source. It owns a factory in Brazil, Villiger do Brazil. It still partners with the ABAM factory in the Dominican Republic and has relied on factories such as Tabacalera La Alianza and La Zona for projects as well.
The big story is the launch of Villiger 1888 Nicaragua, an expansion of Villiger's 1888 brand. It was actually launched at InterTabac 2022 for the international market. It is now being launched for the U.S. market and was showcased at this year's PCA Trade Show. It's the first "new" brand to come out of the Villiger de Nicaragua factory, and the first Villiger Cigars North America new brand in several years. The packaging was also adorned in  bold blue-colored packaging.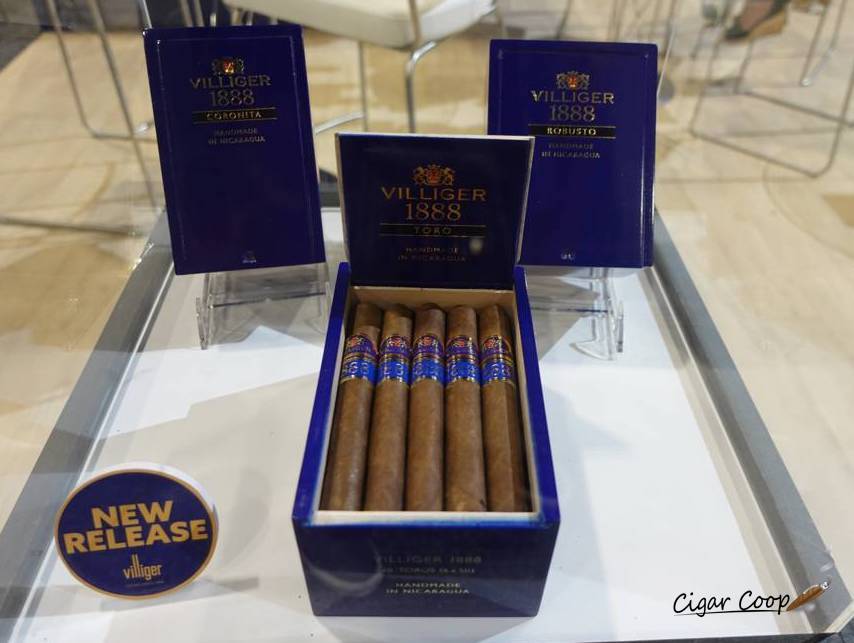 Villiger 1888 Nicaragua features an Ecuadorian wrapper over a Nicaraguan binder and a combination of Nicaraguan and U.S. (Pennsylvania) fillers. The cigars will be available in three sizes: Corona (5 1/4 x 53), Robusto (5 x 50), and Toro (6 x 50). Each is presented in 20-count boxes.
This bold blue packaging we saw last year with the launch of Villiger Miami, a limited edition cigar. This year Villiger Miami returns with the Villiger Miami 2023 edition. While it's not made in Miami, the Villiger Miami pays homage to Villiger North America's Headquarters in Miami, Florida. When it was released in 2022, it was said to be a private blend that was given to guests at the factory. The Villiger Miami 2023 is being made at the ABAM factory in the Dominican Republic. The Villiger Miami 2023 blend differs from the original edition. Villiger Miami 2023 is being released in one size -a 5 7/8 x 53 Cañonazo.
Product Reports
Photo Credits: Cigar Coop, except where noted