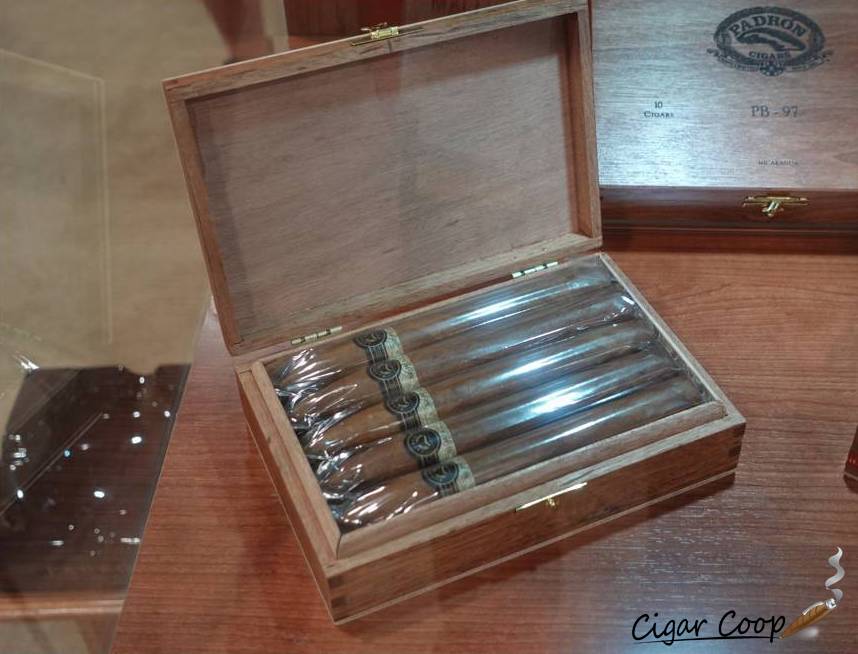 At the 2023 Premium Cigar Association (PCA) Trade Show, Padrón Cigars introduced a pair of cigars that were made exclusively for retailers who were PCA Show attendees – the Padrón Black PB-97. Following the formula used for many Padrón releases, the Padrón Black PB-97 will be available in a Natural and Maduro format.  The "97" represents what would have been the 97th birthday of the late José Orlando Padrón and will be available in a Torpedo size.
The Padrón Black has been one of the rarer Padrón releases. There isn't much disclosed about this brand. Padrón brings it out occasionally for limited release. The blend first made its debut in 2016 as the Padrón No. 89 – an event exclusive for a South Florida retailer featuring Corona Gorda size. A few years later, the Padrón No. 89 returned as a one-time offering to the Tobacconists Association of America (TAA).  There have also been some other sizes released to Cigar Rights of America (CRA) that have been included in sampler packs sold to support the organization.
With the Padrón Black PB-97, while it's still limited to PCA attendees, it probably is the most widespread edition of the Padrón Black blend to date.
Both the Padrón Black PB-97 Natural and Maduro are 6 3/4 x 52 Torpedos in a rounded format. They each are packaged in 10-count boxes. Pricing is currently set to $40.00 per cigar for each blend. The cigars are targeted for a release later this year.
This is the third year Padrón has done a PCA Exclusive cigar. Each year the PCA Exclusive has been a birthday cigar for José O. Padrón. 2021 saw the introduction of the Padrón Family Reserve No. 95 for what would have been Mr. Padrón's 95th birthday. The following year saw the Padrón Family Reserve No. 96 get introduced as the 96th birthday cigar. The difference between the 97th release and the other two birthday cigars is that the No. 97 uses the Padrón Black blend while the 95th and 96h  birthday cigars use the Padrón Family Reserve blend.
Photo Credits: Erron Nielsen for Cigar Coop