Meerapfel Cigars is getting ready to release the third installment of its Master Blend series, the Ernest.  It's a blend that pays homage to the great-grandfather of company owner Jeremiah Meerapfel.
.
"My great grandfather Ernest's exodus was the epitome of curiosity and bravery that our family members have always carried in their hearts; a lust for accessing the finest leaves nature has to offer, no matter how remote or challenging the adventure may be," commented Jeremiah Meerapfel in a press release.
Ernest is the third of the four lines are being planned in the Meerapfel Master Blend series. Each is an ultra-premium UberLuxury line done in small-batch, limited production releases. Each will also pay homage to different generations of the Meerapfel family. The Meerapfels describe UberLuxury as using the highest quality of materials with the highest level of craftsmanship. The only line not released yet has been Heller.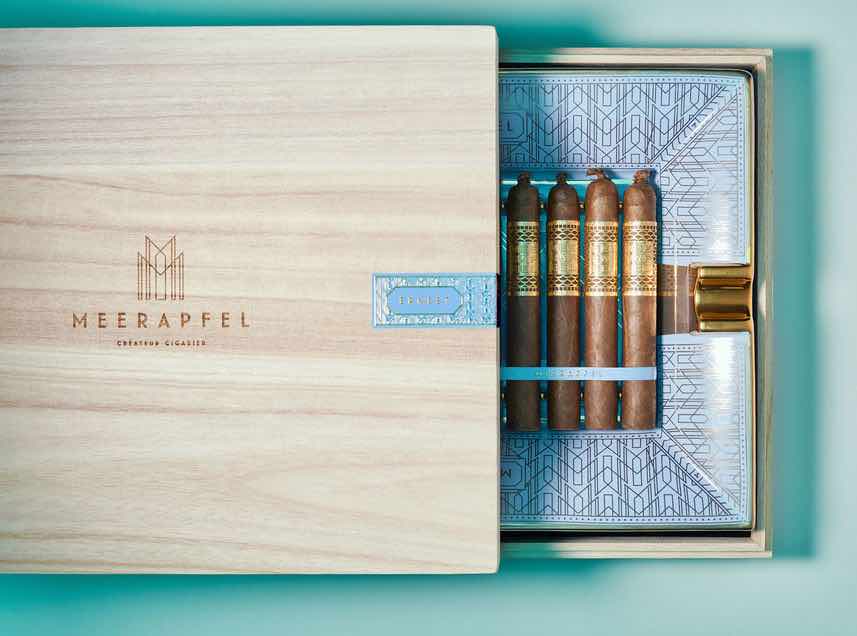 Similar to the Richard and Meir, there will be a Double Robusto that will be presented in an ornamented casket (a tray that can be used as an ashtray) that features ten cigars. Pricing for the Double Robusto is set at 101,00 EUR ($94.00 USD) per cigar. In addition, there will be 25-count wooden chests available in the following sizes: Robusto (4 7⁄8 x 50, 49,00 EUR/$46.00 USD), Corona Gorda (5 1/2 x 46, 44,00 EUR/$41.00 USD) and Lonsdale (6 3/4x 43. 53,00 EUR/$50.00). Each size will be limited to 613 chests (boxes) per year.
Like the Richard and Meir, the blend details of the Meerapfel Ernest Master Blend have not been disclosed.
The cigars are expected to be showcased at InterTabac 2023 and will ship later this month.
Photo Credits: Meerapfel Cigars