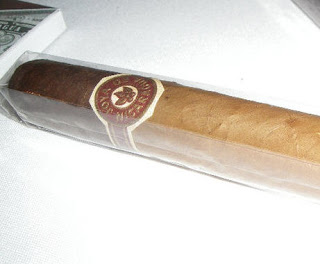 #13: Joya de Nicaragua Cabinetta Serie
18 days down into the countdown – it is time for installment #18 of "30 Cigars in 31 Days", my review of the Top 30 Cigars for 2010.
Coming in at #13 is the Joya de Nicaragua Cabinetta Serie. While this might be #13, this is no unlucky cigar. This cigar comes with two distinct wrappers that create segments on the cigar. The base of the cigar contains an Ecaudorian Shade Wrapper while toward the cap, it is Nicaraguan Criollo. True to Joya de Nicaragua's roots, the binder and filler are of course -Nicaraguan.
The strength and body of this cigar is reflective of the wrappers on this cigar. This cigar is going to start out mild for the first third – in both strength and body, in the second third both strength and body move to the mild to medium profile, and the finish with the Criollo wrapper segment is going to be medium and body and strength. There is some complexity in the flavor profile of this stick with nuts, butter, cream in the early portion and coffee and spice toward the Criollo finish. This was a quality stick – loved the burn and draw on this one.
A full review is available here for more details on my experience with this cigar.
Recommended Vitola: No.7 Toro 6 x 50