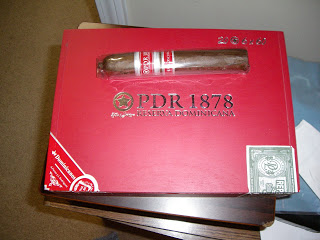 Back at Lite Up Charlotte, I saw Abe Flores of PDR Cigars and he was smoking one of these. Considering I am a fan of his cigars, I knew I had to get one of these boxes. But the word was, I was going to have to wait for these at least until late November. I asked Outland Cigars to order me a box anyway. Well my wait is over. I got a box of 6 x 60s!!!
At the time they were calling these the "Holiday Blend", but the official name is PDR 1878 Reserva Dominicana Capa Oscura and Outland Cigars in Charlotte, NC is one of only 25 retailers to receive this limited run. PDR has opted to make a limited release at this time of about 1500 to 2000 boxes to the select 25 retailers. The plan is for widespread distribution around IPCPR 2011.
The blend is an all Dominican blend. Here is a preview of the blend:
Wrapper: Dominican Habano – Oscura/
Binder: Dominican Habano
Filler: Dominican Habano, Corojo, Criollo 98
I smoked one today. I did not have time to jot notes down on this one, but what a stick! This is smooth, medium strength, and medium to full bodied cigar. It had nice flavor notes of earth, cedar spice, and even hints of cinnamon sweetness. Similar to the Oliveros Swag, I describe it as a Dominican stick that has all the boldness of a Nicaraguan stick. I loved the stick, but since it came out after my 2010 Cigar of the Year countdown deadline, this will be deferred to the 2011 Countdown!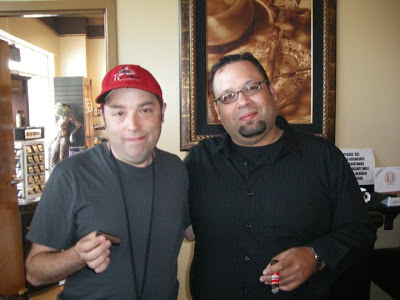 Cigar Coop (L) with Abe Flores (R) at Lite Up Charlotte, Abe has the PDR Dominicana in hand
Here are the list of retailers carrying this. However, I recommend always going to Outland – the best retailer in North America!
Outland Int. Inc.
14815 John J Delaney Dr. #160
Charlotte, NC 28277
704-575-7345
11th Avenue Liquor
1040 SE Blvd.
Portland, OR 97214
503-236-2076
82nd Ave Tobacco
400 82ND Ave.
Portland, OR 97216
253-630-3646
Ace Tobacco Town
419 W Cheltenham Ave
Elkins Park, PA 19027.
215-782-8055
Broadway Cigar Co.
1436 NE 77th
Portland, OR 97213
503-473-8000
Burning Leaf Cigar
2319 S Route 59
Plainfield, IL 60586
815-230-5192
Cascade Cigar Tobacco
9691 SE 82nd Avenue
Happy Valley, OR 97086
503-775-5885
Cresent Springs
535 Buttermilk Pkwy.
Cresent Springs, KY 41017
859-426-5545
Emerson's Cigars
116 Granby Street
Norfolk, VA 23510
757-624-1520
Habana Premuium Cigar
1645 Central Ave.
Albany, NY 12205
518-482-1351
Havana Humidor
12749 S Dixie Highway
Pinecrest, FL 33156
786-229-4568
Kirsten Pipe Company
1900 W Nickerson #112
Seattle, Wa 98119
518-482-1351
Kremer's
401 E Jefferson St.
Louisville, KY 40202
502-584-3332
Lil' Brown Smoke Shack
3201 Goodman Rd.
Yakima, WA 98903
509-575-1903
Mission Pipe Inc.
4001-4 Santa Rita Rd
Pleasanton, CA 94566
925-463-0100
Perfect Blend
729 E Olive Ave.
Fresno, CA 93728
559-486-0400
Smokey Joe's Cigar Lounge
4411Pacific Hwy E
Fife, WA 98424
(253) 922-0430
Smokin Joes -NH
100 River Rd.
Hudson, NH 03051
603-889-0500
The Party Source
95 Riviera Drive
Believue, KY 41073
859-291-4007
Thunderbird Trading Post
7121 Waller Road East
Tacoma, WA 98443
(253) 531-9595
Tim's Great Cigars
23830 NE Halsey
Wood Village, OR 97060
503-665-2723
Top Shelf Cigars
4013 Shippack Pike
Shippack Vilg, PA 19474
610-584-9588
Treasure Valley
132 E Idaho
Meridan, ID 83642
208-898-1419
Wilsonville Liquor
29955 SW Boones Ferry #H-2
Wilsonville, OR 97070
503-665-2723