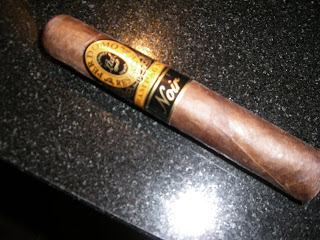 2011 is already been a great year for cigar releases. In each cycle of cigar releases there are always some more anticipated releases than others. This Spring, the cigar releases in the pipeline for Perdomo have been on the radar of many enthusiasts in the cigar industry. One of these new releases has just began to hit the store shelves – the Perdomo Reserve Champagne Noir. This is a blend variation of the popular 10th Anniversary line. In my opinion, this is going to be a very successful blend for Perdomo.
Nick Perdomo on Cigar Dave described the Champagne Noir as an "amp'd up blend" of the Perdomo Champagne line. This is definitely a stronger cigar in terms of strength and body than the original Perdomo Champagne. Let's take a look at what this cigar brings to the table.
Blend Profile
The Perdomo Champagne Noir not surprisingly an all-Nicaraguan Puro. The distinguishing factor is the Maduro wrapper. In the press release, Nick Perdomo describes the triple fermented wrapper by stating: "After carefully fermenting these thick Cuban‐seed Maduro wrappers for well over 14 months in a natural pilon, we age them an additional 6 months in oak bourbon barrels."
Wrapper: Nicaraguan Cuban-seed Maduro
Binder: Nicaraguan
Filler: Nicaraguan
Vitolas Available
The initial release is currently available in a single vitola. The 6 x 60 Super Toro size is my go to size, so its right up my alley. From Nick Perdomo's appearance on Cigar Dave, it sounds like there will be a variety of sizes forthcoming on this blend. It also sounds like that a decision was made to go with the Super Toro size (as this size wasn't mentioned on the show)
Preparation for the Cigar Experience
With any 6 x 60, I always opt for a straight cut into the cap. Upon my initial dry draws, the cigar had hints of a honey-nut sweetness to it. The body of this pre-light draw was not very strong, but it was unique as far as any pre-light draw I have had. It was then on to light this Super Toro and see what the smoking experience would bring to the table.
Flavor Profile
The initial flavor notes did throw me for a little bit of a loop as I felt it was different than the pre-light draw. I got an interesting combination of hickory char along with some coffee and cream. About 5 percent into the smoke, the hickory char notes subside and it was definitely the coffee and cream notes that moved to the forefront.
Around 10 percent into my smoke of the Perdomo Champagne Noir, there were subtle hints of cedar spice that emerged. Shortly after, I detected some notes of nut. Those nut flavors definitely settle into more of an almond flavor. It didn't take long for the almond notes to move to the forefront. In a short amount of time, the complexity of this cigar was really impressing me.
Around the one third point, the coffee notes begin to take on more of a feel of bittersweet cocoa. The bittersweet cocoa notes compliment the almond/cream notes and hold until about the halfway point. The second half of the cigar has less flavor transitions, but still plenty of complexity – namely notes of almond, cream and the hint of cedar spice in the background. I got a terrific cool and firm nub at the end. This is a testament to a well-made 6 x 60 cigar.
Burn and Draw
A lot of times a 6 x 60 cigar can be a challenge in the areas of burn and draw. With the Champagne Noir, I was very impressed with the burn I had overall. About 2/3 of the way down, I did have a slight crack, but this was from a slight fumble of myself placing this in the ashtray. The burn overall was razor sharp – and the crack proved not to be an issue. The big ring gauge did not burn hot and it burned at a nice slow pace. The draw was very nice on this one as well – a little loose, but nothing to make this cigar a chore to enjoy.
Strength and Body
This cigar definitely offered more in terms of strength than the original Perdomo Champagne. I would not say this is a full strength cigar, but am comfortable enough placing this in the Medium to Full range for strength. The flavors though are full-bodied – very robust and very pronounced.
Final Thoughts
2011 has proven to be a very positive year for new cigar releases. I've been impressed on how many of these anticipated releases – the Avo Limited Edition 2011, My Father Limited Edition 2011, Cain Daytona, and 601 La Bomba have truly been living up to the high expectations. I love what the Perdomo Champagne Noir brought to the table. Nick's description of an "amp'd up blend" of the original Champagne is right on target as both cigars have very pronounced notes of cream. I look forward to this cigar in some other vitola sizes as well.
Summary
Burn: Excellent
Draw: Good
Complexity: High
Strength: Medium to Full
Body: Full
Assessment: Nice to Have
Disclaimer: The cigar smoked in this cigar experience was gifted to me by a friend.