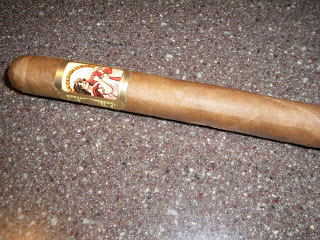 La Gloria Cubana Artesanos Retro Especiale
2010 was a banner year for Team La Gloria Cubana of General Cigars. Not only did they release three cigars that made my 2010 Top 30 Cigar of the Year countdown, but they broke new ground in the world of cigar engineering. If you take a look at the Artesanos de Tabaqueros, Artesanos de Obelisco, and the Serie N, you can see the innovations in the construction of each of these cigars. La Gloria Cubana underwent a transition from a boutique brand to a forward thinking brand while keeping to old school traditions in terms of the smoking experience. As 2011 started, I was waiting to see what Team La Gloria Cubana would do for an encore. At IPCPR 2011, the innovations continued as Michael Giannini and his team proudly unveiled the La Gloria Cubana Artesanos Retro Especiale.
Let's take a closer look to see what the boys at Team LGC did this time….
Blend Profile
When I spoke with Giannini, he explained what the end goal was with the La Gloria Cubana Artesanos Retro Especiale. In this case, the team was looking to engineer a cigar where it was not the wrapper providing all of the flavors of the cigar. Instead the team was looking to leverage significant flavors from the binder and filler. To accomplish this, a special cross bred Connecticut seed was used to grow the wrapper in Honduras. A double binder was added along with a mix of ligero and proprietary fillers.
Wrapper: Honduran Connecticut
Binder: (Double) – Mexican, Nicaraguan
Filler: Nicaraguan Ligero, Dominican Ligero, Nicaraguan Proprietary, Dominican Proprietary
A cigar always interests me when it takes tobaccos from the "Big 3" (Dominican Republic, Honduras, and Nicaragua). Honduran tobacco seemed to take a back seat since the 2010 IPCPR and in my opinion it has enjoyed a slight resurgence at the 2011 IPCPR.
Vitolas Available
There are four sizes this will be available:
Club: 5 3/4 x 47
Taino: 7 x 52
Habanero: 6 x 52
Cubano: 6 1/2 x 58
I'll have more details on how this smokes in the near future.