Welcome to our 2012 IPCPR Trade Show Preview. During the month of July, we will provide a preview into the cigar industry's biggest event – the 2012 IPCPR Trade Show that begins on August 2nd. We're committed to delivering comprehensive coverage to this event. Over the next few weeks, we're providing some features of what to expect and not expect once the trade show begins. Today in part three of this series, we take a look at the trends around cigar vitolas. We also look at how these trends play in with other marketing strategies within the cigar industry.
The past few years have seen a major surge in the amount of new cigar blends/lines that are being released. While this creates a lot of excitement for consumers, it is a double edged sword for brick and mortar retailers. As a brick and mortar retailer, it is always exciting to bring in a new cigar line, but this often comes at the expense at something else in the humidor. In other words, many brick and mortar retail humidors are filled (or close to filled) to capacity and have shelf space challenges. One thing that many brick and mortar retailers have done is to be selective on the vitolas (frontmarks) of the cigars they are bringing in. It's well known that lanceros are tougher to sell while 6 x 60s still sell very well. The manufacturers are responding by being more careful of introducing a lot of vitolas when they make a launch. Gone are the days when you have 20+ vitolas of a blend (i.e. Macanudo). The pattern is to launch a few vitolas to start (the magic number seems to be 4 to 5 these days), and then follow-up with line extensions. For these line extensions, we've seen some creativity happen.
This preface above is important because this does play into the discussion of trends we will see at the 2012 IPCPR.
VITOLA TRENDS
The Select Six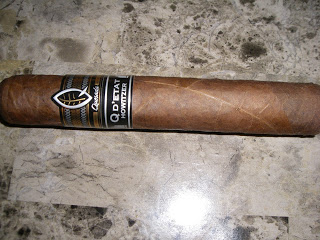 Quesada Q D'etat Howitzer shows 6 x 60 is a force
When a new line is being launched, typically the lion's share of the vitolas are going to come down to proven favorites. Below are six of these common favorites that I refer to as the "Select Six". The length and ring gauges are approximations and could vary. These selections and corresponding estimates could be subject to debate, but I think the 80/20 rule can apply here. A typical launch will have a subset of these and its rare to see all six at once. I don't expect much to change at 2012 IPCPR Trade Show around this pattern. For critics of the large ring gauge Gordo, don't expect any changes either – this vitola isn't going anywhere this year.
Corona
Length: 5 – 5 1/2
Ring Gauge: 46-48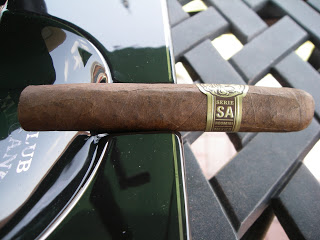 Room 101 San Andres SA305 in a classic robusto vitola
Robusto
Length: 5″
Ring Gauge: 50-52
Toro
Length 6″
Ring Gauge 50-54
Belicoso/Torpedo
Length: 6 to 6 1/2
Ring Gauge: 50-54
Churchill
Length: 7″
Ring Gauge: 48-54
Gordo
Length 6″
Ring Gauge: 58-60
Torpedos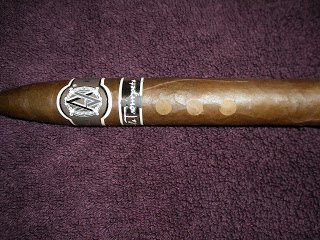 Avo Limited Edition 2010 La Trompeta shows the torpedo trend is still kicking
Of the Select Six above, the Torpedo/Belicoso is the one that most intrigues me. From a personal standpoint, I will disclaim that I am not a fan of this vitola. However, I can only conclude that there must be market demand for the torpedo/belicoso shape, so who am I to argue. However, I question (a lot of times) if the blends being made are effective in this particular vitola. I'm not expecting anything to change here – I still expect torpedoes to be a staple of many cigar releases at the 2012 IPCPR Trade Show.
Line Extensions
There will be no general rule for line extensions. Some may be to "fill out" the select six above. Some may be to make length or ring gauge variations of above. Other line extensions can include vitolas not listed such as the lancero, perfecto, lonsdale, and presidente. I don't expect a real pattern with line extensions at the 2012 IPCPR. Lanceros and perfectos will still be trendy. I do think that there can be some creative ways to introduce line extensions – and his follows below.
VITOLA AND BEYOND TRENDS
Limited Edition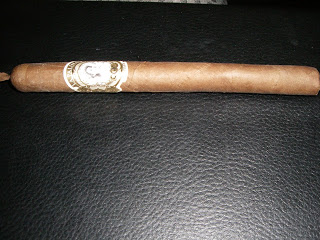 La Palina Goldie – limited edtion that is one blend, one vitola
There are many reasons why manufacturers will do limited edition releases. Common reasons for this include marketing angles or limitations to the amount of tobacco. Some limited editions are full lines of cigars, but other cases are single vitolas. Tatuaje Cigars released the Avion 11 as a limited edition box-press perfecto vitola. In 2012, they will launch the Avion 12 – a smaller version of the Avion 11 (and another limited edition vitola). As many know, the Avion is a line extension of the Tatuaje Fausto line that is intended to produce a new limited release vitola each year. General Cigar Company just released a limited run of a petit corona of the La Gloria Cubana Artesansos de Tabaqueros line. Viaje Cigars is also famous for releasing limited edition batches of a specific vitola.
Single blend, single vitola limited edition releases are also very common. We've seen this with the Nestor Miranda Grand Reserve (and will see it again at IPCPR with the Nestor Miranda Grand Reserve 2012), the recently released La Palina Goldie. Other companies such as E.P. Carrillo, Avo (Limited Edition), Tatuaje (Monster Series), and My Father/Jaime Garcia (Limited Edition). Drew Estate has incorporated this into their Liga Privada Unico Serie line, but that is more of a limited production model as opposed to limited edition. Of course sometimes the single blend, single vitola concept is such a hit that it makes it into the core line. This happened with the E.P. Carrillo Edicion Limitada 2010 which became the E.P. Carrillo Elencos.
Limited Editions are here to stay. They are now an integral part to the fabric of the cigar industry. I would look for some cigar companies to continue to do some specific vitolas in limited editions. I also think the single blend, single vitola limited edition/production cigars will continue to be showcased as it provides interest to the consumer. It can also help retailers as it will help with the shelf space problem as many different frontmarks will not have to be displayed.
Retail Exclusive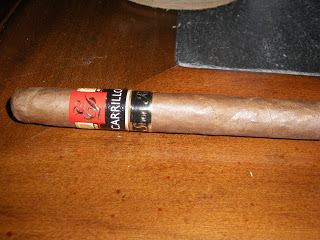 E.P. Carrillo Short Run 2010 No. 4 – to Federal Cigar
This won't be something that probably will be showcased at IPCPR, but it is relevant to the the topic here. Retail Exclusive Cigars can be exclusive blends that are sold at one retailer or a specific vitola that goes to a retailer. This does help cigar manufacturers to produce cigars while meeting constraints on the materials that go into production. At the same time if gives a retailer a perk. We've seen retail exclusive cigars go to retailers such as Atlantic Cigars (E.P. Carrillo, Viaje, and My Father), Holts (Tatuaje, Rocky Patel) and Casa de Montecristo (Drew Estate).
Specfic vitolas can also be sold to a retailer. We've seen this with the 60 ring gauge Padron 1964 Anniversary Series that went to Smoke Inn. Federal Cigars received a corona size of the E.P. Carrillo Short Run 2010.
I'm not looking for a lot of promoting of this at the booths of IPCPR. There may be some on display, but this is not going to be a focus. What I do see as a trend is many more retailers looking to get into this game, so I would expect some discussions to happen behind closed doors on this one.
Regional Edition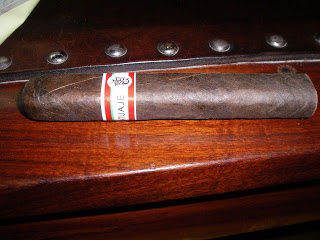 The Tatuaje Mexican Experiment Robusto went to the Southeast
This is not something new for 2012, but it seems to be an evolving trend we are seeing in the industry. This involves either releasing a line or a specific vitola to a geographical region. This not only creates some buzz, but addresses some of the problems caused by limited editions and retail exclusives – namely keeping everyone happy.
New York has been the recipient of several geographic exclusives by Alec Bradley, La Aurora, Gurkha, and Altadis (Montecristo). My Father Cigars released the Jaime Garcia Reserva Especial Connecticut Edition to New England. Tatuaje Cigars recently released a robusto version of La Casita Criolla to the Southwest. Tatuaje also released the Mexican Experiment in two vitolas (a Toro for the Northeast and a Robusto for the Southeast).
I expect this trend to grow after the 2012 IPCPR Trade Show. There may be a company or two that announces some plans at the IPCPR Trade Show with regional editions, but I expect post IPCPR for this to grow some more. Especially with companies like Tatuaje and My Father Cigars taking a lead on this.
The Extremes
One thing that I'm noticing with cigar manufacturers as line extensions and releases occur on the small and large end of the size spectrum. On the small end, we are seeing an increase of shorter smokes. On the large end, we are seeing an increase of large ring gauge smokes.
On the smaller end, we are seeing more cigars that are under 4 1/2 inches in length. These are particularly attractive to cigar enthusiasts who only have a short amount of time to smoke and don't want a cigar that will take long to smoke. In the cold winter states, this also becomes even more attractive to cigar enthusiasts who have to smoke outdoors in poorer weather conditions. Viaje Cigars has been releasing many cigars in this range for some time. In the last year, other cigar companies such as Room 101 Cigars, My Father Cigars, Ortega Cigars, La Palina Cigars, Aging Room Cigars, Quesada Cigars, and CAO all have had releases and/or vitolas fitting into this category. I look for this trend to continue at the 2012 IPCPR. I think this year will see an uptick in vitolas that fall into the "small size" category.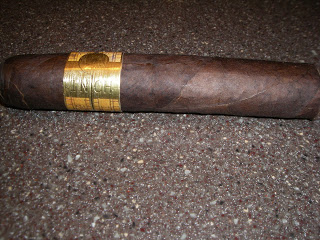 E.P. Carrillo Inch No. 64 features a 64 ring gauge equaling one inch in diameter
On the other hand, with the success of 60 ring gauge cigars, some companies are now looking to go beyond the 60 ring gauge. E.P. Carrillo has announced its Inch line with all cigars having vitolas with a 60 ring gauge and beyond. Earlier this year, Rocky Patel introduced a 6 x 62 vitola to its Thunder by Nimish line. Last year, Alec Bradley unveiled a 62 ring gauge to its Prensado line that would complement the other vitolas in the line. Quesada also released a 65 ring gauge with their Oktoberfest cigar.
While I still think the shorter sized cigars will be more prominent at the 2012 IPCPR, I would also keep an eye on companies to see if more are looking to make larger ring gauges.
Stay tuned next week for our fourth installation into our 2012 IPCPR Trade Show preview.