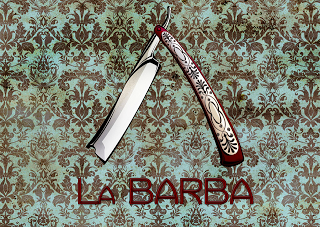 (Image Credit – La Barba Cigars Facebook page)
When Christian Eiroa's Fabricas Unidas announced the official opening of the Aladino factory in Honduras, it was mentioned that Aladino would be producing cigars for a company called La Barba Cigars. La Barba Cigars is a new company that is getting ready to launch their first cigar. Recently, La Barba Cigars has announced on their Facebook page they are planning their first self-titled launch this September. The company also put some background information about their venture.
La Barba Cigars was founded in 2010 by Tony Bellato and Craig Rossi. The name La Barba means "the beard" (which is sported by both Bellato and Rossi). According to the company web-site:
"We founded La Barba Boutique Cigars in 2010 after many different ideas, cigars and a few roo many bourbons. We wanted to present a product to the marketplace that was not only fun but also focused on the craft of blending and making of something that we are both very passionate about… cigars.


"After tossing around a lot of ideas, we decided to name the brand La Barba, which is Spanish for "the beard". We agreed that we needed something that expressed us, as well as everyone around us. Individuality and the concept of expressing yourself is something that we strongly believe in. And we hope you see that in our cigars.


"La Barba embodies the idea of the individual, focusing on the idea that everyone is different, their palates included. We will offer a dynamic array of small batch, limited edition products as well as a core group of static products. Focusing solely on quality and small production.La Barba keeps the nostalgic, vintage feel and utilizes social media and viral advertising as well as personal interaction as marketing tools.


"We believe in the artisanship of the craft of premium cigars and the culture and brotherhood it represents. Our passion is what drives us to succeed and we will operate this company on the basis of slow, steady profitable growth. We want to present a unique and unprecedented product as a lifestyle brand. We will focus on being approachable, comfortable, and fun. Family, friends, food, wine, beer and cigars are what we love. It is what we know and what we do best; this company is founded on our love and passion for those interests."
Roots with Wine and Spirits
La Barba Cigars has its roots in pairing cigars with wine. Bellato is a Wine and Spirits Wine Educated Trust certified Sommelier. They sought to not only create a cigar that could be paired with wine and pirits, but they wanted a cigar created by people with palates experienced in the wine and spirits industry.
The Eiroa Connection
Bellato's father had worked in the cigar business for 35 years and was a huge fan of the Eiroa family Corojo tobacco. This led Bellato and Rossi to contact Christian Eiroa a couple of years ago to see if they can secure some of his Corojo tobacco. At the time, Eiroa was building the Aladino factory, and embraced the idea, thus bringing Bellato and Rossi's dream to reality.
Bellato and Rossi then spent time at Robert Caldwell's Wynwood Factory (part of Fabricas Unidas) and starting sampling tobaccos. They took the blend to Honduras where the Aladino factory would produce the cigar.
The La Barba Cigar
While a full profile of the self-titled La Barba Cigars blend has not been disclosed, there has been some information released. Obviously Corojo tobacco would be a part of the blend, and a decision was made to use a non-Hybridized Honduran Corojo wrapper. As for the rest of the blend, the company described it their press release as "a filler comprised of Ligero tobaccos, along with some other rare tobaccos we found in Nicaragua."
As per their website, the company is planning on launching six frontmarks to start. The goal of the company is to reflect classic Cuban sizes. The sizes not only reflect the personal preferences of the company founders, but will bring out the best of the tobaccos.
Petite Lancero: 6 x 38
Corona: 5 3/4 x 46
Petite Robusto: 4 1/2 x 50
Box Pressed Robusto: 5 x 50
Box Pressed Toro: 6 x 52:
Lancero 7 x 38
In terms of the flavor profile, the company described it in their press release as: "It's a medium-plus bodied cigar, starting off with a lot of white pepper and toasted marshmallow. a nice blend of spicy and sweet (think Bourbon). In the second third, awesome graham cracker shows itself and the cigar opens up with tons of body, and at the end leaves you wanting more with tons of vanilla and exotic spices (think Rum)."
As mentioned above, the company is planning on releasing the La Barba Cigar in a small batch, limited production mode. The brand/cigar will also only be available as a Brick and Mortar contract brand.
Source: Some information for this article was derived from a press release posted by La Barba Cigars on their Facebook page.